Mainland Britain has been declared one of the safest places in the world in a new report, thanks in no small part to the security services preventing dozens of attacks in the past five years. At the other end of the scale, Belfast is named as the most dangerous city in Europe.
The findings, researched by global risk advisory consultants Verisk Maplecroft, ranks all 1,300 major global settlements by, among other things, the number of successful terror attacks committed there over the past five years. By this measure, the top five most dangerous cities for terror attacks in the world are all in Iraq, with capital Baghdad number one.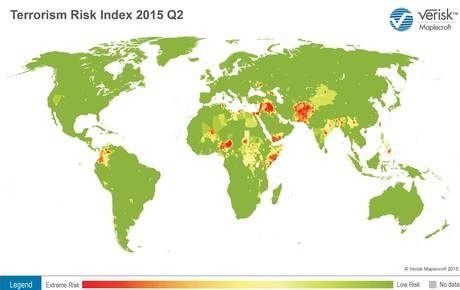 The Verisk global risk map, as reported by The Independent shows great swathes of the world coloured red across Africa, the Middle East, the Arabian Peninsula, and Pakistan, all representing a high incidence of violence and killing in recent history.
In Europe, which apart from a handful of major cities is coloured the deepest green, to represent the lowest risk, Belfast and Paris are the only two cities to appear in the top 100 of places at risk worldwide.
Yet despite the exhaustive research that has supported the map, which included cataloguing every single terror attack on the globe over five years, the data significantly under-represents risk in some places. London weighs in at 400, well behind Brussels, Berlin, and even Bristol, not because it isn't under attack, but because the security services have managed to foil dozens of attacks by terrorist groups.
A spokesman for Verisk acknowledged that London's low rating compared to other major cities belied it's attractiveness to terrorists because of it's global status. The company said: "A particular challenge for the [UK] security forces is combating the threat of attacks by lone-wolves inspired by groups including Isis or al-Qaeda, or individuals returning from the battlefield in Syria and Iraq".