ISIS-linked terrorists slaughtered 129 people, 100 people alone in a concert hall, on Friday in Paris. Family members and friends took to social media to put faces to those lost in the tragedy.
Antoine Leiris penned a tribute to his beloved wife, whom he lost on Friday. He told the terrorists they "will not have my hatred."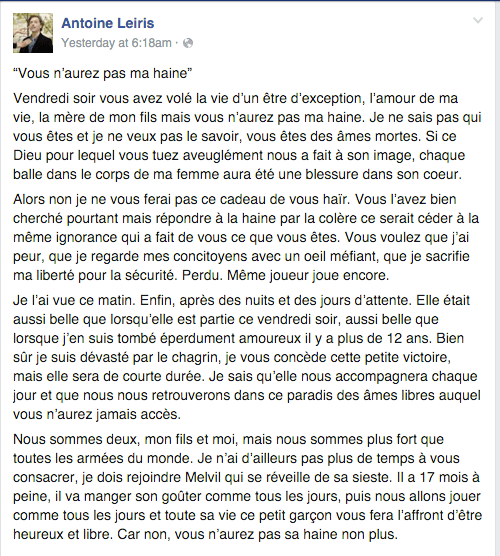 "Friday night you stole the life of an exceptional being, the love of my life, the mother of my son, but you will not have my hatred," he wrote. "I do not know who you are and I do not want to know. You are dead souls. If God, for which you kill blindly, made us in his image, then every bullet in my wife's body will be a wound in His heart."
American Nohemi Gonzalez, 23, lost her life in the attacks. She traveled to the city to participate in an exchange program at the Strate College of Design. Mourners remembered her on Sunday in Long Beach, where she attended California State University.
"Nohemi was something of a star in our department," design professor Michael LaForte told KQED. "She was a shining star, and she brought joy, happiness, laughter to everybody she worked with and her students, her classmates. She functioned like a bit of a mentor to younger students."
Nohemi Gonzalez was studying abroad in France when she was shot and killed in #ParisAttacks: https://t.co/S8dX2Wg7O0 pic.twitter.com/ZNWraJi8VB

— Reuters Top News (@Reuters) November 15, 2015
Mashable developed a Twitter account to remember the 129 people killed in the Paris terrorist attacks on Friday.
"To remember the victims, Mashable launched a Twitter project — @ParisVictims — where we'll send one tweet for every victim of the attacks on Nov. 13," wrote Brian Ries. "If you knew one of the people who lost their lives, or simply want to share a thought, use the hashtag #enmémoire."
Ludovic Boumbas, congolais assassiné lors de l'#attentat deParis! 1 mort de plus s'ajoute sur le 16 millions!#RIP pic.twitter.com/fJ7H4gRlkF

— Mouvement citoyen (@SOS_243) November 15, 2015
Boumbas attended a birthday party at the La Belle Equipe when gunmen opened fire. He threw himself in front of a friend to protect her. His brother Ludovic called him a hero.
Djamila Houd, 41 ans, mère d'une fillette de 8 ans fauchée sur la terrasse du restaurant La Belle équipe #Algerie pic.twitter.com/aAM0mhuNYN

— Zellag Lamine (@LamineZellag) November 15, 2015
Djamila Houd, 41, leaves behind an 8-year-old daughter. She resided in Paris but never forgot her hometown of Dreux. She came from a large family in the city west of Paris.
#rechercheParis Matthieu Giroud 1m84, yeux bleus, gros grain de beauté sur le crâne …merci de votre aide ! pic.twitter.com/B3erzftQz6

— Cyril (@AigoinC) November 14, 2015
Matthieu Giroud leaves behind a 3-year-old, and his wife is due to give birth in March. He taught at the Université Paris-Est Marne-la-Vallée as a "noted critical geographer specializing in urban change."
Aucune nouvelles de Cedric Mauduit et David Perchirin au #Bataclan hier soir. MP pour toute info #rechercheParis pic.twitter.com/OjNCIU33d4

— Marie-Sophie Peyre (@mariepeyre) November 14, 2015
Cedric Mauduit leaves behind a wife and two children, one of which turned seven a day after the attack. He attended the Eagles of Death Metal concert at the Bataclan concert hall.
RT ParisVictims: Ariane Theiller, 24, France. Worked at UrbanComics. Studied for her master's degree. Loved superhe… pic.twitter.com/GxGu5PJJzb

— YELLO (@yellobiz) November 17, 2015
Ariane Theiller was an intern for French publisher Urban Comics. She was working for her master's at the University of Strasbourg. She wanted to work in publishing, mainly to reach "young readers and in the comics medium."