Al-Jazeera America digital producer Hashem Said triggered a social media storm when he told ABC News it was "disrespectful" to show San Bernardino terrorist Tashfeen Malik without her burqa.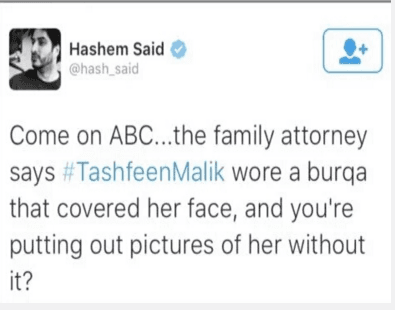 ABC News released the first photo of the female on December 4, two days after she and her husband Syed Farook slaughtered 14 people in cold blood.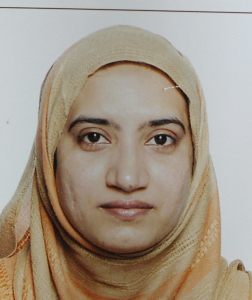 Said attempted to explain his position.
@hash_said @OhioCoastie I think murdering 14 people puts slightly more shame on her culture and family than not having her face covered.

— Jon (@Jonnyarsenal) December 5, 2015
But as Mediaite points out, Said tried to add "humor" to deflect attention from his comments.
https://twitter.com/hash_said/status/672925491251269633
It did not help.
@hash_said Because you chose to sympathize with a mass murderer on a Friday?

— Lurker (@red_boxer0) December 4, 2015
@hash_said If you'd sympathized with the mass murderer on the day she committed mass murder, it would have happened to you on a Thursday.

— Lurker (@red_boxer0) December 4, 2015
@hash_said maybe you shouldn't say stupid things?

— Kaitain 🇺🇸 (@Kaitain_AZ) December 4, 2015
"Woe is me" act is ridiculous when you created your own bed of shit to sleep in.@hash_said

— Uke (@UkeRocket) December 5, 2015
Said relented, apologized for his remarks, and deleted his tweet. He even pinned his apology to the top of his Twitter page so it is the first one visitors read.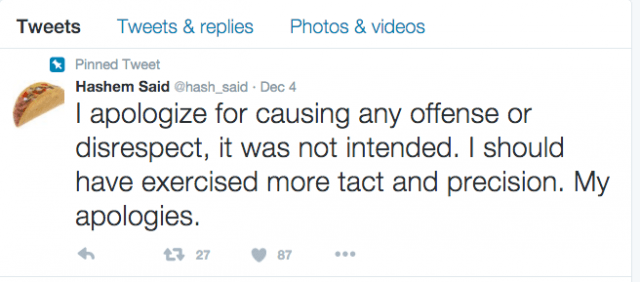 On Monday, ABC News released another picture of Malik without her burqa over her face. The photo shows Malik and her then-fiance at customs at Chicago O'Hare Airport on July 27, 2014. Malik is wearing a more revealing hijab, which covers hair but not the face.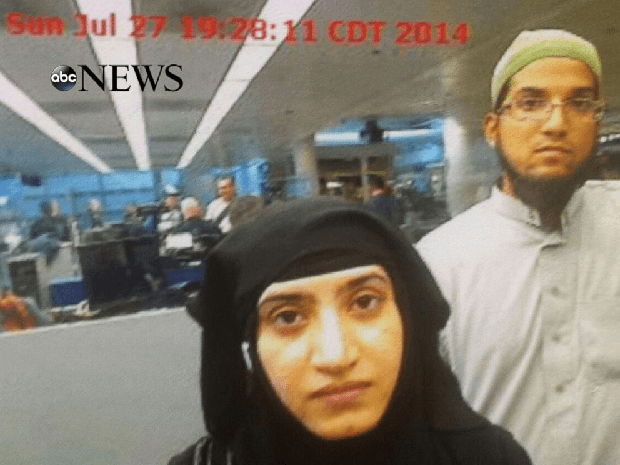 U.S. officials previously said that Farook, a U.S. citizen originally from Chicago, traveled to Saudi Arabia in July 2014 and returned less than two weeks later with Malik in tow. Malik, a Pakistani who officials said spent much of her life in Saudi Arabia, entered the U.S. on a so-called "fiancé" visa, which allowed Farook to petition for her entry ahead of marriage. The two were married in the eyes of U.S. law in California just a month after their arrival, although some officials have said they could have been married earlier abroad.
Investigators also believe Malik pledged allegiance to the Islamic State (ISIS/ISIL). They told reporters the bombs resembled those in al-Qaeda's Inspire magazine. CBS News confirmed the couple viewed ISIS propaganda online.
On Monday, FOX News' Catherine Herridge and Pamela Browne reported the terrorists received a $28,500 deposit into their bank account shortly before going on their shooting spree.
"A $28,500 deposit was made to Syed Farook's bank account from WebBank.com on or about Nov.18, some two weeks before he and his wife Tashfeen Malik carried out the San Bernardino massacre, a source close to the investigation told Fox News Monday," they said.
Breitbart California Editor-in-Chief Joel Pollak wrote the money matches "earlier estimates of the value of the weaponry that Farook and Malik had amassed at their home–including two handguns, two rifles, tactical gear, pipe bombs, and explosives."
Investigators have not dismissed the theory the killers received help overseas. President Barack Obama shrugged off the theory, but David Bowdich, assistant director of the FBI's Los Angeles office, told Breitbart News' Adelle Nazarian that Obama's assessment is not correct and the FBI is still in the early phases of the investigation. Bowdich expanded on his comment, saying "there was no intentional effort at all to leave anything out or anything like that. As far as I know, the president's statement was accurate. But, again, he gave a statement on day four. There's a lot of days ahead for us so we are going to continue investigating."