In a strongly worded email sent to all U.S. citizens abroad Monday, the State Department issued a "Worldwide Caution" regarding a "continuing threat of terrorist actions, political violence, and criminal activity against U.S. citizens and interests abroad."
"Terrorist groups including ISIS, al-Qa'ida, their associates, and those inspired by such organizations, are intent on attacking U.S. citizens wherever they are," the letter states. "Extremists may use conventional or non-conventional weapons to target U.S. government and private interests."
The message also notes that terrorists "are increasingly using less sophisticated methods of attack to more effectively target crowds, including the use of edged weapons, pistols, and vehicles as weapons."
"Extremists increasingly aim to assault 'soft' targets," the letter notes, such as high-profile public events, hotels, clubs, restaurants, places of worship, schools, parks, shopping malls and markets and airports.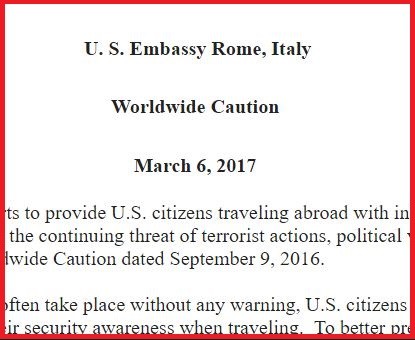 The threat of a massive terror attack may not be the only sort of violence Americans should watch out for. "In multiple regions," the text states, "terrorists, guerrilla groups, and criminals seek to kidnap U.S. citizens to finance their operations or for political purposes."
The State Department also warns of a particular threat to commercial aircraft, and cautions U.S. citizens to stay alert.
"In the wake of well-publicized attacks against commercial aircraft in Egypt by ISIS and Somalia by al-Shabaab, the Department remains concerned that terrorists could again seek to down aircraft using concealed explosives or hijack commercial flights," the letter reads.
In the face of these real threats, Americans are urged to keep a "high level of vigilance" in order to avoid situations where they could fall victims to an attack.
"As terrorist attacks, political upheaval, and violence often take place without any warning, U.S. citizens are strongly encouraged to maintain a high level of vigilance and take appropriate steps to increase their security awareness when traveling," the letter states.
"U.S. government facilities worldwide remain at a heightened state of alert," it reads.
The message urges U.S. citizens to read "Country Specific Information pages, Travel Warnings, and Travel Alerts" as well as to "enroll in the Smart Traveler Enrollment Program(STEP)to receive security messages and make it easier to locate you in an emergency."
American citizens abroad are also "urged to monitor the local news and maintain contact with the nearest U.S. embassy or consulate," the letter reads.
As a final note of caution, the State Department warns private U.S. citizens that they should not "travel to any country to participate in armed conflict."
"U.S. citizens are reminded that fighting on behalf of or providing other forms of support to designated terrorist organizations can constitute the provision of material support for terrorism, which is a serious crime that can result in penalties, including prison time and large fines," the letter states.
Follow Thomas D. Williams on Twitter Follow @tdwilliamsrome