Racine, WI–The results are in for the big show that was the attempted recall of Wisconsin Governor Scott Walker, and they are proving that the left's effort was an epic and embarrassing failure. But the State Senate recall election of Republican Van Wanggaard is still too close to call. Reports now are showing Wanggaard is trailing by fewer than 800 votes, with still many remaining uncounted ballots. And with evidence of possible irregularities at polling places in Racine, the final vote may be subject to further challenges.
Reports began early yesterday that unions and community organizations were out in Racine in full force. The AFL-CIO deployed roving minivans and trucks displaying recall placards, with megaphones playing a recording of Jesse Jackson telling residents of targeted poor neighborhoods to get to the polls. 
Inside the polling places themselves, there were complaints from election observers about "electioneering." At the Martin Luther King, Jr. Center, one election observer told a member of Wisconsin Jobs Now that her t-shirt displaying the a union "Iron Fist" would be determined by the Government Accountability Board of Wisconsin to be a violation if worn in the polls for any purpose other than to simply walk in and vote (see video below). I personally witnessed the woman seen in the video walking voters in and out of the gymnasium to cast their ballots–not just voting and leaving. 
Following the exchange, polling place election chief Celeste Walker said that the t-shirt itself was not an electioneering violation because it did not advocate for a specific candidate or ballot initiative. She did inform me, however, that if the shirt did contain those forms of advocacy, it would not be a violation to wear it, or even a button advocating similar causes, as long as the wearer simply walked into the polling place to vote. it would only be a violation if someone was wearing such items and lingering in a polling place, or within 100 feet of the doors, and influencing the way other people vote. 
While we were speaking, I looked up and noticed that the polling place, inside a gymnasium, featured a giant poster of "Obama '08":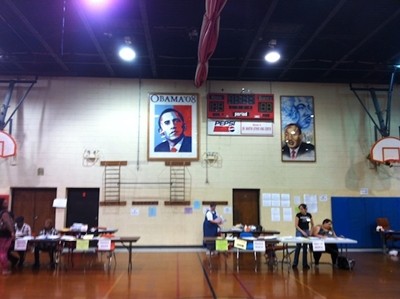 At that location and others throughout Racine, election observers reported that an extraordinarily high number of voters were showing up to the polls for same-day registrations, using change of address forms to obtain ballots. That led to legitimate concern that such an individual showing up to vote might also have been registered at another location. According to another election observer I spoke with, there is no mechanism in place to prevent people from casting multiple ballots at a different polling location where they have previously been registered. One election observer reported seeing the same woman vote three times at the Martin Luther King, Jr. Center polling place, and another sent me the following in an email: 
I had a Chief Election Inspector IGNORE my challenge.  I was yelling "Challenge!  I challenge this elector!  Do NOT GIVE HIM THAT BALLOT!"  And she gave it to him anyway, and threatened to throw me out.  We had someone else vote three times. And, and, and…
At other locations, the situation was even worse. At Festival Hall, one female election observer, Jennifer Neubauer of Illinois, receiving a threat from a thug inside the polling place who was entering and exiting with groups of voters who had been bused to the location to vote. The thug in question was not an election official, and was reportedly issued a $400 citation for threatening to smash Neubauer's head into the ground. 
Wisconsin Jobs Now and Voces de la Frontera deployed vans to drive voters to and from the polls, as well. One of these vans had the words "Cash Money" painted on the window, giving rise to the question of whether voters had been paid or offered any sort of compensation for going to the polls.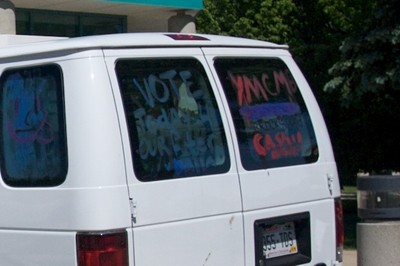 All in all, election day in Racine was nothing short of what we have come to expect from the left and the union organizers, with regard to ethically questionable interference and influence in election results. 
For now, the recall election between Van Wanggard and his challenger John Lehman remains too close to call, and more and more reports of election irregularities are continuing to be reported. Stay tuned for more updates.