Breitbart News is providing live coverage of Winter Storm Juno, which has brought significant snowfall to much of the Northeast, impacting major cities including New York and Boston.
4:15 PM EST: The places where Winter Storm Juno did decide to settle in and make some serious snow have seen accumulations that are impressive even if they aren't historic.  Worcester, Massachusetts saw over two feet of snow by Tuesday morning.  It wasn't ideal driving weather…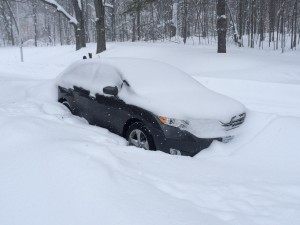 But it was a great way to get a total-body workout with a snow shovel: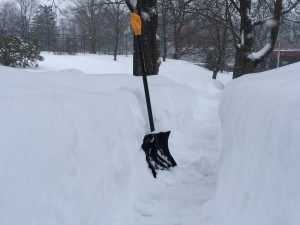 It was also a lousy environment for fighting a fire, but local news station WHDH reports that's exactly what crews were called upon to do, rescuing several children and a pregnant woman from a massive house fire while dealing with snow and 40 mph wind gusts.
2:30 PM EST: The New York Post has more mea culpas from meteorologists, in addition to Gary Szatkowski of the National Weather Service, already mentioned below:
South Jersey's NBC Channel 40 weatherman Adam Rutt added, "No other way to put it … this was a major bust of a forecast, the biggest in my short career. I was wrong … very wrong … and I am sorry."

"Alright, this dunce is headed to bed," tweeted CBS Philadelphia meteorologist Kate Bilo. "Lots more snow chances ahead as the cold gets locked in. We'll get the next one."

She added, "If the forecast has to be wrong, I'd rather it be overestimated. Less risk to lives and property. But I'm sorry it ended up this way."

Philadelphia's Action News meteorologist Cecily Tynan joked, "Monday started with a busted ACL diagnosis & ended with a busted forecast. #badday."

"Good morning NJ! Clearly not the blockbuster storm for NJ, but still a pretty nasty storm. #forecast miss," tweeted News 12 New Jersey weatherman James Gregorio.
Szatkowski later eased up on himself a bit by jesting, "at least Mother Nature is throwing me a bone" by dropping some more snow on Hainesport, New Jersey.
NJ.com quotes one meteorologist who was skeptical of the monster blizzard warnings all along, David Robinson of Rutgers University, who suggests there might have been a bit of confirmation bias built into the more dire forecasts.  "All along, it has been becoming kind of clear that this is going to be New England's storm. But people kept insisting," said Robinson, before the revised and downgraded forecasts began popping out.  "The weather service has a bit riding on this, because if this turns into an 8 to 10 inch storm they'll have some explaining to do. There's going to be some interesting discussion that occurs."
As he predicted, an interesting discussion has indeed begun.  "The science of forecasting storms, while continually improving, still can be subject to error, especially if we're on the edge of the heavy precipitation shield," said the National Weather Service on Tuesday morning.  "Efforts, including research, are already underway to more easily communicate that forecast uncertainty."
It doesn't take a lot of research efforts to figure out good ways of communicating uncertainty – phrases such as "maybe" and "I'm not sure" have been serving quite well for centuries – but it sounds like some hard thinking about how the forecast models failed will be undertaken.  NJ.com observes that one computer model employed by the National Weather Service, the Global Forecast System, did predict what actually happened with respectable accuracy, but it was "summarily rejected" in favor of the "European model" that successfully predicted Hurricane Sandy's landfall.  Throw in a bit of media amplification for a message that was "garbled by public officials, who in some cases miscommunicated the timing and expected impacts of the storm," and here we are.
12:45 PM EST: The UK Guardian has a good roundup of ambivalent reactions from New Yorkers about local government's reaction to the storm:
On Tuesday, with the benefit of hindsight, many New Yorkers criticised state and city government for its reaction to the storm, which included shutting down the subway – for the first time in response to snow – and imposing a travel ban after 11pm. Other than bridges, there was no travel ban when the city was hit by Hurricane Sandy in 2012.

Some critics also cited empty subway trains running through the night as evidence of a too-zealous and inefficient reaction by authorities to a storm which instead of the predicted 26in or more of snow left 5in or 6in at most, as its effects were felt far more in New England.
New York Governor Andrew Cuomo and NYC Mayor Bill de Blasio have responded to such criticism by saying, in de Blasio's words, that the city "dodged a bullet" when Juno fizzled, and it was better to be safe than sorry.  When the initial sense of irritated disappointment fades – a natural enough human reaction to going on high alert for a threat that doesn't materialize – the lingering, stinging criticisms will probably revolve around measures that seem nonsensical or poorly executed, such as the unprecedented shutdown of the subway trains.  There are reasonable explanations for the "blizzard ghost trains," such as the necessity of running empty trains through anticipated conditions that would imperil passenger safety to keep the rails clear, but that's not easily sold to people annoyed over being stranded overnight because of a crisis that didn't live up to expectations.
The National Weather Service still had blizzard warnings in effect for coastal areas from eastern Long Island to Maine late Tuesday morning, with winter storm warnings and winter weather advisories for portions of northern and central New Jersey and eastern Pennsylvania northward into interior New England.  Blizzard-intensity winds have been reported at Marthas Vineyard and Nantucket.  The New England coast remains under advisory for "life-threatening whiteout or blizzard conditions with concerns for power outages and severe impact to road and air travel," with the possibility of some coastal flooding as the tide comes in.  The worst of these conditions are now expected to pass before Wednesday morning.
11:15 AM EST: One problem with telling 50 million people to expect the Fimbulwinter right out of Norse mythology is that when most of them end up getting moderate snowfall, the grumbling about storm hype is loud enough to draw attention from the smaller group that really is getting hammered by some nasty weather.  Here's some video from the Boston Herald of the scene on Winthrop Shore Drive, where high wind and "white-out" visibility made a rough morning for plow crews and cautious first responders.  The arrival of high tide in Juno-affected coastal regions at 4:00 or 5:00 PM this afternoon is viewed with apprehension, due to the potential for flooding.
10:15 AM EST: There's someone running around Boston in a yeti costume, because of course there is, and the media loves it, because of course they do.
Did the prospect of heavy snowfall draw out a Yeti in Boston? http://t.co/dO8gGC7Gfg pic.twitter.com/663G7lUV0P

— NBC News (@NBCNews) January 27, 2015
10:00 AM EST: Air travel remains a mess, as USA Today counts over 4,000 flights canceled for Tuesday, and even 300 pre-emptive cancellations for Wednesday.  Major airports in the area affected by Juno, including JFK and LaGuardia, plus airports in Boston, Philadelphia, Hartford, and Providence, are likely to conduct minimal operations at best today.  The grand total of canceled flights due to Juno currently weighs in at 7,495. 9:50 AM EST: WPIX News in New Jersey forecasts that snowfall in most of their broadcast area will begin tapering off after noon.  Blizzard warnings for most of New York and New Jersey have been replaced by less severe winter storm warnings, although WPIX reports "the blizzard warning remains in effect for eastern Long Island and much of Connecticut until midnight Tuesday."  The specific conditions necessary for a blizzard don't appear to have been met overnight, with wind gusts on Long Island coming closest to the 35 mph threshold required. 9:45 AM EST: In his morning press conference, Massachusetts Governor Charlie Baker described Monday night as "relatively incident-free."  He gave the "gold star for snowfall" to the 18 inches that dropped on Shrewsbury, and reported that power outages in his state were far below expectations – fewer than 7.100 customers out of service, rather than the 400,000 that were feared.  The Pilgrim Nuclear Station in Plymouth was shut down as a precaution, with no current estimate of when it will come back online.  The statewide ban on non-essential travel for Massachusetts remains in effect. 8:45 AM EST: New York and New Jersey have lifted their travel bans, and New York City's subway and bus services are expected to resume operations at 9:00 AM.  Heavy snow is still falling in eastern Massachusetts, Rhode Island, eastern Connecticut, and eastern Long Island, which could see up to two feet of snow from Juno. 8:15 AM EST: Let the Snowmageddon letdown recriminations begin!  Juno turned out to be considerably less imposing than the "historic" storm of the century that was predicted over the weekend, leading to a good deal of social-media snark about how weather events that hit the cities where media elites live always seem to be hysterically over-promoted.  Add the desire of state and federal politicians to be seen as large and in-charge during a crisis – and the terror creeping through the heart of every governor and mayor that they'll underestimate a storm and become the villains of the "next Katrina" story – and  you have the recipe for a level of over-reaction that would amuse earlier generations.  There was a time when people set about battening down the hatches before a major weather event with considerably less fuss. Less cynically, one might take the outcome of the Juno saga as further evidence that weather is difficult to predict.  That shouldn't be a controversial assertion, but of course in this day and age it definitely is, with huge amounts of power and money riding on the global-warming movement's insistence that it can predict the weather a century from now, even after utterly failing to predict climate trends over the past thirty years. Media saturation also has a way of blowing prudent caution into a swoosh-DONG! Fox News Alert crisis.  Multiple networks jockeying for attention in an information-saturated television and Internet environment naturally make major events seem worse than they are, just as a sensible word of caution becomes nerve-wracking when blasted to an uneasy crowd through a gigantic megaphone.  When news came on paper, augmented by the occasional radio brief and a few regularly-scheduled TV broadcasts, reasonable warnings about the possibility of a major weather event didn't turn into the kind of hype blizzard that comes howling out of the 24/7 online news network low-pressure zone. Winter Storm Juno was a significant event, and came close to meeting dire expectations in parts of New England, but the air of puzzled disappointment hanging over this morning's Fox News update is palpable:
Millions of people across the Northeast were told to stay home from work and school Tuesday, even as forecasters revised predictions that had originally called for record-breaking amounts of snow in some of America's biggest cities. The blizzard had originally been predicted to bring between 2 and 3 feet of snow to an area stretching from northern New Jersey to southern Maine, along with hurricane-force winds. However, by early Tuesday, most forecasters said that only New England would bear the brunt of the storm, and even then the snowfall would not be as bad as expected. Bruce Sullivan of the National Weather Service (NWS) told the Associated Press that Boston and Providence, Rhode Island, could get 2 feet of snow, New York 10 inches to 20 inches, and Philadelphia and central New Jersey about 6 inches. The NWS issued a blizzard warning for a 250-mile swath of the region, meaning heavy, blowing snow and potential whiteout conditions. Forecasters warned that the wind could gust to 75 mph or more along the Massachusetts coast and up 50 mph farther inland.
Not quite the snowpocalypse blasting the entire Northeast that we were warned about on Monday, but still a significant weather event that should not be trifled with, especially in coastal areas.  The threat of long-lasting power outages still looms over the areas that experienced heavy snowfall and wind, coastal flooding remains a possibility, and both air and ground travel remain snarled in the storm area. The Associated Press headlines this morning's update "Winter Storm Juno pulls its punches: snow totals won't be as bad as forecast," but the Drudge Report links to their story with a much shorter and considerably more tart "Snow Job."  The AP offers a snapshot of the morning after:
On Monday, life abruptly stopped across the region as officials ordered workers to go home early, banned travel, closed bridges and tunnels, and assembled their biggest plowing crews. "When you wake up in the morning, it is going to look like a blizzard," said Massachusetts Gov. Charlie Baker, echoing the concern of many government leaders. Light snow fell steadily early Tuesday in midtown Manhattan as a few municipal trucks rumbled down empty streets. The city had an almost eerie, post 9/11 feel to it: No airplanes in the sky. An unexpected quiet.
Literal snapshots of the aftermath are on display at New York Magazine, which collected images of the deserted city streets from Twitter, including a remarkable photo taken overnight from the window of journalist Lisa Guerrero's hotel:
From my hotel window: Park Ave in #NYC is completely empty- Not a car or a taxi on the street. Amazing. #Juno2015pic.twitter.com/KtAVAFYgnL — Lisa Guerrero (@4lisaguerrero) January 27, 2015
By Tuesday morning, Guerrero was singing the Snowmageddon letdown blues:
8:00 am and #Juno2015 is a no-show. ("No Snow"?) pic.twitter.com/cLvxNEkxIH — Lisa Guerrero (@4lisaguerrero) January 27, 2015
CBS News reports that Gary Szatkowski, meteorologist-in-charge at the National Weather Service in Mt. Holly, New Jersey, actually went on Twitter to apologize for getting Winter Storm Juno wrong: "My deepest apologies to many key decision makers and so many members of the general public.  You made a lot of tough decisions expecting us to get it right, and we didn't.  Once again, I'm sorry."