ADDISON, Texas — "Tomorrow is a big day," wrote former Texas Governor Rick Perry on his Facebook page Wednesday afternoon, inviting supporters to join him on Thursday for a "major announcement" at the Addison Airport, just north of Dallas. Because of campaign finance regulations, Perry has carefully avoided saying what we all assumed he was planning: a second run at the White House.
Just after midnight Thursday morning, the news was confirmed: Perry is running for president. Perry's website, RickPerry.org, had been updated to say "Perry for President," and a new logo was unveiled: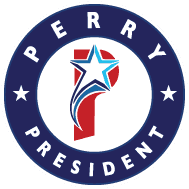 The website shares an optimistic quote from Perry on the "About" page: "2016 will be about a record of leadership. It will be a show me don't tell me election."
On Thursday, Perry will be joined by his wife Anita Perry, as well as "a group of America's finest patriots":
Retired U.S. Navy Explosive Ordnance Disposal Technician Paul Craig
Taya Kyle, widow of Chris Kyle, the most lethal sniper in U.S. history and author of American Sniper
Retired U.S. Navy SEAL Marcus Luttrell, author of Lone Survivor
Melanie Luttrell, wife of Marcus Luttrell
Navy SEAL Morgan Luttrell
Retired U.S. Marine Corps Captain Dan Moran
Retired U.S. Navy SEAL Pete Scobell
Brad Thor, New York Times bestselling author
Retired U.S. Navy SEAL and Medal of Honor Recipient Mike Thornton
The announcement will take place at the Addison Airport, starting at 11:30 am Central Time. Tickets for the general public are free. Breitbart Texas confirmed with the campaign that tickets were still available at the time of publication. Those interested in attending can sign up through Eventbrite.
Breitbart Texas will be reporting live from Perry's announcement.
Follow Sarah Rumpf on Twitter @rumpfshaker.