A new poll released by the Morning Consult shows that Dr. Ben Carson doubled his support in August, surging from nine percent to 18 as registered voters' first pick for the GOP nomination. Current frontrunner Donald Trump slipped from 37 percent to 31 percent, but still maintains a strong lead as former Florida Gov. Jeb Bush's campaign implodes.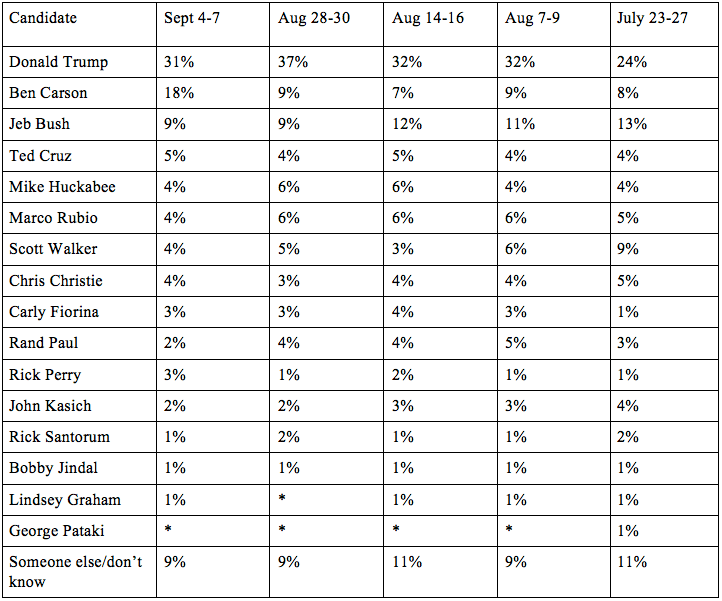 Ten percent of voters also picked Trump as their second choice, giving him a total of 41 percent. Likewise, 15 percent of voters chose Carson as their second choice, rounding out to 33 percent support. Bush totals 17 percent, Florida Sen. Marco Rubio is at 12, and Ohio Gov. John Kasich at five — putting combined support for establishment favorites at 34 percent, only one percentage point above Carson and seven behind Trump.
Carson's remarkable leap in the polls came after his performance in the first GOP primary debate, when voters were able to hear him out without a hostile media filter.
"When people have an opportunity to actually get a chance to hear me for themselves — as opposed to having me interpreted to them by some media outlet — their reactions are quite different. I knew that after the debate, that a lot more people would get real exposure that would allow them to form a more accurate opinion of who I am," Carson told Breitbart News in an exclusive interview.
Voters are bucking the political system that offers up well-worn candidates from the Bush and Clinton families.
"Our polling shows Republican voters are intrigued by outsider candidates. Candidates who have held office before, even governors who aren't tarnished by voters' negative opinions about Washington, have yet to convince voters they represent change," said James Wyatt, Morning Consult's Director of Polling in a press release. "Ben Carson quietly won the month of August. Donald Trump may have dominated the headlines, but it's clear that Carson is striking a nerve with Republican voters."
Without an incumbent in office, the field is wide open, and voters have been choosy even in their anti-establishment picks. Wisconsin Gov. Scott Walker, who was an early favorite with Republicans, has suffered catastrophic decline. sinking from nine percent in July to four percent in September. Another poll conducted by NBC News found that Walker lost three-fourths of his support in two months, crashing from 15 percent to four in New Hampshire.
Both Carson and Trump are also tied in another regard: Both have the highest favorability rating, at 42 percent. According to the breakdown, there are 15 people in America who still haven't heard of Donald Trump.
Email Katie at kmchugh@breitbart.com. Follow her on Twitter: @k_mcq.