BILOXI, MS – On a chilly January evening, Republican presidential front-runner Donald Trump addressed an overflowing crowd at the Mississippi Coast Coliseum – at a rally billed as the largest presidential campaign event in Mississippi history.
Trump's wide-ranging speech touched on topics from "Trojan horse" Syrian refugees and trade deals to Common Core, the Iran nuclear deal, illegal immigration and ISIS.
He told the audience that although he has not spent the most money of the GOP candidates he will begin to spend more in order to avoid taking "any chances." Trump, however, argued his campaign should be a model for the government to function.
"Now, I'm going to start spending quite a bit of money," he said. "I just want to be sure. I don't want to take any chances. I don't want to do cheap. But until now I've loved it because I've spent the least amount of money of anybody else and have had the best results. That's what should happen with our country."
Detractors have suggested the real estate billionaire would fare poorly in a head-to-head match-up with Democratic presidential front-runner Hillary Clinton, but Trump insisted her campaign doesn't want that match-up.
"Just in case you have any question, the last person Hillary Clinton wants to run against is me," he said.
Trump also argued he would be able to take on Democrats in states where they have "structural advantages" over Republican competitors.
"They do not want to run against me," he added. "Don't forget – Democrats have certain structural advantages in terms of getting elected. You know, you look at the different states and there are certain advantages that they have. You have to pick the right guy. I'm going to win states that they never even thought about winning."
But, Trump managed to really fire up the crowd when he took on the media. He aimed specific fire at a CNN cameraman.
"These cameras back here right now — they will never show this crowd," he said to cheers, going on to spend about four minutes urging the cameraman to turn the camera and show the crowd. The cameraman did not acquiesce.
Trump also attacked the media for its coverage, suggesting it was not reflective of his success in the polls.
"If I would read my press, I would say maybe I should be at nothing," he said. "I should be like Bush and some of these guys. I should be at nothing."
Trump further criticized the system, pointing to the dealings of Bill and Hillary Clinton.
"Folks, that's our system and I was part of the system until six months ago — I shouldn't say this, but part of the establishment," Trump said. "Nobody knows the system better than I did. It's no good."
Also making an appearance during Trump's speech were the "Stump for Trump" Internet sensations Lynette Hardaway and Rochelle Richardson, also known as Diamond and Silk and Trump's son Eric Trump.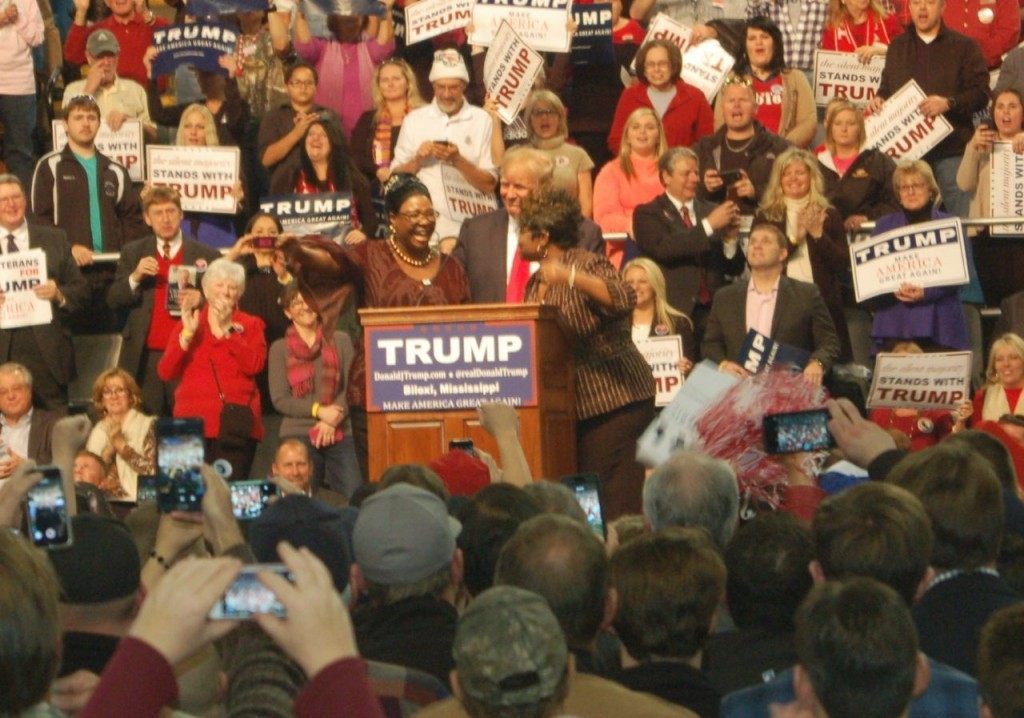 The GOP front-runner warned the election may require some less-than-nice tactics because of the current threats facing the nations, which require competence.
"I tell you what, this is not going to be an election based on niceness," he added. "This is going to be an election based on competence."
Trump added a new element to the stump speech that he hadn't in previous trips to the region, which was to urge his supporters to go out and participate in the vote.
"I want you to remember this night – you got to get out and vote," Trump said. "We can't take the chance."
Watch video of the event here.
Caroline May contributed to this report.
Follow Jeff Poor on Twitter @jeff_poor