All the cable networks breathlessly covered former President Bill Clinton's campaign stop Monday, and gushed afterwards about how much Slick Willy will help Hillary Clinton when it comes to putting her in the White House. For those of us who live in the real world, though, Clinton's debut on the trail was a bit of a dud — except for the four females behind him who made faces throughout the entire ordeal.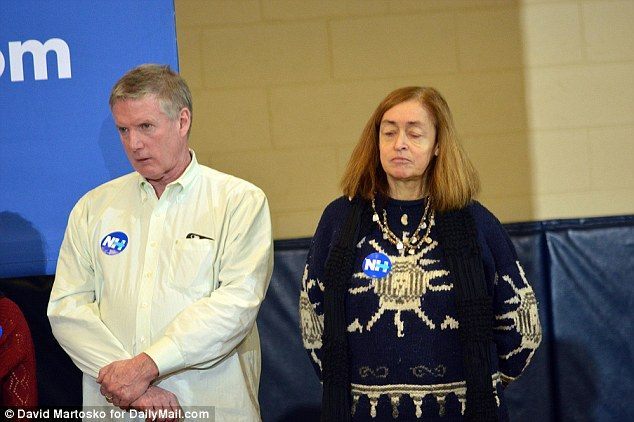 According to the Daily Mail, one of the girls, 14 year-old Mary, called Bill a "womanizer."
The Daily Mail grapped these photos and talked to the women, who said they were asked by the Clinton campaign to stand behind the former president:
Former U.S. President Bill Clinton made his first solo campaign appearance in support of his wife's White House bid on Monday in Nashua, New Hampshire, but the female voters standing behind him on stage – and one eighth-grader – were stone-faced and unimpressed.

They stood on risers through his 28-minute speech at Nashua Community College, alternating between frowns, grimaces and eye-rolls, even looking uninterested as they applauded a few of Clinton's lines. …

DailyMail.com delicately asked Deanne if she has told her daughter about Bill's reputation with women during his White House years.

Young Mary jumped in and cut her mom off with a 'so what' shrug.

'Oh, I'm aware,' she said. 'Yeah. He's a womanizer.'

'I think that that's his social life,' the eighth-grader said of the famous political Lothario. 'And his work should be separate from that.'

Asked if she agreed, Deanne rolled her eyes left, then right, and sighed.

'Um – I guess,' she said at last.
Bill's speech lasted an interminable 28 minutes. Two words he did not speak were "Donald" and "Trump." The Republican frontrunner spent much of the last week putting the Clintons on notice that any attacks on him would be met with return fire — up to and including the wake of women who claim to be victims of both Bill and Hillary.
Follow John Nolte on Twitter @NolteNC