In advance of this year's GOP Congressional retreat, the Senate's Immigration Subcommittee, chaired by populist thought leader Jeff Sessions, has delivered an immigration chart book to every Republican member of Congress.
The "Chart Book" is subtitled: "Record-breaking visa issuances propelling U.S. to immigration highs never before seen." In it, Sessions makes the case to fellow Republican lawmakers to adopt and champion reductions to immigration growth favored by 92 percent of GOP voters and 83 percent of all voters.
Above the table of contents, is a quote from Sessions: "It is not mainstream, but extreme, to continue surging immigration beyond all historical precedent."
The book's first chart, which seems particularly timely with the Iowa Caucus less than three weeks away, documents how:
"If Congress does not pass a new federal law to reduce the number of green cards issued each year, the U.S. will legally add 10 million or more new permanent immigrants over the next 10 years—a bloc of new permanent residents larger than populations of Iowa, New Hampshire, and South Carolina combined."
Each chart comes with detailed background and analysis to provide context and document the economic and social impact of the continuing the nation's federal policy of large-scale visa issuances. For example, the book shows the extent of welfare-use by refugees from the Middle East.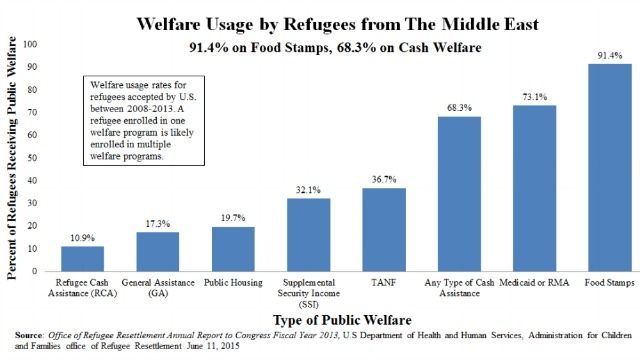 The book also explains that most immigration into the country has nothing to do with our southern border:
"The overwhelming majority of immigration to the United States is the result of our visa policies. Each year, millions of visas are issued to temporary workers, foreign students, refugees, asylees, and permanent immigrants for admission into the United States… These ongoing visa issuances are the result of federal law, and their number can be adjusted at any time with a new federal law. However, unlike other autopilot policies—such as tax rates or spending programs—there is virtually no national discussion or media coverage over how many visas we issue, to whom we issue them and on what basis, or how the issuance of these visas to individuals living in foreign countries impacts the interests of people already living in this country."
The book notes that the vast majority of the America public would like to see immigration growth curbed:
"By a 3-1 margin across all voting blocs, Americans want immigration reduced, not increased. By a nearly 10-1 margin, Americans of all backgrounds are united in the belief that companies with positions to fill should raise wages instead of bringing in new foreign labor from abroad."
Although Sen. Rubio's Gang of Eight bill was ignored in the first four GOP debates — watched by tens of millions of potential voters — the Chart Book addressed the legislation head-on.
One of the analyses notes that Rubio's Gang of Eight immigration bill "would have tripled the number of green cards issued over the next 10 years. Instead of issuing 10 million green cards, the Gang of Eight proposal would have issued at least 30 million green cards during the next decade (or more than 11 times the population of the City of Chicago)."
Sessions has previously explained that, given the Republican electorate's overwhelming opposition to open-border immigration policies, the Republican Party cannot have a nominee who supports expanding immigration. Sessions told CNN:
"Just like we can't have a GOP nominee who supports Obamacare, we can't have a GOP nominee who supports amnesty… Our nominee needs to serve the 92% of GOP voters who want to constrain future immigration growth – not expand it even further. That's the immigration reform voters want."
"The winning candidate in 2016 will need to promote a trade and immigration platform that defends the legitimate interests of U.S. workers," Sessions said on a separate occasion.
The chartbook includes nine charts in total entitled:
U.S. To Issue More New Green Cards Over Next Decade Than Combined Populations Of Iowa, New Hampshire, And South Carolina

For Every 1 New American Added To The Population, Immigration Will Add 7 More

Immigration Adds 1 New Los Angeles Every 3 Years

Uncharted Waters: Immigrant Population To Grow More Than 700 Percent From 1970 Levels

U.S. Issued 680,000 Green Cards To Migrants From Muslim Nations Over The Last 5 Years

Welfare Usage Rates For Middle Eastern Refugees In The U.S.

America Has 10 Million More Foreign-Born Residents Than The Entire European Union

U.S. Has 6 Times More Migrants Than All Latin American Nations Combined

U.S. To Legally Admit More New Immigrants Over Decade Than Population Of Half-Dozen Major American Cities Combined
You can view the entire chart book here.