Obviously frustrated by Hillary Clinton's collapsing presidential campaign (her second in a row!), The Nation's Joan Walsh, a frequent MSNBC contributor and high-profile Hillary supporter, took to her verified Twitter account Thursday to attack working class Democrats as racists.
"I wonder if Clinton's troubles with white working class," Walsh mused, "which she carried in '08, have anything to do with the president she served[.]"
—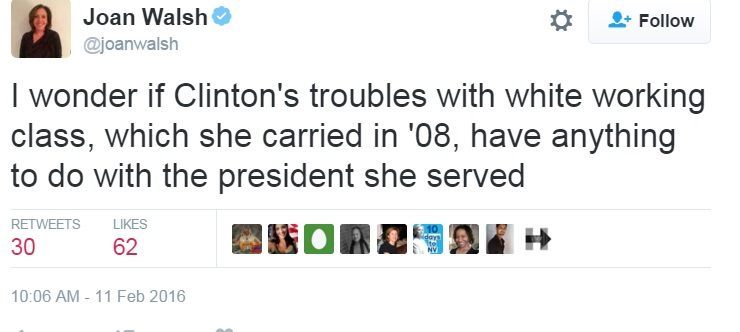 —
The insinuation isn't at all subtle. Walsh is suggesting that white working class Democrats have moved away from Hillary because she served in the cabinet of a black president.
This is a bizarre strategy from Team Hillary, especially after the catastrophic results from New Hampshire Tuesday night, where Hillary lost the woman vote to 195 year-old socialist Bernie Sanders.
In an effort to emotionally blackmail female Democrats into voting for the Bungler of Benghazi, feminist extremist Gloria Steinem was dispatched to HBO Friday night to insult female Sanders supporters as boy crazy. That same day, fellow feminist Madeleine Albright stood next to Ms. Clinton and damned women to "Hell" if they did not vote for Hillary.
Not only do the results from New Hampshire prove this strategy did not work, many believe it backfired.
Nevertheless, Joan Walsh (who herself has cruelly stereotyped blacks) appears to believe that this Playbook will work against a different group of Democrats. To their face, Hillary asks for their votes and pledges to make their lives better. Behind their back, Team Clinton is smearing working class Democrats as racist.
Walsh's standing in the Clinton campaign is such that, during a campaign stop last week, Bill Clinton told a story of her being harassed online by "sexist" Sanders supporters.
Follow John Nolte on Twitter @NolteNC