UPDATE: The candidate, Colonel Bob Starr, finally responded to questions about his advocacy for LGBT rights. He spoke with a local Abilene affiliate and stated that he felt the term "activist" was a misrepresentation of his views. He stated,  "I believe and strongly support traditional marriage, but as commander of Dyess Air Force Base, my job was to enforce the law and not discriminate against anyone who made different lifestyle choices than the ones that I agreed with," Col. Starr says. "All I had to do was make sure that homosexual airmen were not discriminated against. That's what changed in the law in 2011."
The candidate, however, did not explain or address the discrepancy between "making everyone feel welcomed" and his having worn gay pride clothing sprinkled in rainbow paint coupled with his active participation and promotion in and of gay "fun runs."
The original article follows:
Questions were raised at a candidate forum in Lubbock, Texas, about West Texas conservatives lining up behind a GOP candidate for Congress who actively and recently supported, promoted, and participated in gay pride events. The candidate, Colonel Bob Starr, can be seen in a number of photos wearing gay pride clothing, throwing his arms in the air as a champion in gay pride runs, and even wearing a rainbow painted gay pride shirt.
A long list of West Texas conservatives who have endorsed the active promoter of gay rights can be found on Col. Starr's campaign website, though it is unclear whether they are aware of Starr's gay activism due to Starr not mentioning it on any of his campaign materials.
During a VFW congressional candidate forum in Lubbock Friday night, Jason Corley, Republican candidate for CD19, asked about why we are supporting gay rights at Dyess Air Force Base in Abilene. The question appeared to have been aimed at fellow candidate, retired Air Force Colonel Michael Bob Starr. Colonel Starr was formerly commander of the 7th Bomb Wing at Dyess AFB, according to his official USAF biography.
Starr did not address the question which came at the very end of the forum, Corley told Breitbart Texas in an interview. He asked it because he is concerned about the military being used for social engineering. He said he also asked about the possibility of women being required to register for the draft and why taxpayers should be required to fund gender selection surgeries for transgender people serving on active duty.
While Starr did not answer the questions, it appears he has been very active in supporting gay rights groups on his base. Photos, like the one above from a 2014 Dyess Pride running event and the photo below from a 2015 Pride Alliance 5K Color Run held last summer, show the Colonel not only approved of the gay organizations but actively engaged in their event–with great enthusiasm and pride. The photo below shows Colonel Starr wearing a gay pride t-shirt painted in rainbow colors.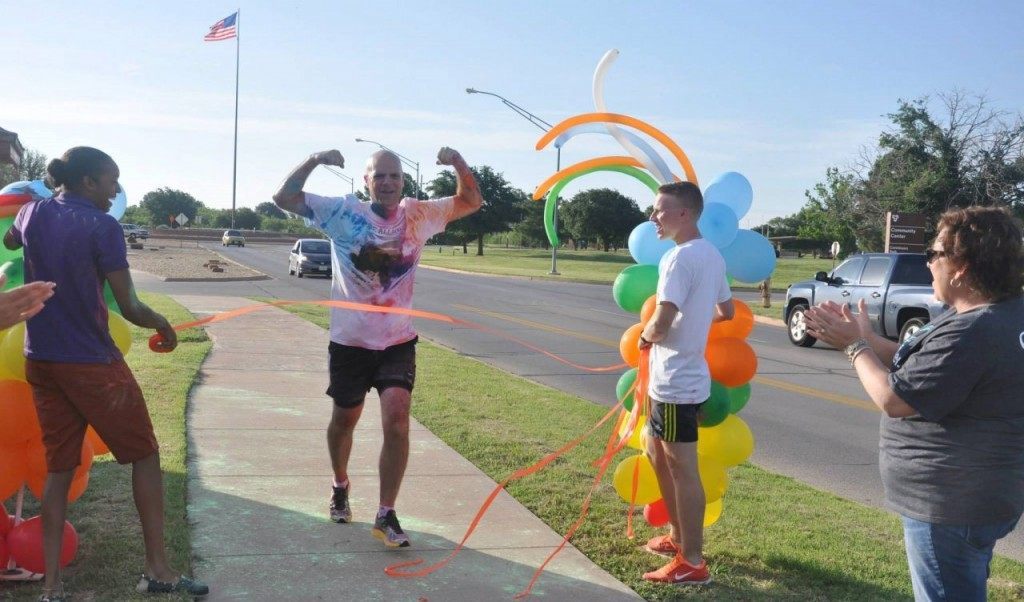 Corley said it raises questions about just how much people know about this candidate. "We know he served in the Air Force, and I appreciate that," Corley told Breitbart Texas in a phone interview on Saturday. "But, what else do we know about him. This is an agricultural region and we need candidate who knows ag. We don't need another Neugebauer."
President Barack Obama ended the military's ban on gays openly serving in the military in September 2011, the Los Angeles Times reported.
The colonel and Dyess AFB seem actively involved in the business of promoting the social engineering project underway. In July 2014, the Dyess AFB official newspaper published an article from Col. Starr's own public affairs office promoting "Progression, acceptance and our LGBT Airmen."
On-base gay rights groups like Pride Alliance appear very grateful about the support given to their groups by Col. Starr. In May 2015, Senior Airman James Rogers told the Abilene Reporter-News that the Pride Alliance is constantly involved across Dyess and occasionally in the Abilene community as a whole. "We're the first LGBT support group on Dyess," he told the Reporter-News. "The atmosphere of acceptance, from Col. Starr to the new Airmen Basics has been great. They've put an emphasis on changing. You can see with us out here, we're here because we have the support to be out here."
The group sponsored a 5K run in July 2015 in honor of LGBT Pride Month.
Corely also expressed concern about special interest money that has shown up in the race. Money from a PAC named Conservative Texans has made massive contributions to the Starr campaign, according to FEC filings.
Colonel Starr's participation with the gay rights group events is not apparent on either his campaign website or his Facebook page.
Breitbart Texas reached out to Colonel Starr for comment, but has not received any comment or explanation at the time of this article's publication.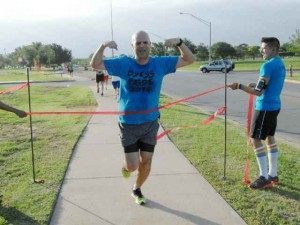 Bob Price is a senior political news contributor for Breitbart Texas and a member of the original Breitbart Texas team. Follow him on Twitter @BobPriceBBTX.