MIAMI, FL– Ahead of Florida's Tuesday primary, new attention is being paid to Rubio's personal and financial scandals.
In a new ad released last week, Donald Trump warns voters to "Keep Marco and his friends out of the White House."
The ad refers specifically to Rubio's relationships with disgraced former Florida politicians David Rivera and Ralph Arza.
A Friday New York Times report describes Rivera as having been Rubio's "closest friend and unwavering political ally."
The report notes how Rubio personally and professionally relied on Rivera—from helping him choose an engagement ring for his wife Jeanette, to sitting in the waiting room as all of Rubio's children were born. Rivera said he got "choked up" when Rubio was introduced as Florida House Speaker.
Rivera has been at the center center of multiple scandals amid accusations of political corruption. As NYTimes report notes:
In his single term as a congressman, he [Rivera] twice made the list of the most corrupt members of Congress published by Citizens for Responsibility and Ethics in Washington, a nonpartisan group, which cited claims he ran afoul of campaign finance laws and failed to report certain income sources…

In one case, federal prosecutors investigated Mr. Rivera's role in a secret plot to finance a sham candidate, Justin Lamar Sternad, in which tens of thousands of dollars were spent to pay for Mr. Sternad's mailers, robocalls and other expenses with the goal of undercutting Mr. Rivera's Democratic opponent, Joe Garcia, in the 2012 congressional race.

Instead, Mr. Rivera's friend, Ana Alliegro, who helped facilitate the plan, as well as Mr. Sternad, testified before a grand jury and pleaded guilty to felonies in the case. Mr. Rivera was named in open court by federal prosecutors as a "co-conspirator."… In an interview, Ms. Alliegro said Mr. Rivera supplied the money to her to use for the candidate, helped her flee to Nicaragua twice, visited her there and orchestrated the cover-up. Mr. Rivera said none of that was true. Nearly four years later, he has not been charged and maintains his innocence…

In 2012, the Florida Ethics Commission cited him with 11 potential ethics violations, including misusing campaign funds and not disclosing a $1 million consulting contract with a Miami gambling business while he served in the State House. Several violations were dismissed, but an administrative law judge determined that Mr. Rivera had broken rules pertaining to travel expenses and disclosing income. He recommended a fine of $58,000, which Mr. Rivera is appealing…

After an investigation of similar evidence, the Miami-Dade state attorney's office decided in 2012 not to bring criminal charges against Mr. Rivera. But in a memo closing out the case, prosecutors wrote that they were 'confronted with the fact that an elected official over a period of many years' was essentially able to 'live off' political money 'while avoiding penal sanction.'
Yet despite allegations of corruption, Rivera "has popped up along the campaign trail and at some early Republican debates," the New York Times writes.
Indeed, as the Miami Herald reports, "Rivera hasn't kept a distance from Rubio's presidential bid. Rivera traveled to Iowa ahead of Monday's caucuses…He showed up at the first GOP debate in Cleveland last August, and then at a debate in Madison, Wisconsin, last November."
The Herald published a picture of Rivera and other "Rubio friends and volunteers" at a Hooters restaurant in Davenport.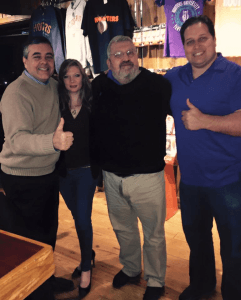 While Rubio's spokesman claims Rivera "has no role in the campaign," the New York Times reports that "a Republican official close to the Rubio campaign said that Mr. Rivera had served as a trusted, though unofficial, adviser, with a direct line to Mr. Rubio. He has provided early reconnaissance in at least one state, Iowa, and has offered advice on overall strategy. A close confidant of Jeanette Rubio, the senator's wife, Mr. Rivera also provides moral support and advice to her."
The report documents how Rivera previously played an essential role in advancing Sen. Rubio's political career:
Mr. Rubio saw the presidency writ large years ago; Mr. Rivera helped shove the boulders out of the way. 'I was willing to do what was needed to be done to help Marco be successful,' Mr. Rivera said…  Mr. Rivera would help forge the path to speaker for Mr. Rubio and serve as his go-between, earning the nickname 'the Enforcer.' As the pair rose to power, their lives became increasingly intertwined… Mr. Rivera was also instrumental in persuading Mr. Rubio to enter a long-shot bid for the United States Senate in 2009.
The New York Times writes that some say "questions about their relationship, as close as uña y carne — a Spanish expression that means as close as a fingernail on flesh — are fair game… 'Dime con quién andas y te digo quién errs,' said J. C. Planas, a Republican lawyer in Miami who served with Mr. Rubio in the State House and said he suffered retribution from Mr. Rivera and Mr. Rubio: 'Tell me who your friends are and I'll tell you who you are.'"
In addition to Rivera, Rubio's friendship with Ralph Arza has similarly been a source of controversy.
As The Daily Beast reported in November:
Arza, who was alongside Rivera at the Cleveland debate and is another longtime friend of Rubio's, has also seen his share of controversy. The former Florida lawmaker [Arza] resigned in 2006 after being charged with two felonies, one for retaliating against and tampering with a witness. He ultimately pleaded guilty to two misdemeanor counts of tampering with a witness and was sentenced to probation, community service, an anger management program, and alcohol abuse counseling.
Arza "got in trouble… when he was accused of repeatedly using a racial slur against the county superintendent of schools, Rudy Crew. Eventually, Arza made a public apology on the House floor – without ever admitting to having made the alleged slurs," The Ledger reported in 2006 — noting that initially, "the House took no displinary action." However, shortly thereafter, Arza telephoned a Florida state legislator and "left an invective-filled voice mail message that seemed threatening in tone and repeated the racist word that he had been accused of saying months ago…this time was that Arza's comments were preserved on tape and he couldn't deny them," The Ledger wrote.
Rubio has previously discussed his close relationship with Arza. "In his memoir, An American Son, Rubio credits Arza with leading him back to Catholicism. Arza shared a book with Rubio about the faith, prompting Rubio to go to Arza's Miami church. (Rubio's nephew also married Arza's eldest daughter and converted to Catholicism)," the Miami Herald reported in January.
According to the Miami Herald, Rubio's campaign even "dispatched" Arza on the campaign trail as part of its effort to "convert" voters to Rubio:
To spread the gospel of Marco Rubio ahead of Monday's Iowa caucuses, his campaign dispatched a longtime friend from South Florida who could personally attest to Rubio's faith. Ralph Arza, the burly and gregarious former state lawmaker turned charter-school lobbyist, hit the streets of Dubuque, in northeastern Iowa… his mission: going door-to-door in the largely Democratic — and heavily Roman Catholic — city on the border with Illinois and Wisconsin to find Catholic voters to convert to Rubio.
Rubio can be seen embracing Arza after announcing his Presidential bid last year.
In addition to his personal friendships with scandal-plagued political figures, Rubio's ties to donors has also become a source of controversy throughout his campaign— most notably Rubio's personal ties to his billionaire "patron" Norman Braman.
"Braman has emerged as a remarkable and unique patron. He has bankrolled Mr. Rubio's campaigns. He has financed Mr. Rubio's legislative agenda. And, at the same time, he has subsidized Mr. Rubio's personal finance,"the New York Times reported in May of last year. "Even in an era dominated by super-wealthy donors, Mr. Braman stands out, given how integral he has been not only to Mr. Rubio's political aspirations but also to his personal finances."
While both Rubio's aides and Braman "declined to say how much personal financial assistance he has provided to Mr. Rubio and his wife, directly or indirectly… it appears to total in the hundreds of thousands of dollars," the New York Times writes.
The report seems to suggest that bankrolling Rubio's political career and subsidizing Rubio's personal finances has not come without benefits to Mr. Braman: "The money has flowed both ways. Mr. Rubio has steered taxpayer funds to Mr. Braman's favored causes, successfully pushing for an $80 million state grant to finance a genomics center at a private university and securing $5 million for cancer research at a Miami institute for which Mr. Braman is a major donor," the New York Times writes.
Commentators have remarked upon the extent to which Rubio's legislative agenda—at times— seems to match up with the desires of Party donors. For instance, nationally-syndicated talk radio host Laura Ingraham has called Rubio "the best sock puppet… for the donor class," Pat Buchanan has described Rubio as the "darling of the donor class," and Phyllis Schlafly has called Rubio, "Wall Street's Obama"—writing that "open-borders donors… know exactly what they are buying with Senator Rubio."
Indeed, a January CNN report documents how Rubio's 2013 Gang of Eight immigration bill included immigration provisions that would benefit cruise line operations. The report notes that Rubio's chief negotiator for the bill was a corporate attorney who had previously represented the Carnival cruise line operator. According to Open Secrets, Carnival Corporation is one of the top 20 contributors to Rubio's campaign committee since 2011.
Rubio has also been a big supporter of expanding the controversial H-1B foreign worker program favored by donors. Last year, scores of Rubio's own constituents were laid off by Florida Disney and were forced to train their low-wage foreign replacements brought in on H-1B visas. Rather than reaching out to those workers, Rubio introduced an immigration bill in 2015—endorsed by Disney's CEO Bob Iger—which would triple the H-1B program, but contained no additional protections for American workers. According to Open Secrets, the Walt Disney Corporation has been one of Rubio's biggest financial boosters.
Similarly, reports suggest that Rubio's ties to the Fanjul family—another Rubio donor with whom Rubio has close personal relations— may have perhaps influenced some of Rubio's votes. As the Washington Examiner observed in April of last year, "In June 13, 2012, Rubio cast a very odd vote: he voted to save the indefensible federal sugar program… [It's] relevant that the biggest sugar family in Florida, the Fanjuls." The Washington Post has described Jose "Pepe" Fanjul as part of Rubio's "inner circle": "Over the years, Fanjul has played a key role in raising money for Rubio and introducing him to well-heeled donors." According to Open Secrets, the Fanjuls are amongst Rubio's top financial boosters.
In addition to his friendship with donors and scandal-plagued politicians, Rubio's ties to his former roommate Angel Barrios has also been the subject of reports. As the Miami New Times reported Angel Barrios "was associated with perhaps the most notorious gay porn ring in Miami history, an Edgewater house full of models with names like 'Khali Kreme' and 'Sincere Luv' who had sex all day in front of dozens of webcams."
The report notes that in May 2007, "when an NBC 6 investigative TV crew swarmed a sedate, two-story brick house that Barrios' father owned on NE 27th Street just east of Biscayne Boulevard," it discovered that "scores of ripped, young Hispanic and black male models had been hired at a $1,200 monthly fee, plus free room and board, to live inside, where the cameras caught their every move — including regularly scheduled orgies… Today Barrios strongly denies he knew anything about the gay smut business," the Miami New Times writes. Rubio's friendship with Barrios began at a young age – in fact, the two were friends in high school and were even arrested together while hanging out in a car in a park at night.