Welcome to Breitbart News's daily live updates of the 2016 horse race.
—
All times eastern.
1:03: Trump apparent winner in Missouri:
BREAKING: Trump is the apparent winner in Missouri GOP primary https://t.co/JTnz8Kc30Y #Decision2016 #PrimaryDay pic.twitter.com/sb5fBqhcNI

— NBC News (@NBCNews) March 16, 2016
12:22: CNN Projects Clinton will win Illinois.
12:00: Big night for Trump:
Bottom line: Hard to see how Trump DOESN'T get to 1,237 from here. Beating Cruz in red states, likely to beat Kasich in blue states.

— Dave Wasserman (@Redistrict) March 16, 2016
11:55: Terrible night for Rubio:
Rubio lost 66 of 67 Florida counties, carrying only Miami-Dade.

— Dave Weigel (@daveweigel) March 16, 2016
Humiliating. (NY Times map) pic.twitter.com/ZreHDUCNWy

— Michael Del Moro (@MikeDelMoro) March 16, 2016
11:50: Trump crushing the SEC states like the Alabama Crimson Tide football team:
Trump wins North Carolina, therefore taking all of the southeast. What happened to this being Cruz territory? #PrimaryDay

— Kayleigh McEnany (@kayleighmcenany) March 16, 2016
11: 45: Breitbart's Joel Pollak: Donald Trump Blocks Bernie Sanders Speech from TV
11:35: Carl Cameron declares "another victorious night for Trump":
Carl Cameron: "Another victorious night for @realDonaldTrump, and they are pumped up about it." #KellyFile pic.twitter.com/aKYnY07K85

— Fox News (@FoxNews) March 16, 2016
11:30: Tampa Bay Times front page:
Tomorrow's Tampa Bay Times @marcorubio pic.twitter.com/PnHeeAa6xF

— David Caplan (@DavidCaplanNYC) March 16, 2016
Not much bang for the buck:
Rubio outspent Trump five times yet loses home state in landslide.

— Edward Luce (@EdwardGLuce) March 16, 2016
11:29: Huckabee: Tw0-person race between Trump/Clinton:
.@GovMikeHuckabee: .@tedcruz…is exactly right: after tonight's it a 2-person race. But the two people are @HillaryClinton & Donald Trump."

— Fox News (@FoxNews) March 16, 2016
11:28: Trump thanks Rubio:
Thank you Marco, I agree! pic.twitter.com/PTfFzFno9p

— Donald J. Trump (@realDonaldTrump) March 16, 2016
11:22: [Tony Lee: MARCH MADNESS UPDATE: Wichita State leading Vanderbilt by 9 with about five minutes to play. Wichita State head coach Gregg Marshall (one of the best in the nation) has a simple motto for his players: "Play Angry." Would be fitting for Wichita State to win tonight.]
11:21: Trump leading by around 3,000 votes in Missouri.
11:09: Ryan won't rule out accepting GOP nomination at contested convention:
EXCLUSIVE: Paul Ryan won't categorically rule out accepting GOP nomination
if a deadlocked convention turns to him https://t.co/kuxSyWEDZg

— CNBC Now (@CNBCnow) March 16, 2016
11:03: Chuck Todd: Donald Trump is not having a good night, he's having a "great night." Todd says Trump can make up for his Ohio loss in Missouri because his vote is "across the board" while Cruz's and Kasich's are concentrated. Todd says Cruz is a Santorum/Huckabee but just with more money.
It's official: Lucy (Trump voters) yanked the football yet again from Charlie Brown (anti Trump activists)

— Chuck Todd (@chucktodd) March 16, 2016
10:54: Cruz accuses Trump of buying influence and Clinton of selling influence. He says to them, Washington is the center of the universe and "together, we'll make Washington less relevant." He says "we'll fire government regulators and repeal job-killing regulations" and "together, we'll take the boot of the federal government off the necks of small business all across this country." He says it's not about the cronyism and the bailouts that Republicans and Democrats have done over and over to benefit the rich and powerful. He says "instead, less government is more freedom. Higher wages and a better standard of life for all of us." Cruz blasts Trump for wanting to compromise on Supreme Court Justice and religious liberty and declaring his neutrality re: Israelis/Palestinians. He says Trump's neutrality declaration raises questions about his fitness/judgment. Cruz says Trump will keep the Iranian deal in place while he will "rip to shreds" the deal on his first day in office. Cruz says we can again have "morning in America" if we remember the constitutional values that built the great country. He says it is time for conservatives, libertarians, and independents to unite.
10:47: Cruz heavy on praise for Rubio. He says Marco's history and passion "inspires me." "Marco can paint a picture, can weave a tapestry of the promise of America like nobody else." Cruz says. Cruz welcomes Rubio supporters and says only two campaigns have a plausible path to the nomination–"ours and Donald Trump's." He says only his campaign has beaten Trump over and over again. Cruz asks if Republicans want a candidate who "shares your values" or someone who has spend decades opposing them. He says network executives who are "partisan Democrats" who are "ready for Hillary" want Donald Trump because Trump may be the one person who can lose to Hillary. He says the media aren't going to decide the election–"the voters will." He says this election will focus on three issues–jobs, freedom, security. Cruz says the question is whether one understands the principles that made America great.
Structure of Cruz's speech remarkably similar to Clinton, another ladder-climbing politician. Cruz says that he his vision is of an America that is "greater tomorrow than it is today than it was yesterday." And then he talks about the three things his campaign is about. Clinton said voters voted for "our tomorrow" to be better than "our yesterday." And then talked about the three things her campaign was about.
https://www.facebook.com/tedcruzpage/videos/10153968210997464/
10:45: This man is delusional.
Mike Murphy on MSNBC tonight calls Bush run/super pac effort "a badge of honor" says he's proud despite outcome

— Jordan J Frasier (@jordanjfrasier) March 16, 2016
10:40: Cruz campaign ready for convention:
Roe says if 1237 delegates becomes not possible–> "If we're not able to get those numbers, we'll prepare for a convention."

— Vaughn Hillyard (@VaughnHillyard) March 16, 2016
Cruz campaign manager Jeff Roe tonight: "If it does go to convention, we believe we'll have a delegate lead going into convention."

— Vaughn Hillyard (@VaughnHillyard) March 16, 2016
10:12: Trump says there are some nice reporters but a lot of "disgusting ones" back there and vows to "win" for the country. He doesn't take any questions tonight.
10:09: Trump congratulates Rubio for running a "tough campaign" and says he has a "great future." Trump says nobody has been attacked with negative advertising like he has been. Trump says his numbers went up as the negative ads increased. "It's been an interesting experience," he says.
"We need the rich in order to make the great, I'm sorry to tell you." – @realDonaldTrump He's not that sorry…

— Joel B. Pollak (@joelpollak) March 16, 2016
10:06: Trump says there is "great anger" because of the "imbalance" on trade and "we don't win anymore." Trump says Americans "aren't angry people" but they want to see the country properly run with strong borders. They want the military rebuilt, Trump says. They want good healthcare and the Second Amendment protected and "protected strongly." Trump also says "they want our veterans taken care of. Our veterans are treated so badly."
10:03: Trump says "we have to bring out party together." He says he has talked to Paul Ryan and Mitch McConnell. He says "million of people" are voting for Republicans and the everyone in the world is writing about it. Trump says Democrats are coming in and independents are coming and in addition to people who have never voted before. "It's an incredible thing."
Trump wants to pay her respects to Todd Palin, who is in intensive care. Trump says he is "tough as nails" and "he's going to be fine."
10:00: Trump cites companies like Carrier that are leaving the country and he says "frankly, I'm disgusted with it…. There's no reason for it…. We should not allow it to happen."
9:58: Trump cites his strong poll numbers during his victory speech. Trump says he has to explain to pundits that they don't understand basic physics, mathematics, etc. Trump thanks his family. Trump says Apple and all the companies will be making their products in the United States.
9:44: Trump projected to win Illinois: 
JUST IN: @ABC News projects Donald Trump will win Illinois Republican primary. https://t.co/vG8mmUfOiA pic.twitter.com/zHe2LjmhYo

— ABC News (@ABC) March 16, 2016
9:42: After losing Ohio, Sanders reportedly not hitting Clinton by name on trade in Arizona:
Sanders just concluded the part of his speech on trade. Who didn't come up during it? Hillary Clinton. https://t.co/K6HzKAvaXo

— Danny Freeman (@DannyEFreeman) March 16, 2016
9:40: Great night for Team Kasich:
Explosion of confetti at @JohnKasich's election night party in Ohio… pic.twitter.com/jMWqkSeZSJ

— Kailani Koenig (@kailanikm) March 16, 2016
9:37: Cruz's statement on Rubio:
"Marco Rubio is a friend and a colleague who ran an optimistic campaign focused on the future of our party, conservative principles, and uplifting the American people. The Republican primary was stronger because of the ideas he brought forth. Marco's story embodies the promise of our great nation. I know he will continue to be a champion for limitless opportunity in America, and I wish Marco, Jeanette, and their four kids the very best."
9:35: David Axelrod makes a good point on CNN. He says Kasich sounded like he just won a governor's race in Ohio. Earlier, it was funny that Begala compared Rubio to John Edwards in 2004 (Axelrod was Edwards's top strategist in 2004).
9:33: North Carolina called for Trump:
BREAKING: Donald Trump wins the North Carolina GOP Primary pic.twitter.com/j5k1BEg2y6

— FOX & friends (@foxandfriends) March 16, 2016
9:32: Kasich vows to go all the way to Cleveland:
"We're gonna go all the way to Cleveland and secure the nomination." – Kasich, from Berea pic.twitter.com/JT6GZxUubQ

— Chris Geidner (@chrisgeidner) March 16, 2016
9:30: Kasich says his father was a Democrat and thanks Democrats for coming over and supporting him.
"We must never underestimate our ability to change the world." pic.twitter.com/IMC6hGwxld

— John Kasich (@JohnKasich) March 16, 2016
9:25: Kasich: "The campaign goes on." He says it is his intention to make people proud. He says even though he labored in obscurity for so long while being counted out, he out one foot in front of other and wants to remind voters that he will "not take the low road to the highest office in the land."
9:24: Kasich wants the rating agencies to eat their words about doubting Ohio. He says his whole life has been about creating opportunities for people. Kasich says "you want to believe again" that wages can rise, that we can have job security, and our children can have a better America than our mothers and fathers. He says he wants people in Ohio to know that he understands these tough issues because "he grew up in these situations" in a blue-collar town. He says his father was a mail carrier and his grandfather worked in the coal mines. Kasich says "I represent you" and it is his job is to "listen to  you" and then to and fix the problems. He says if he has to take some heat, "that is the price of leadership in America."
9:23: Kasich says he thought he could sneak in and grab a quick meal at a Cleveland restaurant and people started to cheer. Kasich says his reaction was "please don't do that because you're going to make me cry." Kasich says to have people believe in you and "bring people together and strengthen our country…" He thanks the people of Ohio. "I love you." Kasich cites his record of leaving nobody behind–not the drug-addicted, the working poor, the mentally ill.
9:21: Kasich says you appreciated good, peaceful protests when you went to college in the 1960s. Kasich says when you are in the arena and you leave your family to go out on the campaign trail and deliver a message to America because you believe you are the best qualified to be president and put it all out on the  along with your family… And he wants the crowd to give a great response to Marco Rubio.
9:20: Crowd chanting "USA, USA" and "Kasich, Kasich!"
9:19: Kasich says "you better believe it is about America" by "pulling us together" and "not pulling apart."
9:17: A victorious Kasich comes out on stage in Ohio. He is being lauded for holding serve and winning his home state (Is it a big deal if Ivo Karlovic or John Isner hold serve?).
9:00: Clinton is up at the 9 p.m. EST hour and says she is closer to securing the nomination in November. She sounds hoarse and says her campaign has earned more votes than any other candidate–Democrat or Republican. She congratulates Sanders for the vigorous campaign he is waging.  Clinton says voters voted for "our tomorrow to be better than our yesterday" because "that's how American can live up to its potential, too." She asks supporters to "keep contributing" at her website.  She says this is one of the most consequential elections of our lifetime. Clinton says the next president will  have to make a positive difference in America, keep Americans safe, and "bring our country together again." She says the next president cannot privatize Social Security. She talks up "equal pay for equal work." She speaks about "more good jobs in infrastructure" and "more good jobs in manufacturing" and "more good jobs in small businesses" and "more good jobs in clean energy." She says we're going to "stand up" for the American middle class and American workers. Sounding like Trump and Sanders, she vows that China, Wall Street, and overpaid corporate executives will not take advantage of America.
https://twitter.com/dbongino/status/709909428426956800
Taking a shot at Sanders, she says every candidate "owes it to you to be clear and direct about what our plans cost" and how they will work. She sys that is the difference between running for president and being president.
She says Trump is "wrong" and not "strong" for embracing torture, wanting a temporary ban on Muslims and wanting to deport illegal immigrants.
8:54: On CNN, Kasich says he is so appreciative of the people of Ohio for his third consecutive statewide win and he says he has "one more to go" in the fall because he is best positioned to beat Hillary Clinton. Kasich says he will "have all the money we'll need" after tonight's results. Kasich says "this is the little engine that can" and says he'll get into a covered wagon and hope for a breeze. He compares himself to Cinderella teams in March Madness.
John #Kasich: "We have left no one behind…we are proud of what we've done." #PrimaryDay #CNN

— Brian Dorman (@BDormanTV) March 16, 2016
8:50: Kasich projected to win Ohio primary and its 66 delegates. Clinton wins Ohio.
BREAKING: Hillary Clinton wins the Democratic primary in Ohio. @AP race call at 8:38 p.m. EST. #Election2016 #APracecall

— The Associated Press (@AP) March 16, 2016
8:31: Clinton projected to win North Carolina.
8:28: Rubio salutes crowd with glass of water as he exits the stage:
Rubio salutes the crowd with a glass of water as he exits the stage

— Charlie Spiering (@charliespiering) March 16, 2016
It's official. @marcorubio has dropped out of the 2016 presidential race pic.twitter.com/TAdLDiATZo

— Charlie Spiering (@charliespiering) March 16, 2016
8:24: Rubio suspends his campaign while trying to reinvent himself:
Rubio trying to erase his legacy of selling out in D.C. & reinvent himself as anti-establishment reformer.#PrimaryDay

— Michelle Malkin (@michellemalkin) March 16, 2016
JUST IN: Marco Rubio announces he has suspended his presidential campaign https://t.co/phuRIqTmaT https://t.co/o6HhirZM1f

— ABC News (@ABC) March 16, 2016
8:23: Cruz discovering voters are railing against the conservative industrial complex as well:
Cruz campaign manager on Rubio: "Tough night, he's a good man."

— Matt Flegenheimer (@mattfleg) March 16, 2016
8:20: Rubio, sounding like he is a Breitbart News reader and someone who has been listening to Sarah Palin's Indianola, Iowa speech in 2011, blames the political establishment for looking down on conservatives as "simple-minded people" and taken their votes for granted while confusing "cronyism for capitalism" and "big business for free enterprise." He says "we will not be on the winning side."
8:19: Rubio getting trounced in Florida like Alabama steamrolled the quarterback-less Gators in the SEC title game:
Only county Marco Rubio is winning so far is Miami-Dade. pic.twitter.com/gKLHbk7yqV

— Teddy Schleifer (@teddyschleifer) March 16, 2016
8:17: Hostile Rubio supporters:
Wow. One Trump supporter puts on his red hat and shouts "You lost Marco!!! Some in the crowd rip off his hat and throw it across the room

— Charlie Spiering (@charliespiering) March 16, 2016
8:16: Crowd wants Rubio to go to the convention:
"Go to the convention!!" Shouts @marcorubio fans

— Charlie Spiering (@charliespiering) March 16, 2016
8:15: Rubio says he is grateful to his supporters [what about his elite advisers who convinced him to be the face of the Gang of Eight? And the Smart Set who told him to personally attack Trump?] Rubio cites his wins in Puerto Rico and Washington, D.C. He says there is nothing more his supporters could have done.
Rubio says we should have seen this "tsunami" coming. He says the people are upset at elites telling them they are "bigots" if they are against illegal immigration. He says Americans are tired of hearing from "elitists" that "they don't know what they are talking about" and "they need to listen to the so-called smart people." [HA! Rubio BLASTS the GOP clowns/SmartSet.] Rubio claims he has been standing up to elites his whole life even though he is the candidate of the elites.
8:13: Rubio congratulates Trump on his win. Crowd boos.
Rubio fans boo as networks call race for Trump

— Charlie Spiering (@charliespiering) March 16, 2016
Crowd boos when @marcorubio congratulate Donald Trump at election event pic.twitter.com/qB5Y5wz7yr

— Charlie Spiering (@charliespiering) March 16, 2016
8:12: Cruz leading Missouri per CNN exit polls:
CNN exit polls had CRUZ leading Missouri:

Cruz 43%
Trump 40%
Kasich 10%

— Teddy Schleifer (@teddyschleifer) March 16, 2016
8:11: Clueless people inside the bubble:
Pundits like @secupp still writing off Donald Trump as a "crazy phenomenon." They still don't get what's happening.

— Taegan Goddard (@politicalwire) March 16, 2016
8:10: GOP SmartSet seems so, so, so sad and bitter… and angry tonight after Rubio's humiliating shellacking/walloping in Florida.
8:08: Trump blasts 'Crazy Megyn.'
Can't watch Crazy Megyn anymore. Talks about me at 43% but never mentions that there are four people in race. With two people, big & over!

— Donald J. Trump (@realDonaldTrump) March 16, 2016
8:05: Rubio's first loss in Florida.
Marco Rubio had never lost an election in Florida. Until tonight.

— Matt Viser (@mviser) March 16, 2016
8:02: FLASHBACK: Rubio: Winner of Florida GOP primary will be the nominee
8:00: Networks project Trump will win Florida and all of its 99 delegates in the winner-take-all Sunshine State. Clinton also projected to win Florida.
7:55: Word of caution from Chuck Todd:
Among GOPers in 3 Nov swing states voting today, 41% in OH wd seriously consider 3rd party Cand in Trump v Clinton, 39% in NC and 30% in FL

— Chuck Todd (@chucktodd) March 15, 2016
7:53: Trump Re-Tweeting anti-Fox News comments:
"@SCNAK45: @megynkelly is trying so hard to bash @realDonaldTrump it's ridiculous" Don't worry, everyone is wise to Crazy Megyn!

— Donald J. Trump (@realDonaldTrump) March 15, 2016
"@J_Styborski: @realDonaldTrump @gregens21 @BertShad @FoxNews @megynkelly Hayes is looking depressed as well. pic.twitter.com/wUJacOm32h"

— Donald J. Trump (@realDonaldTrump) March 15, 2016
"@jsconlon11: @BertShad @Foxnews @megynkelly I tried to give them a shot tonight, but they have the whole anti Trump cheerleading team."

— Donald J. Trump (@realDonaldTrump) March 15, 2016
"@gregens21: @BertShad @FoxNews @megynkelly She's choking on the results! Call her justifiable Kelly. Justifying everything she says."

— Donald J. Trump (@realDonaldTrump) March 15, 2016
"@BertShad: Was going to watch @Foxnews for the primary results but saw @megynkelly – looks like #CNN tonight"

— Donald J. Trump (@realDonaldTrump) March 15, 2016
7:50: Late-deciders for Cruz in North Carolina
@tedcruz topped @realDonaldTrump by 12 among NC voters making up minds in last week, say exit polls #PrimaryDay: https://t.co/EHryRBKTQi

— David Lightman (@LightmanDavid) March 15, 2016
7:47: And also why Rubio is doing so poorly:
CNN: Why is DT doing so well in FL? Immigration.

— Diana West (@diana_west_) March 15, 2016
7:46: Bad news for Rubio for Florida. CNN's Cooper says, "what an epic collapse."
Very ominous signs for Rubio in Florida. https://t.co/oTKaPldv1j
Trump 46.0%
Rubio 27.2% pic.twitter.com/VeJCUTLvKT

— Tim Hanrahan (@TimJHanrahan) March 15, 2016
7:40: In North Carolina, Trump receives 52% support from voters who are "angry" at the federal government, and they made up 40% of the GOP primary electorate in North Carolina. In Ohio, Trump receives 52% of "angry" voters, and they made up 40% of the electorate.
7:35: None other than Rep. Renee Ellmers (R-NC) votes for Trump.
7:25: Trump, Clinton with big leads in Florida:
.@MajorCBS: Trump anticipates winning Florida, "no small feat for a political novice" https://t.co/EUp8ZZUCau https://t.co/63M6OzbG0B

— CBSN (@CBSNLive) March 15, 2016
The Trump early vote margins in Florida are huge. He's near or over 50 percent everywhere, including Broward, Palm Beach, Pinellas.

— Nate Cohn (@Nate_Cohn) March 15, 2016
Let's be real: Ain't nothing in these early votes that suggest anything other than a Trump blowout in Florida.

— (((Harry Enten))) (@ForecasterEnten) March 15, 2016
7:16: Breitbart's Spiering at Rubio's event:
https://twitter.com/charliespiering/status/709882956408561664
Immensely small event for @marcorubio in the atrium of the FIU stadium- expected to deliver a statement pic.twitter.com/VukcK0r235

— Charlie Spiering (@charliespiering) March 15, 2016
7:15: Scene at Trump news conference in Florida:
Tonight's Donald Trump "news conference" has reporters seated behind 16 rows of supporters, with no mic to ask Q's pic.twitter.com/I0UEgouX7E

— Garrett Haake (@GarrettHaake) March 15, 2016
7:14: Trump predicting Florida victory:
Word is that, despite a record amount spent on negative and phony ads, I had a massive victory in Florida. Numbers out soon!

— Donald J. Trump (@realDonaldTrump) March 15, 2016
7:13: Sanders targeting Arizona:
Bernie Sanders sends a message? Tonight Sanders rallies in Phoenix Arizona is next in dem primary contest – March 22 #Elections2016

— Michelle Moons (@MichelleDiana) March 15, 2016
7:12: Clinton campaign reportedly ordering Cuban food at Florida headquarters, anticipating a big victory. Will there be picadillo?
7:10: Overwhelming majorities favor temporary Muslim ban. Florida reporter interviews Muslims who voted for Trump in the primary:
2/3 of GOP voters today favor a temporary ban on Muslims entering the United States: https://t.co/8yjvfVR9i1 pic.twitter.com/FYPHVgzlFP

— ABC News Politics (@ABCPolitics) March 15, 2016
The first voters I interviewed were Muslims who voted for @realDonaldTrump / Britt

— Anthony Man (@browardpolitics) March 15, 2016
7:00: Lack of enthusiasm for Rubio's campaign:
Line outside of the Rubio event which starts at 7. Less than 100 ppl. Couple dozen already inside. pic.twitter.com/3QUxV8br3Y

— Ashley Killough (@KilloughCNN) March 15, 2016
6:58: Rush Limbaugh: Jeb! Could Mount Convention Comeback.
6:57: Majority of voters in Ohio think bad trade deals eliminating American jobs:
CNN Exit Poll: Majority of voters in Ohio believe U.S. trade with other countries takes away U.S. jobs, per @DavidChalian

— Dylan Byers (@DylanByers) March 15, 2016
6:55: Clinton claims she's not worried about Trump's attacks:
HRC tells @CeciliaVegaABC she's not worried abt personal attacks from Trump. "Not a bit…I've been standing up to bullies my entire life."

— Liz Kreutz (@ABCLiz) March 15, 2016
6:52: Nearly 2/3 of FL GOP voters feel 'betrayed' by GOP:
Nearly 2/3 of FL GOP voters feel betrayed by the Republican party: https://t.co/BUqYBYsrIM #PrimaryDay pic.twitter.com/Rb5ycghLkj

— CBS News Politics (@CBSPolitics) March 15, 2016
6:46: Yahoo: Major Kasich Backer Embroiled in Sex-Slave Suit:
The super-PAC backing John Kasich's candidacy said Tuesday it will turn over a $250,000 contribution from embattled Silicon Valley investor Michael Goguen to nonprofit groups fighting human trafficking — as a result of allegations in a lawsuit that he "sexually abused" a woman for 13 years, including subjecting her to "countless hours of forced sodomy."
6:45: More Exit Polling:
Exit polls: 52% of Florida GOP voters want next president to be outside politics https://t.co/EXM2iEVmVo #PrimaryDay pic.twitter.com/dgSh2TSeuF

— CBS News (@CBSNews) March 15, 2016
Majority of Florida GOP voters made up minds before #PrimaryDay, early exit polls show: https://t.co/n3hATqwn6D pic.twitter.com/jsxraKbVwz

— CBSN (@CBSNLive) March 15, 2016
Ohio GOP voters want candidate who shares their values, early exit polls show: https://t.co/aGupIToaN7 #PrimaryDay pic.twitter.com/X5QWToRwis

— CBS News (@CBSNews) March 15, 2016
6:40: Fox News: Florida's seniors going for Trump. Hispanics for Rubio:
Trump is dominating the home-state candidate, Sen. Marco Rubio, among senior voters. Exit polls show 47 percent of seniors breaking for Trump, compared with 26 percent for Rubio. But Hispanic voters in Florida – another critical voting bloc – are breaking for Rubio over Trump, 51-29 percent, according to the early exit polls.
6:25: Late-deciders in Ohio going for Kasich:
EXIT POLL: How late deciders are going in Ohio pic.twitter.com/VbGn5yrlZF

— Shepard Smith (@ShepNewsTeam) March 15, 2016
6:23: Good job, GOP smart set:
Evangelical Christian voter tells me she voted for @tedcruz because he's "the most honest.'' Says @marcorubio sold out with hands comments/B

— Anthony Man (@browardpolitics) March 15, 2016
6:20: Honest ABC reporter pointing out that number of GOP primary voters who say they won't support Trump isn't much higher than other candidates beloved by the GOP establishment/institutional conservatives:
FWIW — the number of Republicans twho say they won't support Trump isn't really any higher than anyone else…. pic.twitter.com/cEU9ryeZhS

— Ryan Struyk (@ryanstruyk) March 15, 2016
6:02: Trump voters are people who work with their hands:
The divide here in Dayton is so stark. The professionals are w/ Kasich, the people who work w/ their hands are for Trump. It's that simple.

— Alec MacGillis (@AlecMacGillis) March 15, 2016
6:00: Terrible news for Rubio. Only 47% of GOP primary voters in Florida would "definitely" vote for Rubio if he were the nominee:
Only 47% (!) of Florida GOP voters would "definitely" vote for Rubio if he were the nominee in November in prelim exits. Trump at 58%.

— Ryan Struyk (@ryanstruyk) March 15, 2016
5:48: Sanders's message on trade may resonate in Ohio:
53% of Ohio Democratic voters say free trade costs jobs, a group Bernie Sanders won by 15 points in Michigan: pic.twitter.com/9APTafAhQ9

— ABC News Politics (@ABCPolitics) March 15, 2016
5:39: Money well spent?
Worth noting: Rubio campaign and outside groups spent $67M on ads this cycle — 2nd only to Team Jeb's $82M pic.twitter.com/yUPFQR6kYe

— Mark Murray (@mmurraypolitics) March 15, 2016
5:33: Clinton will have to work to win over Sanders supporters:
47% of today's Democratic primary voters supporting Sanders are satisfied if Clinton is nominee. #Decision2016 pic.twitter.com/myEh082aOh

— Meet the Press (@MeetThePress) March 15, 2016
5:30: Rubio's/Cruz's numbers nothing to brag about either:
Do you think candidate is honest and trustworthy?

In states voting today, per prelim exits:

Kasich 72%
Cruz 50%
Rubio 50%
Trump 47%

— Ryan Struyk (@ryanstruyk) March 15, 2016
5:27: Dem. Exit polls, per CNN: Majorities want to continue Obama's policies–except in Ohio.
– Overall, majorities of Democratic voters in each state said they hoped the next president would continue President Barack Obama's policies, with the exception of Ohio, where about half said they hoped to see Obama's policies carried on.

– About 1 in 5 voters in each state said they made up their minds in the final days of the campaign, about on par with the average of 17% across all states with exit or entrance polls so far. That dipped to 1 in 10 in Florida.
5:25: Exit polls: 71% of GOP primary voters would definitely or probably vote for Trump if he were the nominee. 75% of GOP primary would definitely or probably vote for Cruz if he were the nominee.
5:25: More exit polling: 57% of GOP primary voters would be satisfied with a Trump v. Clinton general election matchup.
5:23: GOP EXIT POLLS per CNN:
-The economy and jobs were the top issue in each state, except for Missouri where government spending ties the economy as the top concern.

– Worry about the economy is widespread among this GOP electorate, with about 7 in 10 in Illinois, Missouri and North Carolina saying they are very worried about the nation's economic future. That dips to 6 in 10 in Ohio. Still, 1 in 5 or fewer in each of the five states voting today say they feel they personally are falling behind financially.

– Majorities across three of the states voting today — Ohio, North Carolina and Illinois — said trade with other countries takes away U.S. jobs, while about a third in each of those states said it creates jobs.

– Majorities of Republican voters across all five states today say they feel betrayed by the Republican Party, but not all were seeking someone from outside the establishment to carry the Party's mantle. Majorities in Missouri and North Carolina said they wanted an outsider, as did about half in Florida and Illinois, and slightly less the half said so in Ohio.

– Anger with the way the federal government is working is a bit more tempered here than it has been in other primary states. Between one-third and 4 in 10 GOP voters in each state said they were feeling angry about the way the government has been working. Across all other states with exit or entrance polls so far, an average of 42% described themselves as angry.

– Majorities in all five states said they thought those working in the U.S. illegally ought to be allowed to apply for legal status, ranging from just over half in Missouri to nearly 6 in 10 in Florida.

– Two-thirds or more say they support a temporary ban on allowing Muslims to enter the country, that finding holds across all states.

– Overall, about 29% of voters across all states with GOP exit or entrance polls so far have said they made up their minds in the final days of the campaign. Across these states, the share saying they made a late decision ranges from about 15% in Florida to about a third in Illinois and Missouri.

– Across all four states where it was asked, Trump has the lead as having run the most unfair campaign.

– Demographically, today's states present some variety. Not all have a heavy concentration of religious voters. White born-again or evangelical Christians made up just a third of GOP voters today in Florida — where almost as many voters were Catholic — but comprised 6 in 10 North Carolina voters.
5:17: Sanders flying to Arizona to hold Tuesday rally:
.@BernieSanders readies to take off to Arizona on #BernForceOne. pic.twitter.com/M5m8vmgZ1l

— Danny Freeman (@DannyEFreeman) March 15, 2016
5:13: EXIT POLLS: Majority of voters across five Tuesday primary states feel BETRAYED by GOP:
Good for Trump? CNN exit polls find that majority of GOP voters across five states feel betrayed by the Republican Party

— Manu Raju (@mkraju) March 15, 2016
5:12: White substance found in Rubio's Senate office?
Top Rubio aide tells Fox "white substance" found at nat'l campaign office in DC. Staff evacuated to roof

— Chad Pergram (@ChadPergram) March 15, 2016
5:10: What's at stake today:
What's at stake for the candidates on #PrimaryDay as voters head to the polls: https://t.co/3mtep5CMr4 pic.twitter.com/Ddwbgf4YXJ

— ABC News Politics (@ABCPolitics) March 15, 2016
5:07: Clinton on whether unpopular Rahm will hurt her:
On whether Rahm will hurt her in IL: "I'm running on my record, what I've done, who I am… I think voters understand that" @mitchellreports

— Monica Alba (@albamonica) March 15, 2016
5:05: Spam accounts claiming Rubio/Kasich will drop out:
@TheRickWilson @baseballcrank @rumpfshaker @RBPundit @jacobperry @HawkinsUSA Looks like Cruz bots are back up today pic.twitter.com/Wz30MLShiR

— jack tinker (@jacktink) March 15, 2016
Here's why you won't ever see me vote for lyin' @tedcruz

He's back to that flea-ridden bag of dirty tricks AGAIN pic.twitter.com/4d9iRoMMQz

— jack tinker (@jacktink) March 15, 2016
5:02: Clinton not familiar with SNL skit:
.@mitchellreports asked Hillary Clinton what she thought of the SNL skit where she morphs into Bernie sanders. HRC said she hadn't seen it.

— Monica Alba (@albamonica) March 15, 2016
5:00: Delegate cheat sheet for tonight:
The cheat sheet you must have today: @NBCPolitics unit breaks down delegate math scenarios. LOOK –> pic.twitter.com/arKAYBx3P5

— Hallie Jackson (@HallieJackson) March 15, 2016
4:55: ABC News: Donald Trump Boasts About Doing Well Among Women – and He's Right:
Donald Trump mostly right in saying he's doing very well with female voters, exit polls show https://t.co/vZdRFSVGst pic.twitter.com/2DSiWrNcHb

— ABC News (@ABC) March 15, 2016
4:50: Dems. campaigning against Arpaio in Arizona. Spanish language ad from Clinton in Arizona features Arpaio/Trump. Sanders's wife visited Arpaio's tents jail and left horrified:
"THIS IS COURAGE: Bernie Sanders' Wife, Jane, Challenges Sheriff Joe Arpaio on Racial Profiling…" — @Ed_Samaniego https://t.co/n12VgTjqyv

— Erika Andiola (@ErikaAndiola) March 15, 2016
https://www.youtube.com/watch?v=5qEno4T19I8
4:41: Small venue for Rubio tonight. Reporter says it seems "odd."
Tonight's @marcorubio gathering in a very, very small lobby. Seems odd. #floridaprimary @WESH pic.twitter.com/AX2JGDLwW4

— Amanda Ober (@AmandaOberWESH) March 15, 2016
4:35: On CNN, Bill Press reports that union members are voting for Sanders in Ohio/Illinois even though their unions have endorsed Clinton.
4:30: Kasich confident he can win Ohio. But he sounds like a disingenuous politician when he claims he had never heard of Trump's controversial comments until last Friday:
John Kasich: We feel very good about winning Ohio https://t.co/6OZtrfIwim https://t.co/3vCYDtiNjt

— CNN Politics (@CNNPolitics) March 15, 2016
4:25: Feds charge man who rushed stage at Trump event:
Federal authorities charge man who rushed the stage at a Donald Trump campaign event https://t.co/YXK1M3fRtd pic.twitter.com/xYQoQeuEUC

— ABC News Politics (@ABCPolitics) March 15, 2016
4:20: Cruz's camp thinks Trump will win Illinois?
A member of Ted Cruz's Illinois leadership team just told me that Trump is going to win here

— Gideon Resnick (@GideonResnick) March 15, 2016
4:15: Kasich's path to an Ohio victory:
In '12, Romney won Ohio by winning just 19 of 88 counties. It's likely Kasich's route will require a similar map. pic.twitter.com/8lWjLJcHUM

— Dave Wasserman (@Redistrict) March 15, 2016
Wow: Among Cuyahoga Co. potential early voters, 15.6% (!) of Dems requested GOP ballots, likely to vote Kasich. https://t.co/S75UlyGgzV

— Alex Seitz-Wald (@aseitzwald) March 15, 2016
4:08: Mainstream media reporters finding Democrats and people who have never voted before voting for Trump. Smart set upset GOP is expanding the tent without their "influence."
Jeff Hester, an Illinois resident who is a railroad worker, said he was a lifelong Democrat but is voting for Trump today

— Gideon Resnick (@GideonResnick) March 15, 2016
4:05: Republican voters in Ohio excited:
Only 7% of voters in Struthers, OH are pledged GOP. But 44% have voted Republican today, according to figures obtained by @MSNBC. (1/2)

— tonydokoupil (@tonydokoupil) March 15, 2016
The Democratic canvasser outside this polling station in Youngstown just admitted she voted for Trump.

— tonydokoupil (@tonydokoupil) March 15, 2016
3:55: Christie insists he is not Trump's sidekick.
3:18: Trump hopes his name is on all of the ballots in FL:
A lot of complaints from people saying my name is not on the ballot in various places in Florida? Hope this is false.

— Donald J. Trump (@realDonaldTrump) March 15, 2016
3:15: Cash-strapped Rubio campaign in holding pattern until after Florida:
Rubio's cash-strapped campaign turned from big rallies to retail. Donors in a "holding pattern" till after FL: https://t.co/B7xubudOVW

— Alexandra Jaffe (@ajjaffe) March 15, 2016
3:13: Hacker group reportedly threatening to release photos of Ted Cruz with prostitutes?
Hacker group Anonymous promises to release evidence of @SenTedCruz with prostitutes https://t.co/9hy0r1Srjb

— Matthew Sheffield (@mattsheffield) March 15, 2016
3:05: Obama's cast IL absentee ballots:
the Obamas have cast their absentee ballots #ILPrimary – but not saying who they voted for, per @marykbruce

— Rick Klein (@rickklein) March 15, 2016
2:57: Bill Kristol, ladies and gentlemen:
None Dare Call Them Chumps

Trump doth ever prosper,
Out on the stump.
For about his voters,
None dare call them chumps.

— Bill Kristol (@BillKristol) March 15, 2016
2:55: Anti-Trump ad spending in Florida/Ohio:
In OH, the pro-Kasich/anti-Trump outspent Trump 2-1. #bangforthebuck(eye)

— Chuck Todd (@chucktodd) March 15, 2016
In FL, the anti-Trump/pro-Rubio forces outspent Trump nearly 8-1 in FL. Yes, 8-1. #deafears?

— Chuck Todd (@chucktodd) March 15, 2016
2:44: Erick Erickson leading meeting inside the Beltway to plot third-party challenge to Trump:
Bob Fischer, @EWErickson and @billwichterman call DC meeting to talk 3rd party "true conservative" Trump challengerhttps://t.co/J5DctuFvzF

— Shane Goldmacher (@ShaneGoldmacher) March 15, 2016
2:25: McConnell asks Trump to discourage violence:
Senate Maj Leader Mitch McConnell (R-KY) says @realDonaldTrump called his this morning: pic.twitter.com/y9A574U3TY

— Frank Thorp V (@frankthorp) March 15, 2016
McConnell said he told Trump 'might be a good idea to condemn that and discourage it no matter what the source is.'

— Mike DeBonis (@mikedebonis) March 15, 2016
2:20: Team Trump wants to focus on Hillary after tonight:
At this point a vote for Kasich is a vote for a brokered convention. Let's turn our attention to Hillary. #MakeAmericaGreatAgain #Trump2016

— Eric Trump (@EricTrump) March 15, 2016
2:18: On CNN, pro-Cruz radio host Steve Deace seems perturbed and agitated for some reason. He says he will never support Trump because the response to Obama's failures is not "white nationalism."
2:15: Globalists who don't want borders fear Trump. Perhaps because he will oppose trade deals like TPP:
Trump presidency was no. 4 geopolitical risk (behind China, refugee crisis, Brexit) for investors at JPMorgan conference in Paris.

— Andrew Mayeda (@amayeda) March 15, 2016
2:13: Video from Breitbart's Alex Swoyer: Donald Trump Volunteer Fights with Polling Location over Order to Stop Passing Out Flyers:
1:49 – CNN reporter on "cracker voters":
Who will win the Florida cracker vote? @CNNPolitics hit the cattle ranches to find out. https://t.co/FDOIrcrINP https://t.co/WSlVdgBO2g

— Chris Moody (@moody) March 15, 2016
1:45 – Miami Herald reporter.
Yet to see any #Kasich supporters at the polls I've gone to so far. Kasich voters, where you at? Tweet me some photos. #FLPrimary

— Monique O. Madan (@MoniqueOMadan) March 15, 2016
1:42 – Rubio camp says staying in the race will hurt Trump, help Cruz:
weird rationalization by aides for @marcorubio staying in race post Fla loss: he helps @tedcruz etc by drawing votes from @realDonaldTrump

— Charles Gasparino (@CGasparino) March 15, 2016
1:37 – AP interview of Cruz voter:
Jennifer Stone of Belton, Missouri, tells @jimsuhr she trusts @tedcruz. pic.twitter.com/UUXyhaU8gS

— AP Central U.S. (@APCentralRegion) March 15, 2016
1:29 – Update from Alex Swoyer… County Clerk Shane Schoeller responds:
"We have always, when it's a private location, given them the preference of electioneering signs or not," Schoeller said of the private property owners. "Based upon what we'd always done, if the private polling location (not public), if they chose not to have electioneering or signs then we respected that."
"We believe that there is some gray room there in terms of our interpretation that if they are in the sidewalk or the parking lot that they can be there, which is different than how this office has always looked at that," he clarified. "Based upon what I learned today we are changing what we always stated to our election folks…to let them know that."
1:13 – Rubio promises he'll campaign tomorrow in Utah even if he loses Florida:
"Marco Rubio says he plans to move onto Utah to campaign even if he loses the Florida primary." https://t.co/GJuDeA3tjr

— Chris Geidner (@chrisgeidner) March 15, 2016
If Rubio drops and Trump abstains; next week will be Cruz and Kasich in a Utah debate. Will they still hold it?

— Michael Shure (@michaelshure) March 15, 2016
1:11 – Jeanette Rubio helping volunteers GOTV in Miami.
Marco Rubio's wife helping out at Rubio HQ in Miami as volunteers work to get voters to the polls. pic.twitter.com/XdLar8I369

— Ryan Raiche (@ryanraiche) March 15, 2016
1:05 – Fox Business producer says she's receiving complaints of voting irregularities in Florida:
Hearing reports from friends in my home state of Florida that @realDonaldTrump is left OFF of voting ballots at various polling stations

— Jennifer Eckhart (@JenniferEckhart) March 15, 2016
@realDonaldTrump Up to 15 people now have called me to complain that Trump is left off their voting ballot in Florida @DonaldJTrumpJr

— Jennifer Eckhart (@JenniferEckhart) March 15, 2016
If you're a registered voter in Florida and you've received a ballot w/ @realDonaldTrump OFF the ballot – contact me. @FoxNews on the story.

— Jennifer Eckhart (@JenniferEckhart) March 15, 2016
1:03 – Hillary and Chris Matthews hot-mic exchange shows the Democratic frontrunner speculating that Chris Christie might "have a debt" to Trump:
Clinton scolded the media for its constant coverage of the GOP front-runner Donald Trump, speculated about New Jersey Gov. Chris Christie's political future and his motivations for endorsing Donald Trump.

"You guys can't stop covering him," Clinton told Matthews. "He is a dangerous presence."

"It's just like candy by the bushel."

Matthews followed up by acknowledging that his network has "progressive leanings, obviously."

"But nobody can tell what people want to watch," he said.

"People must think they want to watch him," Clinton replied.

"They laugh at him," said Matthews.

The subject quickly turned to Christie, and Clinton wondered: "Why did he support him?"

Matthews explained that Christie and others who support Trump "want a future" politically.

"Did he have a debt?" Clinton mused.
1:00 – From Breitbart's Alex Swoyer:
Kevin Bray, who is on the ground volunteering for GOP frontrunner Donald Trump, told Breitbart News he was asked to leave a polling location on Tuesday where he was passing out flyers.
Bray was in Green County, Missouri at the James River Assembly of God where the public would cast votes on Super Tuesday.
The County Clerk Shane Schoeller told Bray he had to leave the property since it was private property.
Bray argued that he was 25 feet away from the door, obliging to the law, but that he shouldn't have to leave if the premises is being used as a polling site.
Breitbart News reached out to Schoeller for comment, but did not receive a response.
Bray supplied Breitbart News with a photo and videos of the exchange.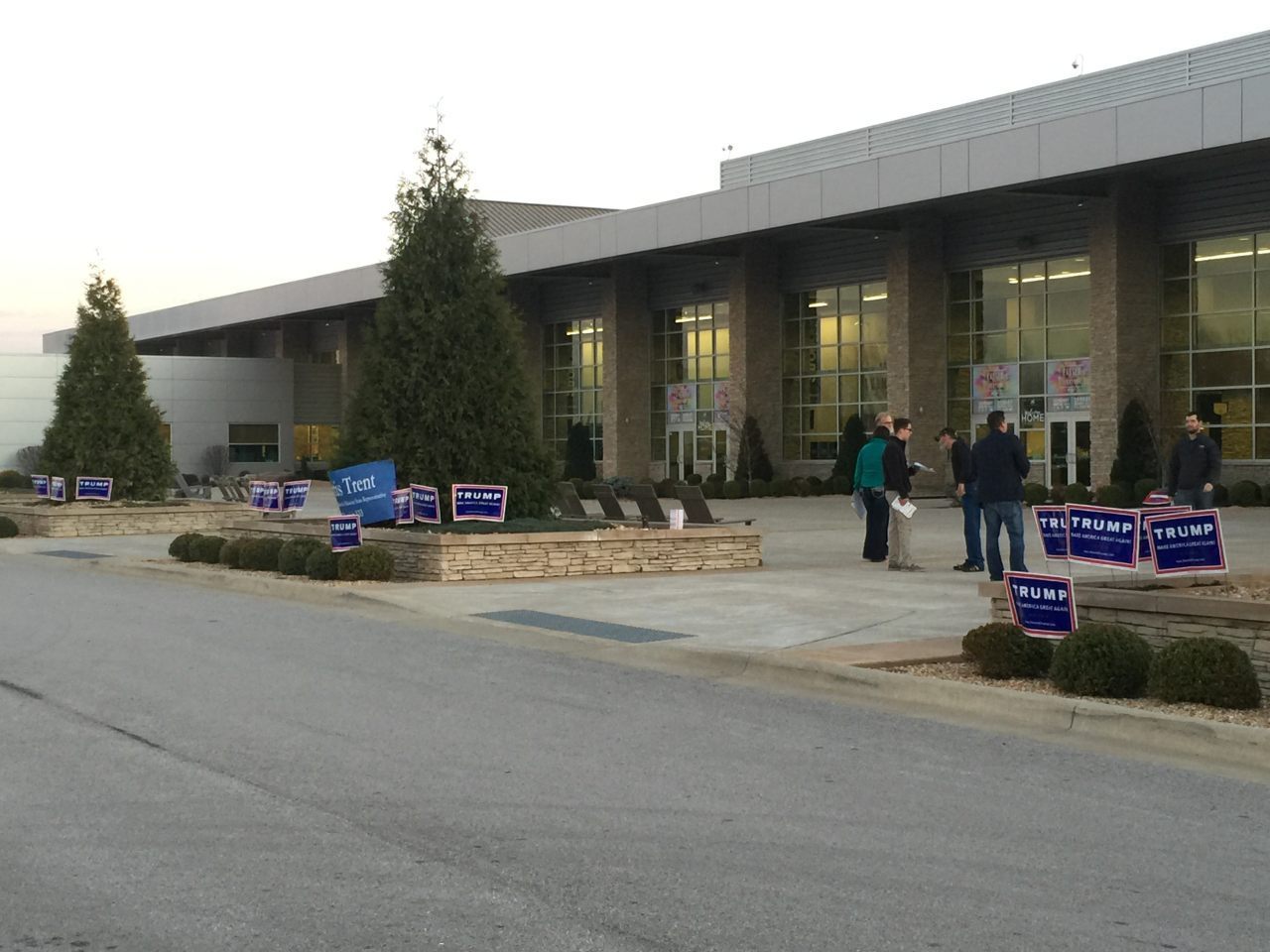 12:58 – WashPost: Trump is officially qualified to receive the nomination per RNC rules after his Marianas victory:
See, in the Northern Marianas, Tuesday began 14 hours before it began on the East Coast. So its Super Threesday caucus was done overnight, and Trumpwon all nine delegates. In doing so, the Northern Marianas became the eighth state or territory in which Trump won a majority of the delegates. (The others: South Carolina, Alabama, Georgia, Massachusetts, Tennessee, Hawaii and Mississippi.) And according to the rules of the Republican convention, a candidate must "demonstrate the support of a majority of the delegates from each of eight (8) or more states, severally, prior to the presentation of the name of that candidate for nomination." No eight states, no nomination.
12:39 – Kasich presser: he appears to blame Trump for the violent Chicago protests, also says video on Trump's comments about women offended him.
Kasich on voting today: "I learned that you need to vote for yourself because if you don't, you could lose. I mean, it felt very nice."

— Kailani Koenig (@kailanikm) March 15, 2016
Asked if holding off on further criticism of Trump is strategic, Kasich says: "No we don't do strategic things about what I say."

— Cassie Spodak (@CassieSpodak) March 15, 2016
Kasich said after watching TV Fri night, reading more about Trump, "since then, reading these quotes, it's taken me to a whole other level."

— Kailani Koenig (@kailanikm) March 15, 2016
Kasich on watching Chicago violence & reading Trump quotes that an aide compiled: It was really the 1st time that my eyes were really opened

— Cassie Spodak (@CassieSpodak) March 15, 2016
Kasich: 'There's no way I would team up with Donald Trump' https://t.co/hfieAxB5r8

— David Brody (@TheBrodyFile) March 15, 2016
You will want to see what John Kasich had to say after voting this morning in Ohio.https://t.co/mFWPe8XpAe

— John Kasich (@JohnKasich) March 15, 2016
12:21 – New York's Village Voice profiles "the masses… revolting for Donald Trump," complete with an illustration of Trump as Jaws and the GOP as the doomed swimmer from the Spielberg film's iconic poster:
You wouldn't normally put the words "Hamptons" and "Trump" together unless you were wagering on the guest list for a fundraiser at, say, Howard Stern's East Hampton estate. But these aren't normal times, and our man Trump is not a normal candidate. And the people supporting him are not to be found out there on the grassy expanses of Hamptons lawn parties. No, you are far more likely to find them, as I have, downtown in Sag Harbor at the LT or the Corner Bar. Trump's people out here aren't in the bought-and-paid-for, outright racist 25 percent who responded to his early campaign dog whistles like Labradors in a duck blind. His Hamptonites are by and large male and middle-aged or older, and they work with their hands for a living: They run machines in the factory on the Turnpike, or they paint houses and they repair plumbing; some of them work for the big landscaping companies that trim the Gin Lane hedges and mow Sagaponack lawns. They tend to occupy the next 25 percent, in other words — the people a suddenly gentler Trump is working to win over now, those who feel left out and left behind economically, whose thirst was supposed to be quenched by Reagan's trickle-down economics but who have been waiting nearly forty years for the first drop to fall.

Many of the people who hire Trump's legions out here run hedge funds and investment banks and real estate investment trusts. Most are Republicans, very wealthy Republicans, and as we know, these Establishment Swells are not happy with Mr. Trump — a while back they dispatched a well-dressed poodle called Mitt Romney to warn everyone how dangerous he is. But the people who work for Establishment Swells in the Hamptons, they like Mr. Trump a lot. You want to know why? Because after decades of promises and kabuki economics, they've figured out that the only trickle that's ever reached them has been from a busted pipe after a winter freeze at one of the Swells' summer houses, when they were called in to clean up the mess.
12:17 – Do re mi fa so la…
I will bring our jobs back to the U.S., and keep our companies from leaving. Nobody else can do it. Our economy will "sing" again.

— Donald J. Trump (@realDonaldTrump) March 15, 2016
12:05 – Trump making the electability argument.
In presidential voting so far, John Kasich is ZERO for 22. So why would he be a good candidate? Hillary would beat him, I will beat Hillary!

— Donald J. Trump (@realDonaldTrump) March 15, 2016
11:59 – Media coverage of Trump rallies show 15:1 ratio of victim blaming vs. perp blaming.
11:55 – $16 million. Imagine how much if Jeb were still running!
Key test of #StopTrump campaign today: nearly $16 mil in attacks ads dumped in Florida https://t.co/uM0pnCrDQc

— Jose A. Del Real (@jdelreal) March 15, 2016
11:37 – Kasich vs. Trump seems to be the focus of the day.
Kasich casts his vote, and promises 'more to say' about Trump's campaign and rhetoric https://t.co/1FT3QNQR2u

— Post Politics (@postpolitics) March 15, 2016
Mathematically it is statistically impossible for Kasich to get to 1237 – he would need 112% of the remaining delegates to be the nominee!

— Eric Trump (@EricTrump) March 15, 2016