The number of immigrants denied admission to the U.S. as legal permanent residents due to their risk of becoming primarily reliant on welfare for subsistence has plummeted since the late 1990s, according to the Congressional Research Service.
Foreigners seeking admission to the U.S. or adjustment of status to a legal permanent resident (or green card recipient) are technically considered inadmissible if they are deemed likely to become a "public charge," or primarily reliant on government assistance.
In a report prepared for Congress, CRS details how the determination of inadmissibility due to likely indigence once admitted to the U.S., as a share of denials, has declined over the past two decades as reason for inadmissibility among applicants for legal permanent residency.
"Until FY2005, public charge exclusions were the leading grounds of inadmissibility over the 21- year period [from 1994 to 2014] for the trend analysis of inadmissibility for LPRs shown in Figure 15," the CRS report reads. "More recently, prior removals/illegal presence has become the top single ground of inadmissibility, followed by labor certification. Increased Section 212(a) denials based on other immigration law violations are depicted at the right among 'all other."
While immigrants once in the U.S. can be prosecuted for violating the "public charge" rule, it is rarely prosecuted in practice. For example in FY 2012 the Department of Homeland Security prosecuted zero public charge cases.
Becoming a "public charge" is a deportable offense if it occurs within the first five years of entry — to be sure, the vast majority of the more than 80 U.S. welfare programs are excluded from the "public charge" determination. For example, the receipt of food stamps would not make an immigrant a "public charge." On the other hand, receipt of Temporary Assistance for Needy Families (TANF) cash assistance would.
In another chart, CRS shows that the number of immigrants denied admission under Section 212(a) of the Immigration and Nationality Act due to "health-related grounds, criminal history, security and terrorist concerns, public charge (e.g., indigence), seeking to work without proper labor certification, illegal entrants and immigration law violations, ineligible for citizenship, and aliens illegally present or previously removed" have generally declined since Obama took office. Meanwhile the number of nonimmigrants denied have generally increased since 2004, surpassing immigrant denials in 2013 and 2014.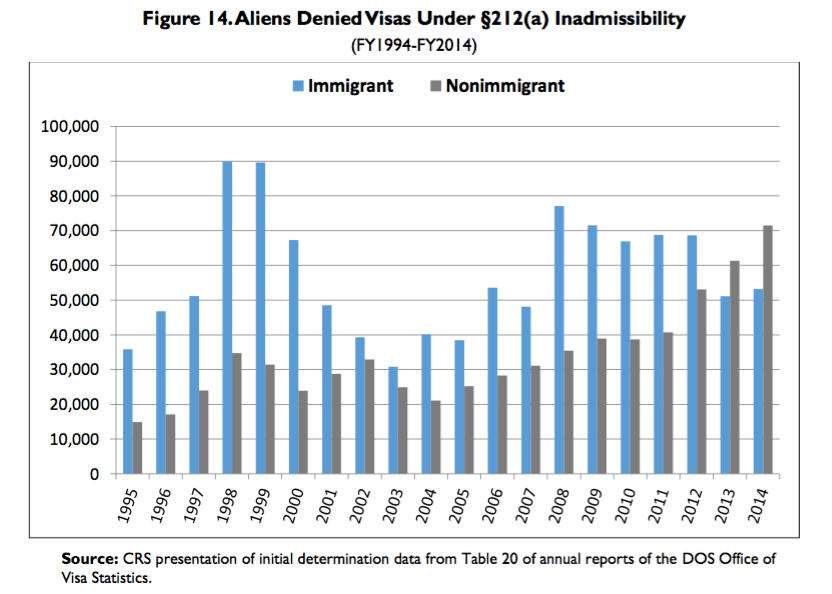 "As Figure 14 shows, Section 212(a) denials for nonimmigrant visas have increased in the past decade, while such denials for immigrant visas have generally declined since 2008. FY2013 represented the first year where denials for nonimmigrant visas outnumbered those for immigrant visas," CRS explains.