A progressive Argentinian Bishop known for his open support of the Democratic Party has invited Presidential hopeful Bernie Sanders to address a high-level Vatican meeting, contravening Church policy.
Bishop Marcelo Sanchez Sorondo, the Chancellor of the Pontifical Academy of Social Sciences, who has been publicly honored by top abortion activists in New York, has given Sanders top billing in a conference to discuss "changes in politics, economics and culture."
The Vatican has insisted that Catholic institutions not offer platforms to speakers who publicly agitate for moral positions contrary to Church teaching, notably on the abortion issue. Notre Dame University is currently under fire for honoring staunchly pro-choice Joseph Biden with its prestigious Laetare Medal.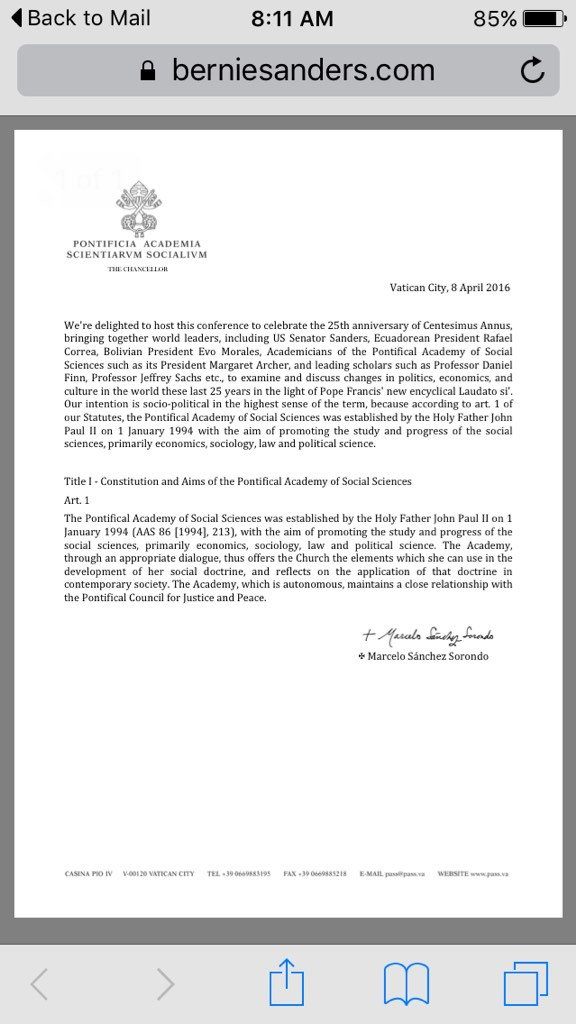 This is not the first time that Sanchez Sorondo has raised eyebrows by mixing his progressive politics with religion.
Last July, Sanchez invited a bevy of U.S. Democrats to a Vatican workshop on climate change and the role of local governments. Ten Democratic mayors of American cities and Governor Jerry Brown of California all came on Sanchez' invitation, while no Republicans were invited.
A number of observers also criticized Sanchez last May for offering a Vatican platform to known proponents of abortion and population control like Jeffrey Sachs and UN General Secretary Ban Ki-moon, whom Sanchez had invited to speak at the Vatican in an earlier conference on climate change.
When questioned about the decision to enlist speakers so hostile to Catholic teaching, Sanchez lashed out at the Tea Party and the oil industry, and suggested he was not responsible because "I am only the Chancellor."
Bernie Sanders has identified himself as a socialist and an advocate of a woman's right to abortion, consistently receiving ratings of 100% from NARAL Pro-Choice America. He has also supported UN population control policies and voted "no" on banning partial birth abortions.
In his letter on the family published Friday, Pope Francis wrote that "no alleged right to one's own body can justify a decision to terminate" the life "of an innocent child growing in the mother's womb."
"How can we issue solemn declarations on human rights and the rights of children, if we then punish children for the errors of adults?" he said.
Over the years, the papal magisterium has also repeatedly condemned socialism as completely incompatible with the Christian understanding of the human person and society.
After Pope Leo XIII condemned socialism in 1891, a number of concerned Catholics approached Pope Pius XI 40 years later and asked him to reevaluate socialism to see whether in a more mitigated form it might be compatible with the Christian worldview. Cannot socialism be "baptized"? they asked.
Pius famously responded:
Whether considered as a doctrine, or an historical fact, or a movement, Socialism, if it remains truly Socialism, even after it has yielded to truth and justice on the points which we have mentioned, cannot be reconciled with the teachings of the Catholic Church because its concept of society itself is utterly foreign to Christian truth.
And he concluded: "Religious socialism, Christian socialism, are contradictory terms; no one can be at the same time a good Catholic and a true socialist."
Follow Thomas D. Williams on Twitter   Follow @tdwilliamsrome