While age 65 has traditionally been associated with retirement, more older Americans are working than at any time since the turn of this century.
According to a Pew Research Center analysis of Labor Department data, last month 18.8 percent, or 9 million, Americans ages 65 and older, reported holding a full-time or part-time job. That's more than at any time in the past 15 years.
Pew's analysis only went back as far as the year 2000. Then, just 12.8 percent, or some 4 million, Americans ages 65 and older were employed. Since 2000, the number and share of older Americans working has continued to rise.
The phenomenon of more older Americans working bucks overall employment trends — even as the percent of the population with a job has declined the share of employed older Americans has steadily increased. Overall the percentage of adults with a job — 59.9 percent — has failed to recover to pre- Great Recession levels, meanwhile the share of older Americans with a job has soared.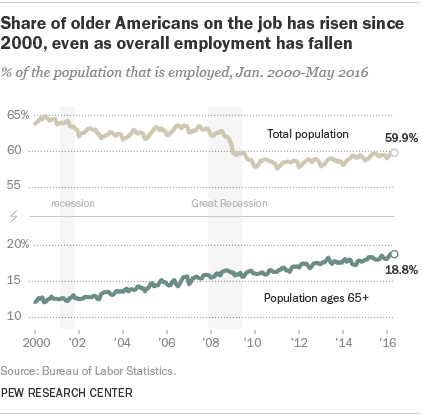 "The relatively strong presence of 65-and-older workers is found across age brackets: 65- to 69-year-olds, 70- to 74-year-olds, and those 75 and older," Pew reports. "All are working at higher rates than they did in May 2008, the only age groups about which that can be said."
Pew reports that not only are more older Americans working, but they are also working longer hours. While 46.1 percent of workers over the age of 64 were working part-time, just 36.1 percent of the 65 and older group were part-timers.
"[O]lder workers are more likely to be in management, legal and community/social service occupations than the overall workforce, and less likely to be in computer and mathematical, food preparation, and construction-related occupations," Pew reports.
Interestingly, the increased presence of older Americans in the workforce is occurring as the overall workforce participation rate (or the percentage of Americans with a job or actively looking for one) in the U.S. is at lows not seen since the late 1970s.