On the third day of the Democratic party's week-long coronation of Hillary Clinton as their presidential nominee, the definitive film exposing the Clinton Foundation's global corruption was, again, sitting atop Facebook's trending topics list.
For three days straight, the motion picture adaptation of the explosive New York Times bestselling book Clinton Cash has dominated the news and snagged the #1 spot on U.S. Facebook.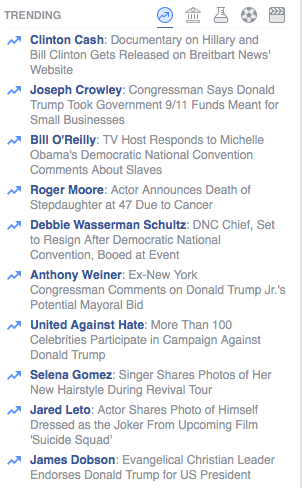 Popularity around the film pushed online viewership of the Clinton Cash documentary beyond the 1.1 million mark in a matter of days.
Views of the film on Breitbart News' YouTube channel and the Philly Blunt pirated YouTube version have exceeded a combined viewer count of more than 1.1 million.
The viral online explosion of the Clinton Cash documentary, which was directed by M.A. Taylor and was written and produced by Danny Fleurette and Breitbart News Executive Chairman Stephen K. Bannon, was, at least in part, the result of Bernie Sanders supporters, who flocked to their respective Facebook accounts and urged their followers and fans to watch and share the groundbreaking movie.
Due to the overwhelming amount of popularity, responses, and audience requests, Breitbart News decided to make Clinton Cash available for free forever. Now, all you have to do is click here to access the 105-minute film that exposes the alarming pattern of record-high speaking fees to Bill Clinton and donations to the Clinton Foundation from foreign contributors, which coincided with favors for those closest to the Clintons and their foundation donors while Hillary Clinton served as Secretary of State.
The paperback version of Clinton Cash, authored by Government Accountability Institute President and Breitbart Senior Editor-at-Large Peter Schweizer, was released on Tuesday, July 26.
Next month, 0n August 8, the much-anticipated Clinton Cash graphic novel will be available for audiences everywhere and is sure to capture the imagination of millennial audiences for generations to come. You can pre-order the graphic novel here.
Follow Jerome Hudson on Twitter: @jeromeehudson