Donald Trump is favored by one-in-four African Americans and one-in-three Latinos, according to a poll conducted by the Boston Herald and Franklin Pierce University.
The poll of 1,025 likely voters was conducted by RKM Research for Franklin Pierce University and the Boston Herald, from Aug. 31 to Sept. 4.
Overall, Franklin Pierce gets good marks for its polls and the results are in the same ballpark as many other polls. For example, the poll showed Clinton ahead by three points, 44 percent to 41 percent. Eight percent of respondents back Gary Johnson. 
The poll showed that Trump has a very favorable rating among among 18.4 percent of 105 Hispanics, and 10.5 percent of 101 African Americans. He also scored a "somewhat favorable" rating among 16.4 percent of Hispanics and 13.3 percent of African Americans. Combined, he gets a positive rating from 35 percent of Hispanics and 24 percent of African Americans.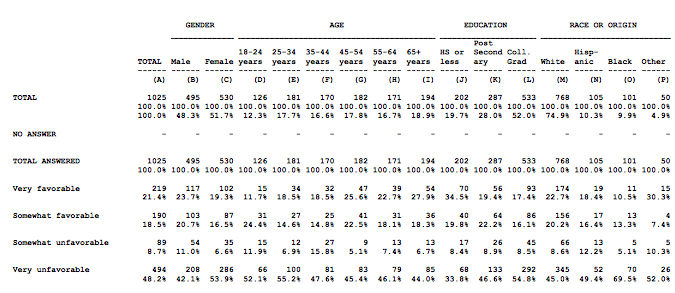 That's apparently better than Gov. Mitt Romney, whose nationwide ballot-box score in 2012 was 27 percent support among Hispanics and 6 percent of African Americans. 
Trump isn't going to win a majority of either bloc. Forty-nine percent of Hispanics and 69 percent of African Americans have a "very unfavorable " view of Trump. But every percent of Hispanic support helps Trump in the critical state of Florida, and every percent of African American support helps Trump in a few northern states, such as Ohio, Michigan, and Pennsylvania. 
Notably, Hillary Clinton has a "very unfavorable" rating from 48 percent of Hispanics and 15 percent of African-Americans. That leaves Clinton's "very unfavorable " score among Hispanics level with Trump's "very unfavorable" score.
Those ratings, however, have a relatively high error margin because of the low number of Hispanics and African-Americans in the poll.
In comments about the poll, conservative author Ann Coulter said the poll shows significant support among lower-income minorities for Trump's low-immigration, high-wage, reform plans. 
"There is nothing frightening about Trump if you're here legally, and he is going to bring back jobs and raise your wages," Coulter told Herald Radio. "They left [their home countries], they like America, they came here, and they'd like a raise," she said in a Herald Radio interview Sept. 6. "I like that Trump is appealing to all working class people."