Hillary Clinton has strongly backed the unpopular H-1B outsourcing program since at least 2005, even as it has gradually sent 100,000 foreign professionals into Michigan, Wisconsin, and Pennsylvania to compete for jobs against white-collar American professionals and young college graduates.
That could be a 2016 problem for Clinton because it is a direct economic threat to one of her strongest constituencies — university educated professionals. In fact, there are so many foreign workers in those three states that there's a semi-hidden job network to help them apply for jobs ahead of American professionals.
The huge extra supply of foreign university labor, according to the law of supply and demand, pushes down the salaries earned by American professionals in those states. Nationwide, this so-called "immigration tax" annually transfers $500 billion away from blue-collar and white-collar Americans towards employers, Wall Street, and new immigrants, according to a Harvard analysis.
So far, Donald Trump has made only a few direct appeals to this upper income group of university voters. But those voters can provide him with the few extra points of support he needs to win those critical Midwestern states. A September 2016 poll by Monmouth University, for example, shows Trump was viewed favorably by just 29 percent of college voters. In contrast, he is viewed favorably by 51 percent of people with some college education, and by 47 percent of people with High School qualifications.
Clinton has repeatedly spoken out in favor of the unpopular outsourcing program, to audiences in the United States and to audiences in India, which provides much of the manpower for H-1B outsourcing contracts all over the country. Once elected as a New York Senator, she also helped Indian outsourcing companies grab more jobs in the United States, despite opposition from some other senators, including Vermont Sen. Bernie Sanders.
"I am reaffirming my commitment to the H-1B visa and increasing the current cap," she said in 2007 to an audience of tech-industry donors.
"It is an inevitability. There is no way to legislate against reality, so I think the outsourcing will continue," she said on a 2005 visit to India.
Clinton is also continuing President Barack Obama's strategy of offering more H-1B workers to companies if they pressure the GOP to provide an amnesty to millions of unskilled illegal immigrants. That strategy, which trades away the careers of white-collar professionals to get more immigrant voters for the Democratic Party, was defeated in 2014 when the GOP's base voters blocked Obama's so-called "Comprehensive Immigration Reform" plan.
That plan had offered companies a new supply of blue-collar guest workers, plus an unlimited supply of work-permits for foreign graduates of U.S. colleges, in exchange for their lobbying the GOP to approve an amnesty at least 11 million illegal immigrants. 
On June 22, Clinton told Vox.com:
The idea of a comprehensive immigration reform with a path to citizenship that I would envision is one that would deal with a lot of these concerns, not just the 11 million people here … But I don't want to mix that with other kinds of changes in visas and other concerns that particularly high-value technical companies have. In fact, I think keeping the pressure on the [companies] helps us resolve the bigger [amnesty] problem, and then we can look to see what else, if anything, can and should be done.
Her campaign platform also promises to let universities sell an unlimited number of Green Cards — and thus citizenship — to tuition-paying foreign students. The open-borders promise to foreign graduates is posted at her campaign site and is titled "Hillary Clinton's Initiative on Technology & Innovation."
As part of a comprehensive immigration solution, Hillary would "staple" a green card to STEM masters and PhDs from accredited institutions—enabling international students who complete degrees in these fields to move to green card status.
Clinton also supported greater white-collar outsourcing while she was Secretary of State. In fact, her own Clinton Foundation used the H-1B program to hire up to 130 foreign graduates, from 2004 to 2016, instead of hiring Americans.
Overall, "her past statements in support of H-1B visas, and her silence in this campaign even when Bernie Sanders criticised her for her past support of H-1B visas, mean that she will probably support the H-1B visa programme if she is elected president," according to Cyrus Mehta, an immigration lawyer on Wall Street. If elected, she "will push Congress in the direction of expanding rather than curtailing the H-1B visa," he wrote in May.
In contrast, Trump has repeatedly called for rules that protect Americans from cheap foreign labor. He argues that immigration rules should help Americans, not companies or investors.
Hillary Clinton's open borders immigration policies will drive down wages for all Americans – and make everyone less safe.

— Donald J. Trump (@realDonaldTrump) June 21, 2016
That plan on his website would raise Americans' wages and reduce unemployment, complained one of Clinton's Wall Street supporters, Mark Zandi.
In May, Trump also produced a plan to reform the H-1B program so that it doesn't outsource Americans' jobs. The plan promised to:
Increase prevailing wage for H-1Bs. We graduate two times more Americans with STEM degrees each year than find STEM jobs, yet as much as two-thirds of entry-level hiring for IT jobs is accomplished through the H-1B program. More than half of H-1B visas are issued for the program's lowest allowable wage level, and more than eighty percent for its bottom two. Raising the prevailing wage paid to H-1Bs will force companies to give these coveted entry-level jobs to the existing domestic pool of unemployed native and immigrant workers in the U.S., instead of flying in cheaper workers from overseas. This will improve the number of black, Hispanic and female workers in Silicon Valley who have been passed over in favor of the H-1B program. Mark Zuckerberg's personal Senator, Marco Rubio, has a bill to triple H-1Bs that would decimate women and minorities.

Requirement to hire American workers first. Too many visas, like the H-1B, have no such requirement. In the year 2015, with 92 million Americans outside the workforce and incomes collapsing, we need companies to hire from the domestic pool of unemployed. Petitions for workers should be mailed to the unemployment office, not USCIS.
White-collar professionals would prefer such a policy in the Midwest, where a July poll showed that the voters are the most outspoken against companies hiring foreigners instead of Americans.
According to the complex H-1B rules, U.S. companies don't have to interview Americans for jobs before hiring an foreign worker with an H-1B visa. Also, the annual cap on imported H-1B visas is apparently 85,000, but non-profits — including universities and company research centers — are exempt from the cap, so they can many more H-1Bs visas. Also, H-1B visas can be extended beyond can stay longer than six years and also convert their H-1Bs into Green Cards, so many foreign professionals stay in the United States far longer than the supposed six-year limit on H-1B visas. In 2013 "nearly 102,000 Asian immigrants obtained green cards through employment-based immigrant visa petitions," according to a White House statement.
The growing role of foreign white-collar workers is a national trend that is already reducing salaries for Americans professionals. Almost 20 percent of legal immigrants who have arrived since 2010 have post-graduate degrees,  compared to 11 percent of Americans, according to a new survey of government data by the Center for immigration Studies. 
For example, foreign born professionals now make up one-quarter of the prestigious computer software business, according to the CIS report. Predictably, "wages have remained flat, with [after-inflation] real wages hovering around their late 1990s levels, said a 2013 report by by the Economic Policy Institute. 
But foreign-born professionals now comprise 21 percent of the science sector, 27 percent of doctors and surgeons, 19 percent of architects and engineers, 15 percent of nurses, 14 percent of financial specialists, says the center — which also notes that foreign-born only comprise 5 percent of English-language reporters and 7 percent of lawyers. 
The threat to American professionals' salaries and jobs has been heightened by a steady stream of media articles about H-1B outsourcing. These articles have described the outsourcing of  jobs held by accountants at McDonalds' headquarters, engineers at Caterpillar; software experts at Abbot Laboratories, Disney, California Edison, and the University of California at San Francisco; and by professors, doctors and scientists at universities and hospitals all around the country.
Unsurprisingly, the inflow of foreign professionals is helping to push down the salaries for even the best educated Americans. That trend is following the downward path of American blue-collar workers, whose wages have been shriveled by the huge inflow of unskilled illegal immigrants.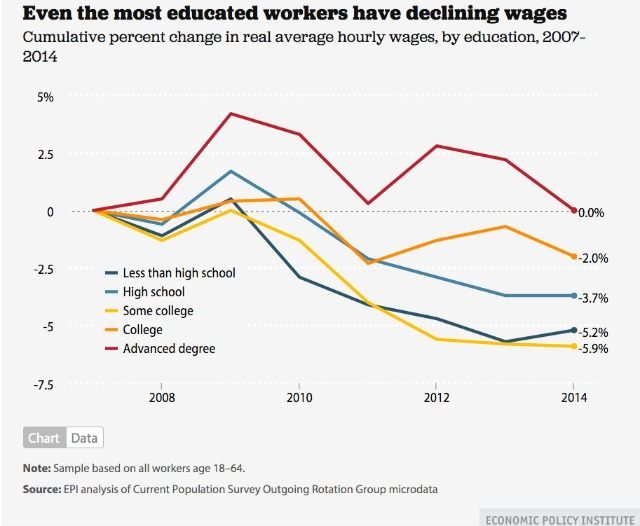 The Breitbart analysis of Michigan, Wisconsin, and Pennsylvania used government data posted at the MyVisaJobs.com site to show that the H-1B program has gradually imported a resident population of at least 100,000 foreign graduates Those graduates are now working in a wide variety of jobs, including as doctors and designers, professors and teachers, scientists, marketing experts, accountants, pharmacists, therapists, and software experts.
The 1oo,000 total includes the current three-state population of roughly 40,000 people now holding six-year H-1B visas, plus roughly 75,000 foreign-born "guest worker" professionals whose American employers helped them get Green Cards to stay in the United States, and to eventually become citizens. 
Pennsylvania now has roughly 18,000 H-1Bs, including 4,200 working at prestigious universities and non-profit research centers. Also, 33,000 foreign workers have gotten Green Cards since 1990 from their employers in the state.

Michigan has a population of roughly 16,000 H-1B workers, including roughly 2,600 H-1Bs working at universities and research centers. Also, Michigan employers have won up to 32,000 Green Cards for their foreign workers since 1990.

Wisconsin has a resident population of roughly 6,000 H-1B foreign professionals, including 1,000 H-1Bs working at the state's universities and non-profit research centers. In addition, companies have applied for 10,000 Green Cards for foreign workers since 1990.
That adds up to a resident population of 40,000 H-1B workers, including 7,800 working at universities and non-profit centers, plus 75,000 foreign professionals who have gotten Green Cards. Assuming one-sixth of the Green Card applicants failed to complete their certified process or have since left the three states, then the guest-worker program has now placed 100,000 foreign professionals in those three states. 
Wisconsin has 10 votes in the Electoral College, Pennsylvania has 20 votes, and Michigan has 16 votes. A win in any one of those states could give Trump the keys to the White House.
Nationwide, there are roughly 650,000 resident H-1B workers, including almost 100,000 employed by U.S. colleges, and roughly 13,000 in Ohio.
The H-1Bs are attractive to employers because they're cheaper than American graduates. For example, the University of Wisconsin at Madison is using the H-1B program to hire foreign professionals for salaries under $62,000 a year. "We currently have 250 H-1B employees," Meredith McGlone, a spokeswoman for the university told Breitbart.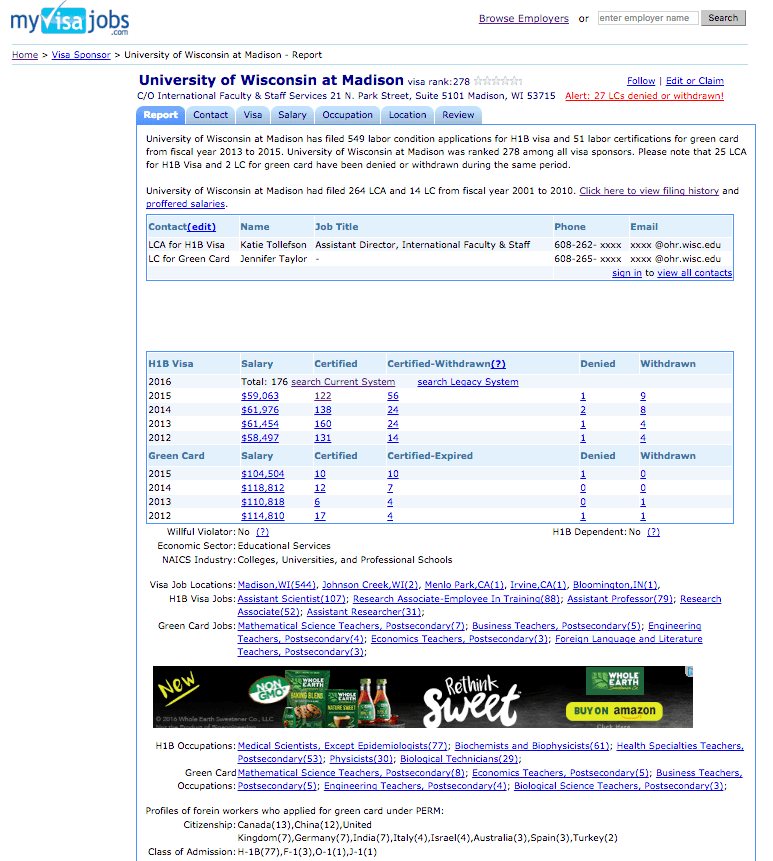 Companies are also creating non-profit centers to help them bring in more lower-wage foreign professionals instead of hiring higher-wage American graduates. For example, Dow Chemical and its subsidiaries asked to hire 39 new H-1B workers in 2015, including environmental engineers, marketing managers, statisticians, and scientists.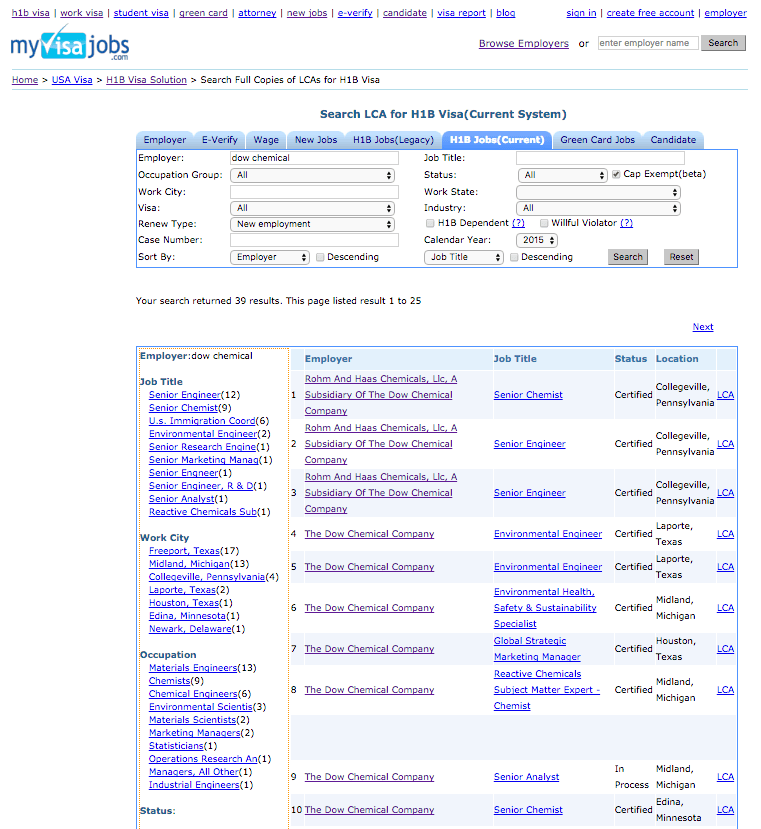 Because they are technically being hired by a "cap exempt" non-profit, none of these 39 H-1Bs were counted against the supposed annual cap of 85,000 H-1B workers.
Dow Chemical did not respond to Breitbart News. 
The three-state total of 100,000 foreign professionals excludes the "Optional Practical Training" program, which provides work visas to foreign college grads. In late 2015, roughly 120,000 foreign students were using the OPT visa to apply for jobs sought by American graduates.
The 1oo,000 calculation also excludes the several hundred thousand foreign professionals with L visas now working in the United States. In 2013, 66,700 L visas were issued to foreign professionals, allowing them to work in the United State for up to seven years. There's no upper limit on the number of L visas issued each year, so the number of L Visa workers may exceed 400,000, with perhaps 20,000 working in the three midwestern states. 
The numbers of H-1B and Green Card professionals comes from the MyVisaJobs.com site, which tracks the inflow and transfer of H-1B workers, plus the number of Green Cards that companies apply for on behalf of their foreign professionals.
The estimated population of 100,000 foreign-born college graduates in the three states has created a semi-hidden job market for foreign graduates.
These sites, including MyVisaJobs, DesiOPT, and OPTnation, include many job offerings from Indian-run companies in the United States. Jobs are also advertised to OPT and H-1B workers via the Indeed.com website, and on foreign sites, such as Jobisjob in India, while U.S.-based job coaches help foreign professionals snag good jobs.
Many of the job ads are posted by third-party staffing companies, especially in the medical sector or the software business, who rent their employees to other companies.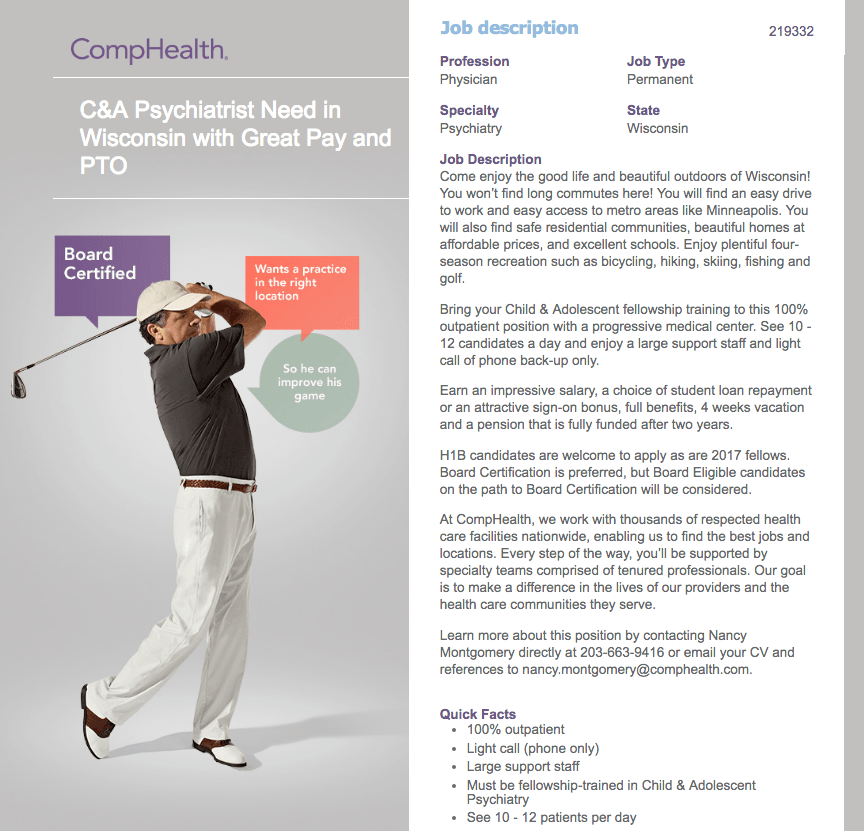 The MyVisaJobs.com site offers quick links to job openings at Pennsylvania companies that hire H-1B professionals.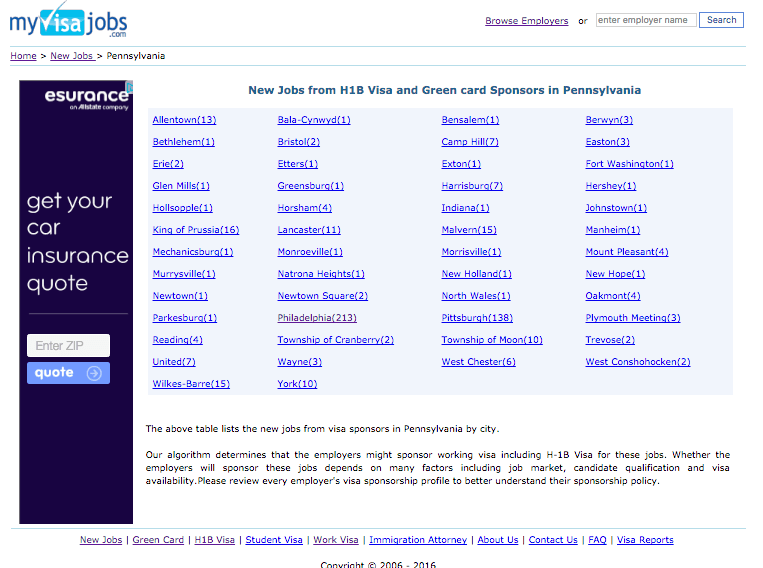 In Philadelphia, many of the posted jobs are for H-1B hires at Deloitte Consulting. Those jobs could be filled by American graduates from mainstream business schools.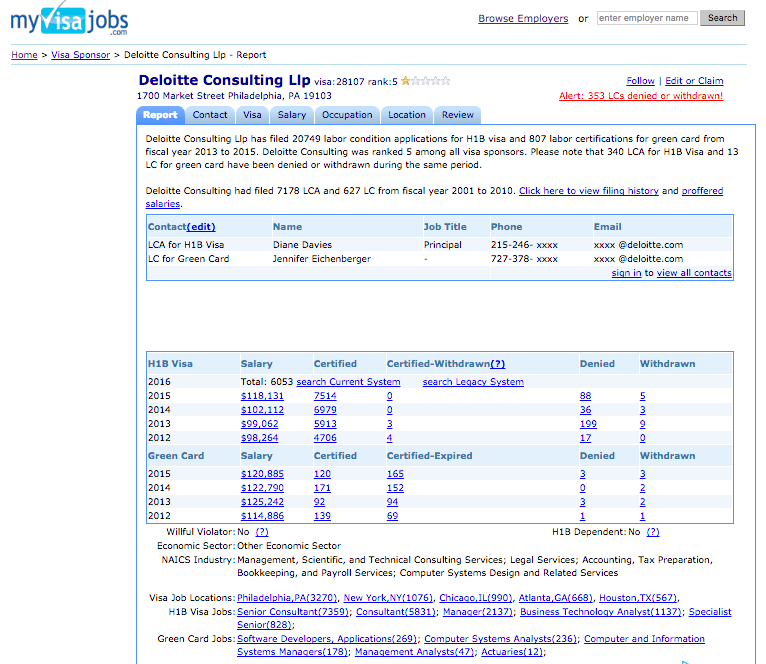 DeLoitte did not respond to emails from Breitbart News. 
How Breitbart News Calculated the Number of Foreign Professionals in the Three States.
The final count was accomplished in several steps.
The site also displays all the petitions for Green Cards that are submitted by employers on behalf of their foreign employees. One page invites visitors to "Search permanent Labor Certifications(LC) filed under PERM for employment based Green Card petitions. Hundred of new cases are added to the database every day, after Department of Labor makes final decisions."
The number of resident H-1B workers was calculated by first combining data from 2013 to 2015 on the number of certified requests by for-profit companies to get a H-1B visa for a new foreign hire. That number was then divided by three because only about one-third of approved requests are granted a H-1B visa.
Then Breitbart News added up the number of visas requested in those years by universities and non-profits, such as hospitals. These requests don't count against the annual cap, so they're routinely approved. Breitbart then added the number of certified "continuation" visa requests in 2013, 2014, and 2015. Those continuation visas are routinely granted to H-1B workers who have used up their first three-year visa. These continuation visas are also exempt from the cap.
Breitbart News cannot track the number of H-1B, L or OPT visa holders, or of Green Card winners, in the three states who may have moved to or from other American states.