STEUBENVILLE, OHIO – Former President Bill Clinton is feeling the effects of a polite protest.
He was on stage at a middle school gym on Tuesday evening, speaking to a small group of supporters at a middle school in Steubenville, Ohio. As he spoke, some of the attention in the crowd turned to a handful of young people standing silently with red tape over their mouths.
Written on the tape was the word "LIFE."
Silent pro-life protestors stand at Bill Clinton rally in Steubenville -> pic.twitter.com/W4tdRsspvF

— Charlie Spiering (@charliespiering) October 4, 2016
They stood silently during the entire rally, as Clinton-supporting Democrats shot annoyed glances their direction.
After Clinton was finished speaking, they turned to the media cameras and continued to stand silently.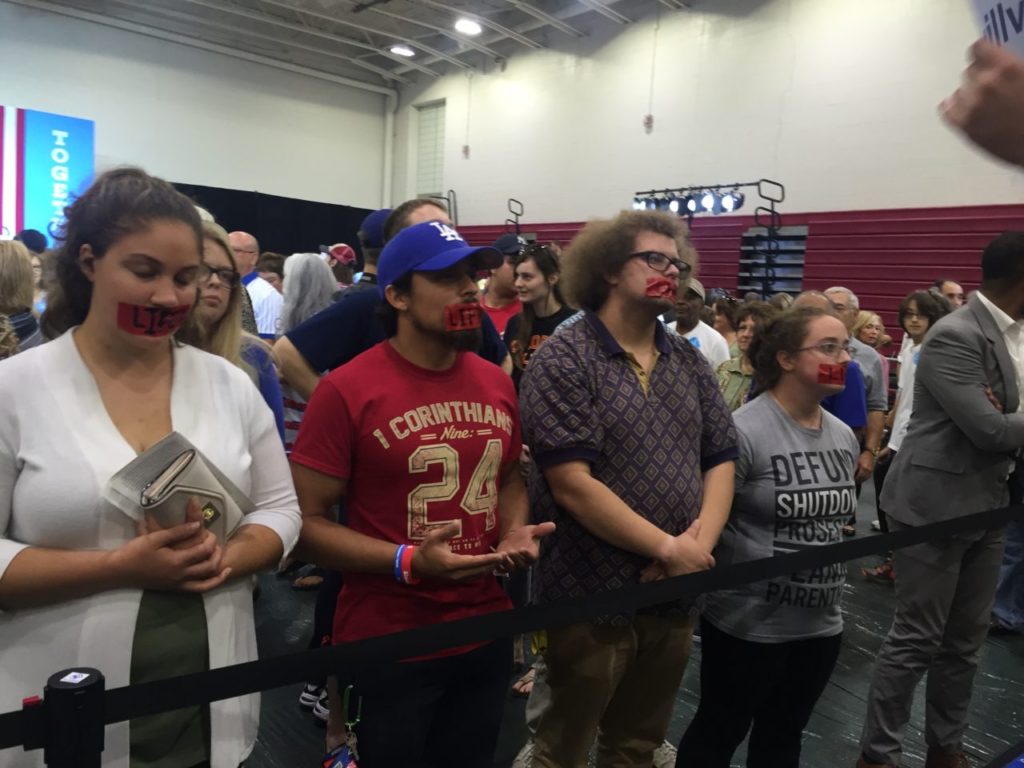 That triggered Clinton organizers, who gathered a group of volunteers with cardboard signs to shield their presence from the cameras.
Two other Hillary supporters danced in front of them with a big Hillary flag chanting "Hillary! Hillary! Hillary!" but they did not move.
Afterwards, Salvador, one of the protesters, revealed that they are pro-life activists who attend the Franciscan University of Steubenville, a Catholic college about a mile from where Clinton held his rally.
"The stance on life can't be ignored," he said, pointing out that it was telling that Clinton supporters tried to cover up their message.
Salvador said they were "witnessing to the voice that will never be heard of the unborn children."
He explained that a silent protest was an effective way to get out their message, without being rude.
"We don't need anger in here, we can do it in a peaceful way," he said.
Marissa Ramos, also a student at Franciscan University, said she was inspired to join the protest after organizers sent out an invitation.
"Something clicked in my head that said that this needed to happen, and that we needed more people and that we needed this voice to be heard," she said.
Both of them admitted that they were still praying and thinking about who they would vote for in the Fall.
"Currently, I am still praying for God's guidance for this," Salvador admitted. "Long story short, I will probably go for the lesser of two evils. I pray for life."