Hillary Clinton went to sleep by 8.42 p.m., after a day campaigning in South Carolina last June, according to a new Wikileaks email.
The June 17 email was apparently copied from campaign chairman John Podesta's account, and was written by Clinton press aide Jennifer Palmieri.

A March 2015 email released earlier by Wikileaks also shows private concern by campaign manager Robbie Mook about Clinton's health, which he described as a "hyper sensitive."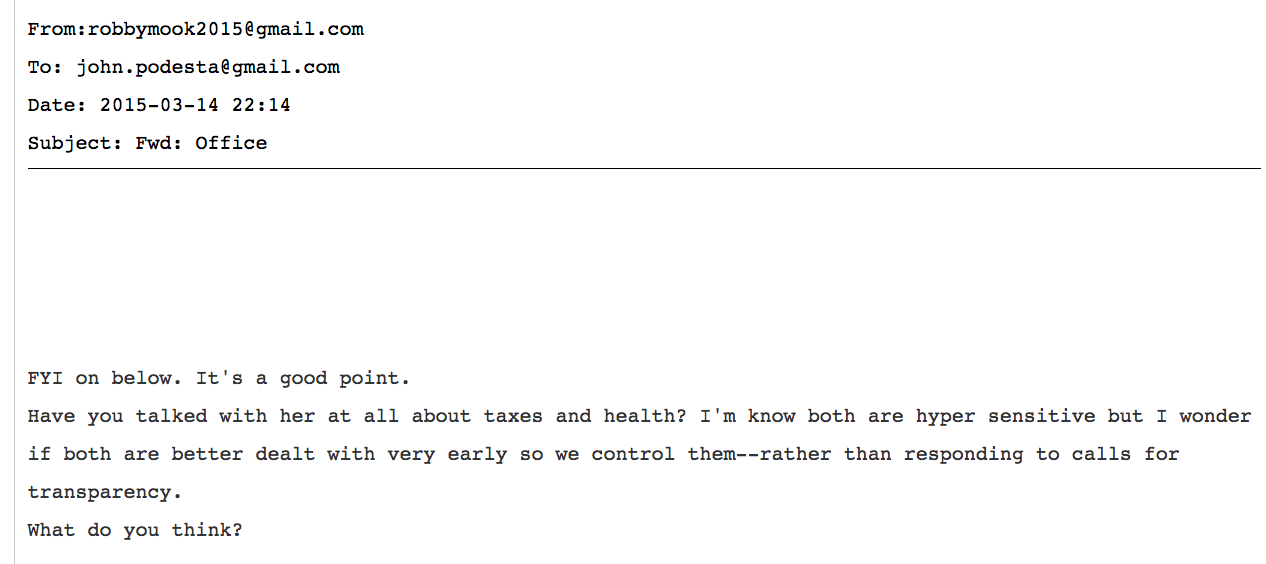 On June 17 2015, the day that Clinton went to sleep by 8.42 pm, she had spent the day on low-pressure campaign visit in South Carolina, followed by a fundraiser with her supporters.
Charleston, South Carolina (CNN) With her eyes on the youth vote, Hillary Clinton pitched a plan in South Carolina Wednesday that would incentivize apprenticeships and promised that she would roll out a plan on college affordability within weeks….

The speech was hosted by Trident Technical College, a small college in North Charleston. The auditorium was full, with a dozen people being kept out of the event …

Wednesday marks the second time Clinton has visited South Carolina, an early voting state, since announcing her presidential run in April. After the event at Trident Technical College, Clinton headed to a fundraiser at the home of Akim and Constance Anastopoulo.
Other emails show staffers' concerns about Clinton's sleep schedule.
On Oct. 11, 2015, top aide Huma Abedin explained a decision by Clinton to schedule a debate-practice session from 6.00 p.m. to 9.00 p.m. "We have an event in the window that she originally suggested," Abedin wrote. "Evening is probably better on body clock too, no? That was part of our thinking."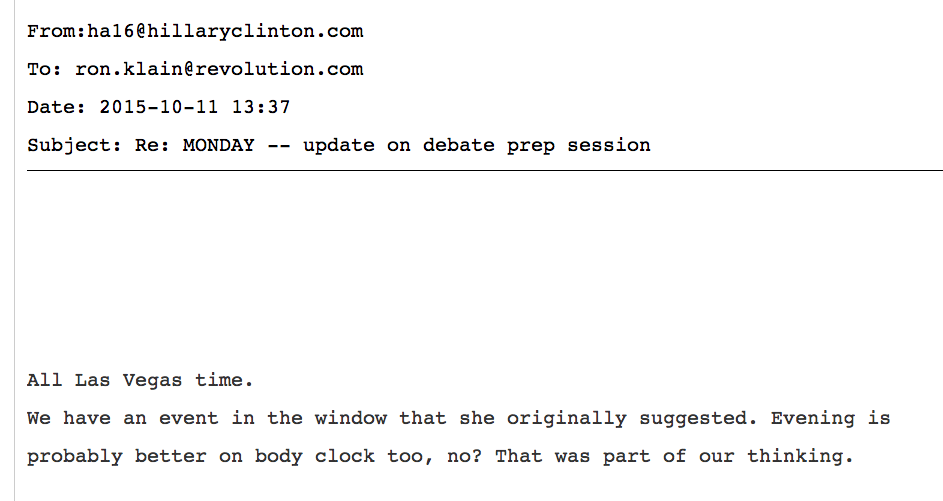 In January 2011, Abedin reminded Clinton to take a nap before a 3.30 p.m. meeting, according to an email released by the U.S. Department of State.

A January 2013 email, released by the Department of State, shows Abedin saying "she's often confused," in response to an email saying that Clinton was taking a nap.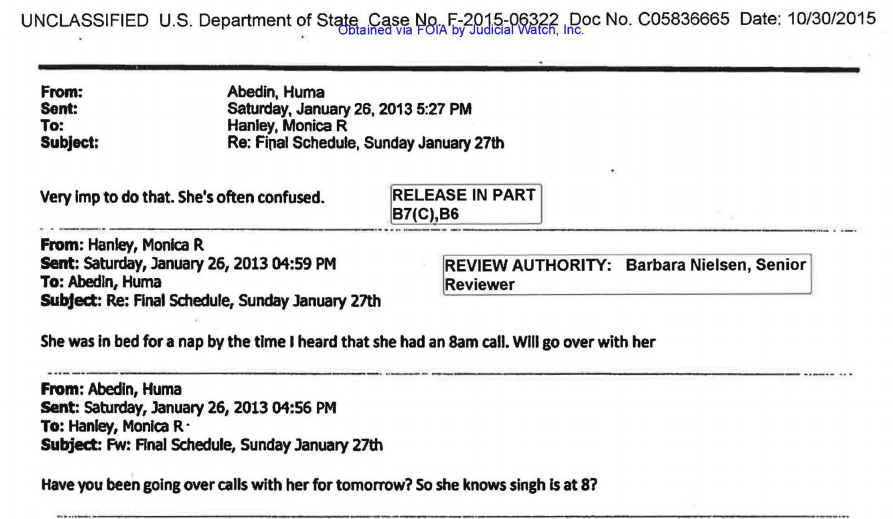 This October 2015 email from Wikileaks, shows Podesta saying Clinton need to rest. "She's down tomorrow and needs [t]o stay down," he wrote.

This email shows that Clinton limousine-style van includes a bed. The email cites an article in the Weekly Standard
GOP candidate Donald Trump has criticized Clinton for what he says is a light schedule. In April, he slammed Clinton's apparent lack of action during the evening of the 2012 jihad attack on the U.S. diplomatic compound in Benghazi, Libya.
After Secretary Clinton's failed intervention in Libya, Islamic terrorists in Benghazi took down our consulate and killed our ambassador and three brave Americans. Then, instead of taking charge that night, Hillary Clinton decided to go home and sleep! Incredible.

Clinton blames it all on a video, an excuse that was a total lie. Our Ambassador was murdered and our Secretary of State misled the nation – and by the way, she was not awake to take that call at 3 o'clock in the morning.
In July, Clinton's doctor said her health is excellent. "She is in excellent physical condition and fit to serve as President of the United States," said the doctor.