MANCHESTER, New Hampshire — Republican presidential nominee Donald Trump told a raucous crowd of supporters in the Armory Ballroom at the Radisson Hotel that the FBI had re-opened its investigation into Hillary Clinton's e-mail server.
"The FBI has just sent a letter to Congress informing them that they have discovered new emails pertaining to the former Secretary of State, Hillary Clinton's, investigation, and they are reopening the case," he said.
The crowd — some 2,000 strong — cheered and chanted, "Lock her up!"
After the cheers settled, Trump continued: "The rest of my speech was going to be so boring."
"Should I even make the speech?" he joked.
He added:
Hillary Clinton's corruption is on a scale that we have never seen before. We must not let her take her are criminal scheme into the Oval Office. I have great respect for the fact that the FBI and the department of justice are now willing to have the courage to right the horrible mistake that they made.
Trump had announced that his focus for the day's events would be Obamacare — as it has been for much of the week, with much of the country reeling from double- and triple-digit percentage increases in health care premiums.
However, the FBI's decision has changed Trump's script — and perhaps the course of the campaign.
The crowd was loud, the mood feisty and festive throughout the event, even before Trump appeared on the stage. They cheered him as he walked through what remained of his stump speech, hitting his customary notes on trade, terrorism, the polls and the media.
Catherine Robbins of nearby Dumbarton, sporting a pink devil's horn headband and a "#BigLeague" button on the back of her belt, told Breitbart News that she had wanted Trump to run as early as 2012. "He gets things done. He's a businessman … I look at it like this: America's a failing business. We need a real businessman to pull it together."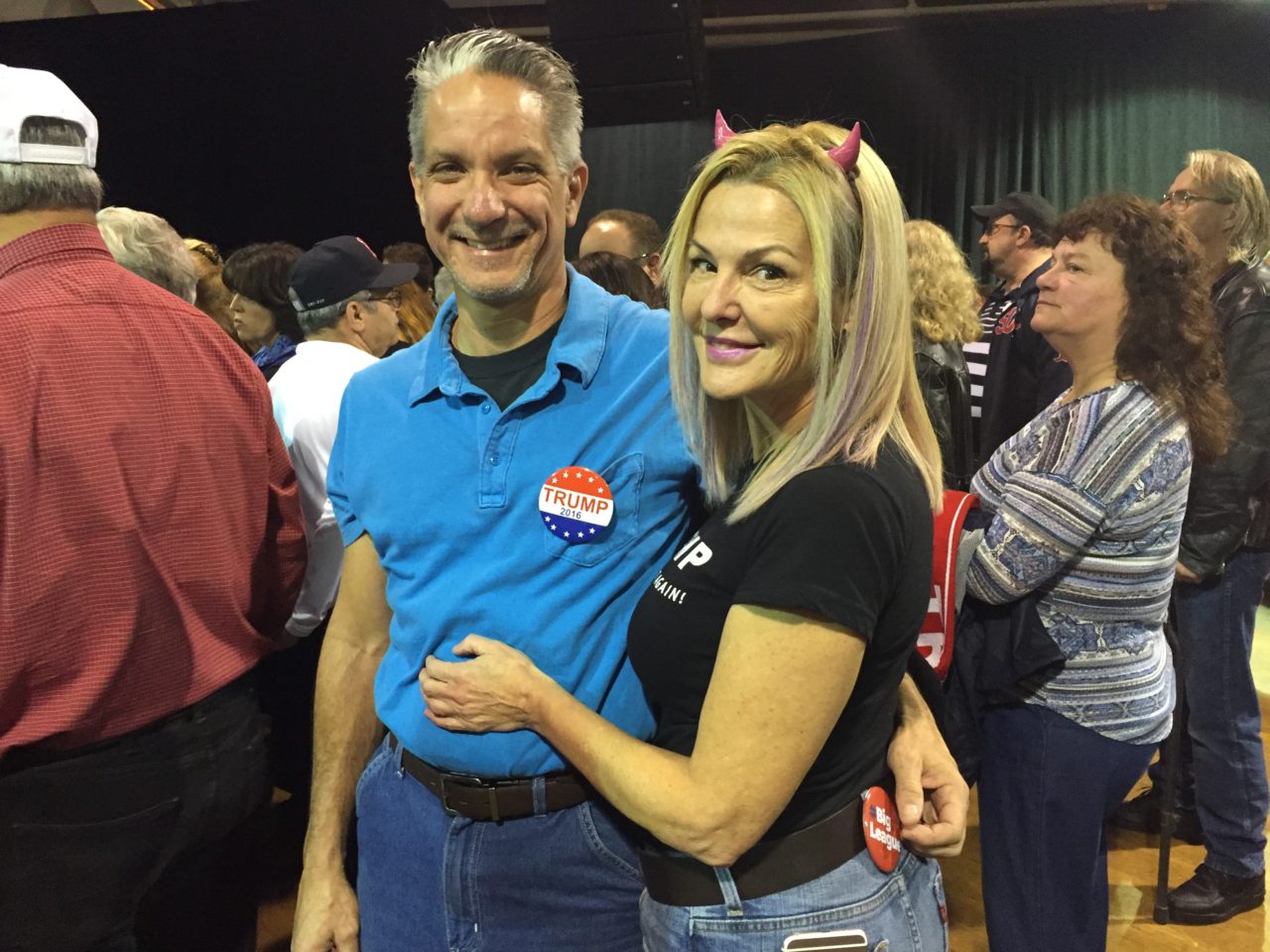 Asked why she thought Trump could win New Hampshire while previous Republican contenders had failed, she explained: "He's liberty-minded, a free-thinker, not owned by the establishment.
"I like him because he has the 'Live Free or Die' mentality," she added, quoting the state's motto.
The Crane family drove three hours from Vermont to attend the rally — with children Frankie, 11, and Montgomery, 14, missing school for the event. (Frankie, sporting an anti-Common Core T-shirt, did not seem to mind.)
Their father, Frank Crane, told Breitbart News: "I want to get the kids involved. I want them to learn about politics for themselves — not through the liberal media."
Wen, a real estate broker from Boston, also made the drive from out-of-state with her husband. Both are immigrants from China. She told Breitbart News that she supported Trump because of his policies, especially on terrorism, immigration, and the North American Free Trade Agreement (NAFTA).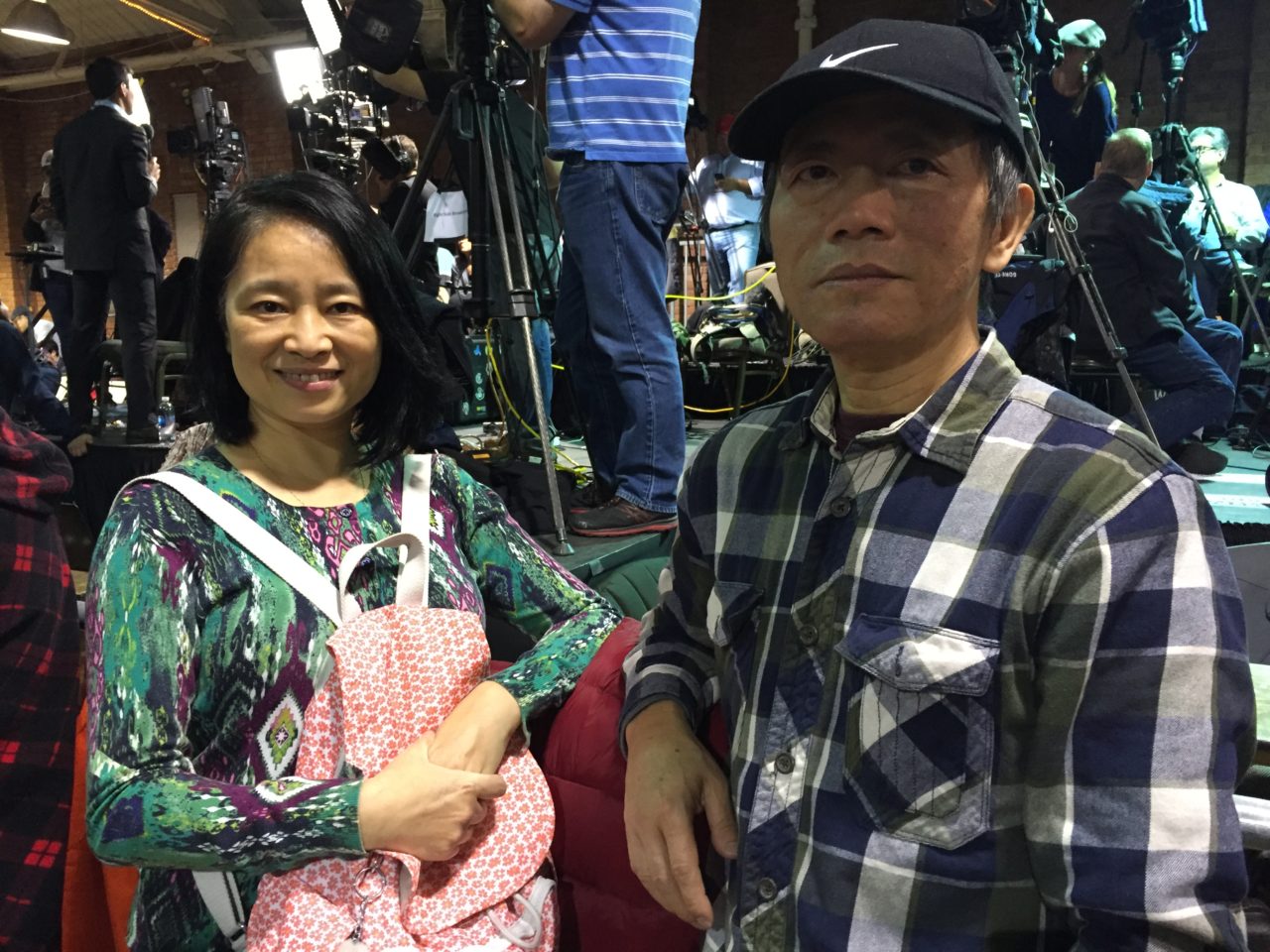 Asked whether she objected to some of Trump's attacks on China, Wen told Breitbart News: "I don't look at where I'm coming from. I look at what's good for America."
She added that she planned to return to the Granite State to knock on doors and turn out the vote.
Former governor — and Mitt Romney surrogate — John Sununu worked the crowd up before Trump spoke, drawing loud cheers. He also stressed the need to retain Republican control of the Senate, and urged the crowd to support Sen. Kelly Ayotte, who faces a tough re-election fight and has refused to endorse Trump (though she has said she will vote for him).
"Whatever personal antagonism we may have for rhetoric in this campaign, there's no 'buts' about it. We have to re-elect Kelly Ayotte," Sununu said, to cheers — and a smattering of boos.
I wouldn't have believed it unless I'd seen it: ubiquitous Romney surrogate @johnsununu whips up NH crowd for #Trump pic.twitter.com/KlcAYasP5D

— Joel B. Pollak (@joelpollak) October 28, 2016
The Trump campaign will head to Maine later Friday afternoon, and Iowa on Friday evening, before beginning a weekend swing through Colorado, Arizona and Nevada.
Joel B. Pollak is Senior Editor-at-Large at Breitbart News. His new book, See No Evil: 19 Hard Truths the Left Can't Handle, is available from Regnery through Amazon. Follow him on Twitter at @joelpollak.