New government data shows 1.6 million legal and illegal immigrants settled in the United States during 2014, up 40 percent since President Barack Obama was inaugurated in 2009.
The government data, which was publicized by the Center for Immigration Studies, also showed 914,000 immigrants in the first six months of 2015, putting the nation on track to accept almost 2 million immigrants in just one year.
The almost 2 million 2015 migrants arrived as almost 4 million Americans were born, and as almost 4 million American graduates turned 18 and began looking for jobs in a sluggish economy. That's roughly one new immigrant, legal and illegal, for every two Americans who began looking for a job in 2015.
In addition, almost 9 percent of all babies born in the United States during 2013 — or roughly 300,000 babies — were birthed by illegal immigrants. If those births are discounted, the likely 2015 inflow of migrants was very close to one immigrant for every two births to American parents.
In 2014, the inflow of 1.6 million migrants added up to two new immigrants for every five births or every five new graduates.
That huge inflow of migrants in 2014 and 2015 effectively increased the annual supply of new workers by almost 50 percent. That's great for employers, good news for retailers, and also for Wall Street's investors, but is bad news for Americans' wages, bad news for lower-skilled Americans living in states with high real unemployment and bad news for productivity.
The rapid pace of 2014 immigration was the highest level since almost 1.7 million immigrants arrived in 2000, although most of those who arrived in 2000 were illegally searching for jobs in the dot.com boom.
That 2000 record is likely to have been broken during the second half of 2015, partly because of Obama's decision to allow Central American migrants to cross the border and ask judges for asylum, work-permits and Green Cards. From October 2012 to October 2016, Obama has used his power over agencies to allow 300,000 Central American migrants to seek asylum, at a cost of perhaps $200 billion over the next 75 years. Roughly 117,000 of those Central American migrants were admitted in 2016.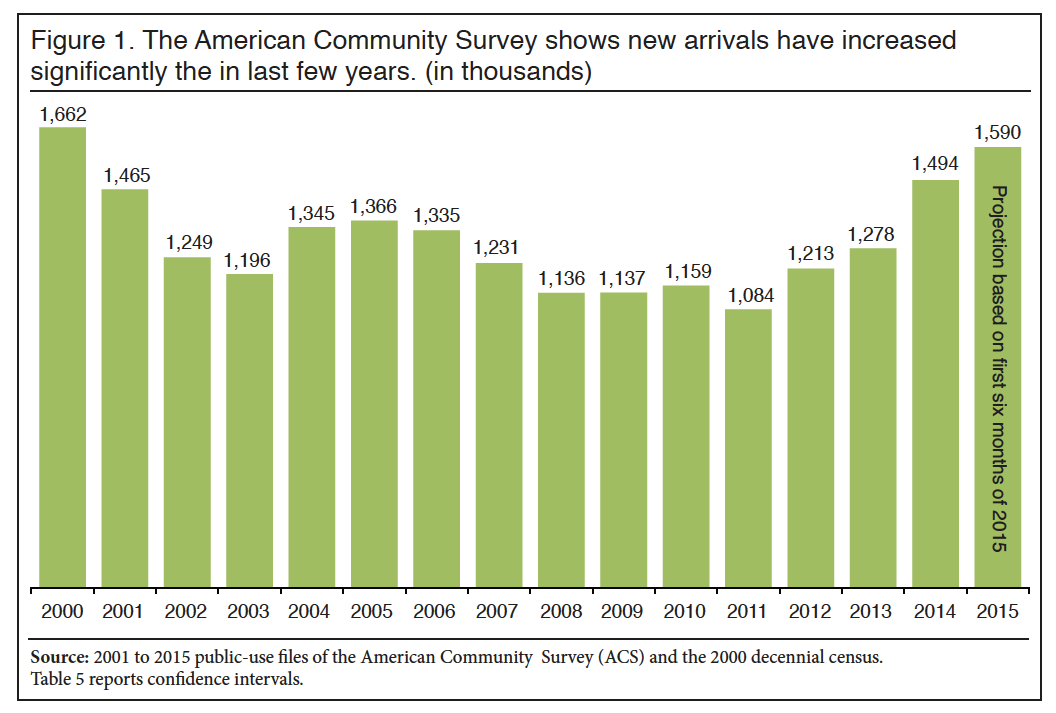 In 2014, roughly 1.1 million of the 1.5 million migrants were legally admitted, while roughly 400,000 were illegals, according to the CIS. Many of the illegals sneaked across the border, but others flew into the country and overstayed their visas.
During his tenure, Obama has sharply reduced border enforcement, reduced repatriations and has done little to deport foreign criminals.
In 2013, Obama also worked with business groups and the established media for passage of an immigration bill that would have provided citizenship for 33 million migrants over 10 years, increased the inflow of refugees and allowed an unlimited number of foreign graduate students to get Green Cards each year. The so-called "Comprehensive Immigration Reform" bill was blocked by public opposition.
However, Hillary Clinton has promised to implement many of those measures if she's elected — including the award of Green Cards to foreign professionals who enroll in U.S. graduate schools alongside young debt-burdened American graduates.
Since 1965, the massive inflow of foreign migrants has pushed the total number of foreign-born people in the United States up to 43 million in 2015, alongside roughly 270 million Americans. That's roughly one foreign-born person for every seven Americans. If the 11 million illegals are discounted, then 270 million Americans are living alongside 33 million legal immigrants. That's almost one legal immigrant for every nine Americans, including the American-born children of the immigrants.
But the inflow has rapidly increased the numbers of immigrants and native-born Americans who speak a foreign language is their homes. "Newly released Census Bureau data shows that a record 64.7 million U.S. residents five years of age and older spoke a language other than English at home in 2015 … up 5.2 million since 2010 and increased by 1.5 million in just the last year," according to the Center for Immigration Studies.
In the economy, the annual inflow of immigrants is supplemented by a huge annual inflow of roughly 800,000 temporary, and lower-paid, guest workers. The blue-collar temporary workers, such as H-2B workers, are usually replaced each year by new blue-collar workers, but the number of resident long-term white-collar workers has risen to roughly 1 million during Obama's two terms.
The inflow of migrants is increasingly Asian, not Hispanic. Since 2010, according to CIS:
Major sending countries with the largest numerical increases in immigrants living in the United States since 2010 were India (up 609,000), China (up 510,000), the Philippines (up 205,000), the Dominican Republic (up 184,000), El Salvador (up 138,000), Cuba (up 106,000), Nigeria (up 104,000), Guatemala (up 97,000), Haiti (up 88,000), Pakistan (up 80,000), Honduras (up 76,000), Bangladesh (up 75,000), Venezuela (up 71,000), Colombia (up 63,000), Vietnam (up 60,000), and Iraq (up 55,000).
The states that have received the most migrants since 2010, according to CIS, are:
States with the largest numerical increases in the number of immigrants from 2010 to 2015 were California (up 538,000), Texas (up 529,000), Florida (up 428,000), New York (up 232,000), New Jersey (up 133,000), Massachusetts (up 112,000), Maryland (up 108,000), Virginia (up 108,000), Pennsylvania (up 98,000), Washington (up 94,000), Georgia (up 81,000), Minnesota (up 79,000), and North Carolina (up 76,000).
Obama is a progressive, and so he believes that the U.S. government should offer U.S. civil rights — and citizenship — to foreign-born people, regardless of what Americans prefer. In November 2014, he argued that:
Sometimes we get attached to our particular tribe, our particular race, our particular religion, and then we start treating other folks differently. And that, sometimes, has been a bottleneck to how we think about immigration.  If you look at the history of immigration in this country, each successive wave, there have been periods where the folks who were already here suddenly say, 'Well, I don't want those folks' — even though the only people who have the right to say that are some Native Americans.
Read the full report here.