NEW YORK CITY, New York — A video, provided exclusively to Breitbart News Network ahead of its public release, shows the story of boxer William Campudoni and how a billionaire real estate tycoon, now running for president, Donald J. Trump, changed his life.
"I was a young pro Puerto Rican boxer," Campudoni said in the short film, about five minutes long, as it opens over footage of him boxing on television. "One of the originals the legendary Cus D'Amato took in. I worked and trained with the best: Tyson, Holyfield, and George Foreman.
WATCH THE VIDEO OF WILLIAM CAMPUDONI'S "AMERICAN COMEBACK STORY":
But before I could rise in boxing, someone gave me a chance like nobody else would."
Campudoni was struggling, having grown up "very poor" in Spanish Harlem in New York, when he stumbled one night into Trump Tower asking for a job after leaving St. Patrick's Cathedral.
"My dresser was my crib. I was a victim of abuse in my own hometown … in the streets," Campudoni said. "At the age of 22, I was at the brink of being homeless. I remember one night on Christmas Eve, I walked into the St. Patrick's Cathedral, and I said, 'God, please give me a purpose.' As I exited, I walked down 5th Ave., and there was this gorgeous building."
Donald Trump himself hired Campudoni the next day.
"I walked inside, and I said, 'I'm looking for work,'" Campudoni said. "The next day, Trump hired me off the streets. He gave me five navy blue suits. He shook my hand and said, 'Welcome to the family.'"
Campudoni next told the story of the night Trump brought him a steak dinner when he was driving Trump to a meeting.
"I remember the night I was assigned to drive Mr. Trump to a meeting," Campudoni stated. "I dropped him off, and as he's getting out of the car, he said to me, 'Can I bring you a steak because I'm going to be there for quite a while?' Who am I for him to stop his meeting to bring me something to eat?"
Campudoni said the "accusations" against Trump during the course of the campaign are simply not true. He asserted that Trump is a good man and looked out for everyone who worked for him.
"You know, I hear these accusations, but let me tell you firsthand: he employed people from all origins," Campudoni said. "We were all treated like family. And I remember that, and I admired him for that. He put us all first."
Campudoni talked in the next scene about a letter he got from Trump that kept him going throughout the hardest times of his life.
"He once gave me a personal letter … expressing just how proud he was of me," Campudoni shared. "Later in life, pursuing my career, I got knocked out, in real life. … I lost my way. Later, I also lost my wife to cancer, leaving me a single parent of two children, striving to be a role model. I suffered three heart-attacks, one stroke, and I was once pronounced dead in the ring. You know, Trump wouldn't know this … but along with a few mementos in life, this letter was the one that gave me the most inspiration. These words, they have been a constant reminder of how much I have been appreciated."
The letters, provided to Breitbart News, include a letter from the director of security at Tiffany & Co. in Trump Tower, dated July 26, 1984, detailing an incident where a perpetrator smashed the display window—and Campudoni, on Trump's security detail, apprehended the suspect until police arrived. Trump himself wrote a follow-up letter to Campudoni, thanking him for his "selfless" efforts: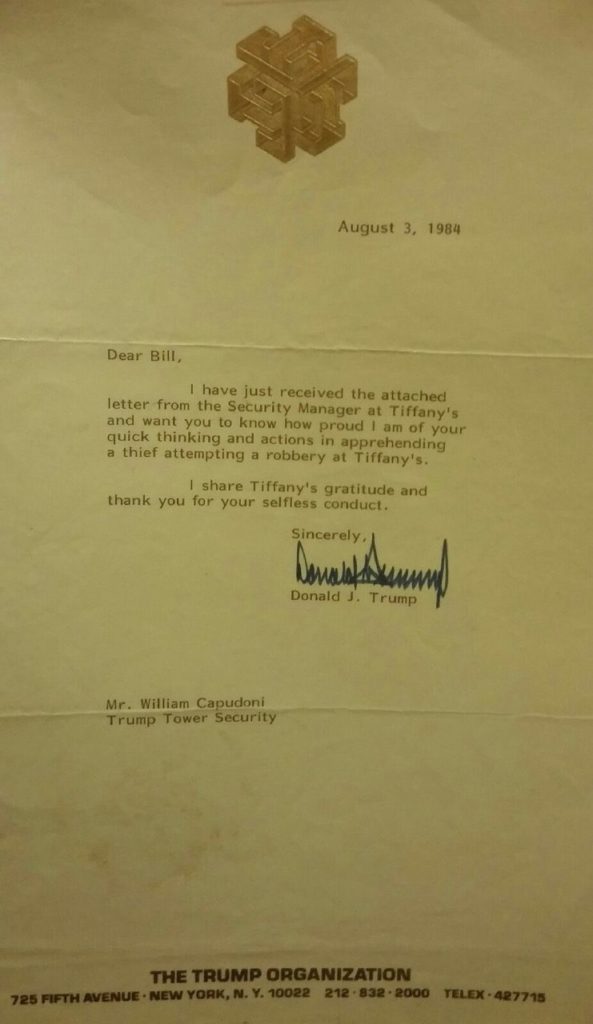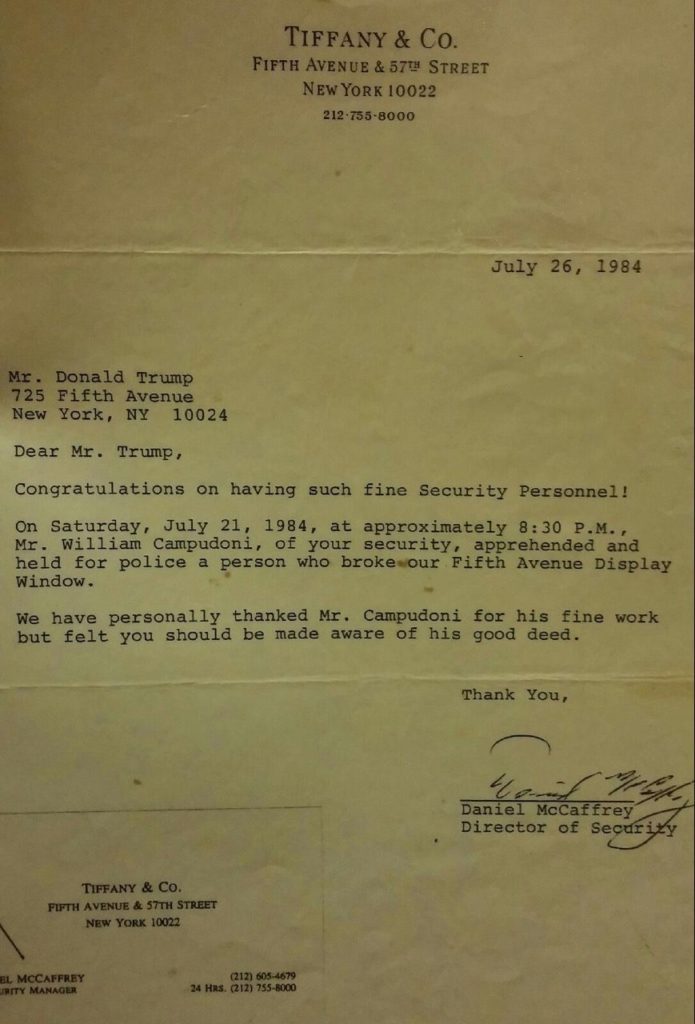 Campudoni said that Trump was just as influential in his life as D'Amato—the man who trained him to be a professional boxer, just like he trained Mike Tyson, Jose Torres, Floyd Patterson, and other world famous fighters—because Trump taught him to act like a winner.
"I never had a father, but I was so fortunate to come across thee two gentlemen: Cus D'Amato, who taught me how to be a fighter," Campudoni said. "But Donald Trump … taught me how to act like a champion. Mr. Trump just didn't give me a job that Christmas Day. What I realize today is that he gave me a tool to help rediscover my purpose … to be an inspiration to my children."
The film was made by political filmmaker Lucas Baiano without the backing of any political action committee or major donors because he felt like the story needed to be told.
"This is an American story, one that I felt inspired to produce. William represents a country currently on the ropes, looking for a way to make a comeback," Baiano, who, in 2008 worked for Hillary Clinton, but has since worked for the campaigns of Republicans, including Rick Perry, Tim Pawlenty, and John McCain, told Breitbart News. Baiano was profiled in 2012 for GQ magazine in the lead-up to the election. Baiano said that with all the paid ads from campaigns, Super PACs, and special interest groups in the lead-up to the election, he wanted to cut through the clutter with this video message that has a political and cultural significance, as well as the story of a true underdog who got a chance to succeed and inspire others to follow him—thanks to Trump's generosity.
"William's story represents the country currently on the ropes, looking for a comeback," Baiano said.
Noel Calubaquib, Baiano's associate producer, was the one who first met Campudoni, heard his story, and helped convince him to make this video to tell it. Calubaquib actually met Campudoni in an LA Fitness gym in Virginia, where they began talking about boxing, and where his life prior to boxing—where he worked for Trump—came up.
"Meeting William and hearing his story felt serendipitous. He never anticipated sharing his story publicly like this, but once I heard it, I knew we needed to tell it," Calubaquib told Breitbart News.