The nation's middle class continued to shrink throughout President Barack Obama's tenure, according to a new report from the Pew Research Center.
"A steady hollowing of the middle class, for example, continued during Obama's presidency, and income inequality reached its highest point since 1928," says Pew's new report, "How America Changed During Barack Obama's Presidency."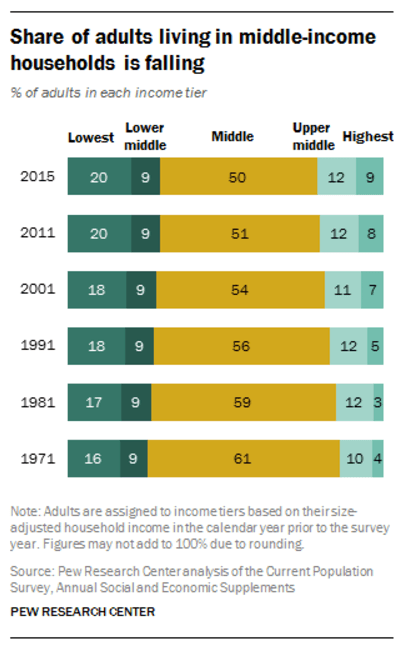 The report also sketched out the growing automation of many jobs which have provided steady jobs to generations of middle-class Americans. The public is worried about the trend — even though many Americans are more confident that their skills and jobs are are relatively safe from the robots, according to the report: 
The technological changes that were such a hallmark of Obama's eight years will go on, constantly reshaping the way we communicate, the way we travel, the way we shop and the way we work, among many other facets of everyday life. Americans seem to expect major changes: More than six-in-ten, for example, believe that within 50 years, robots or computers will do much of the work that is currently done by humans.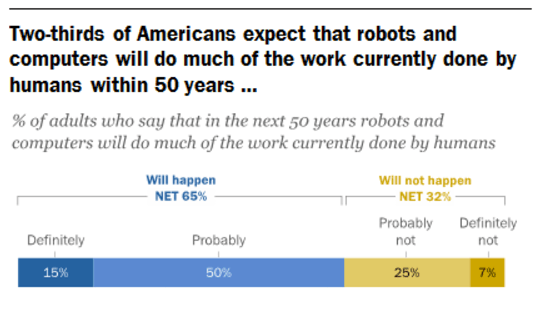 The population of the United States is also changing amid the massive inflow of 1 million or more migrants per year, says Pew. That is a huge inflow, and it sharply inflates the supply of employees in the economy, so forcing down the wages of the roughly 4 million Americans who enter the workforce each year.
By 2065, according to the report, one hundred years after Democratic Sen. Ted Kennedy won passage of the 1965 immigration expansion law, the nation's population will have so radically shifted that only 46 percent of the Americans will be of European extraction.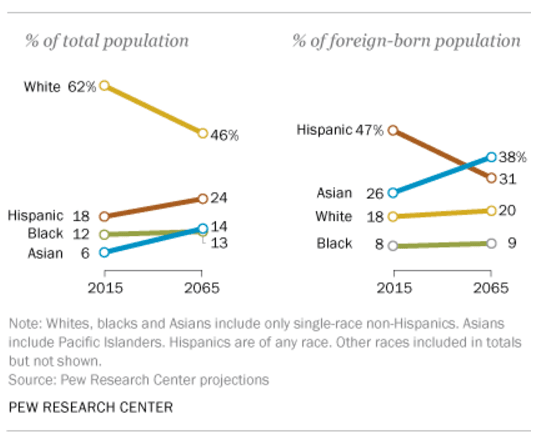 In 1965, 88 percent of the nation's population had ancestry in Europe.