Democrats are cheering a new poll which shows that likely 2018 voters shift 33 points away from incumbent GOP legislators once they are given negative information about House Speaker Paul Ryan's healthcare bill.
 "Voters [in GOP districts] move from approving of their congressperson by 12 points(46% approve, 34% disapprove) to disapproving by 21 points (35% approve,56% disapprove) — a net shift of 33 percentage points," says Priorities USA, which commissioned the poll of 1,001 likely voters into the popularity of Ryancare, or the American Health Care Act.
The Ryancare bill is intended to supplant Obamacare's takeover of the nation's healthcare sector. 
The March 34 Priorities memo declared: 
After hearing a positive argument in favor of the GOP plan, information about its provisions and consequences, and messages against their own incumbent for supporting it, we are able to really move the needle in a way that is rarely driven by a single issue, as it is in this case…

The top-testing message against the GOP proposal (as drafted at the time of fielding) is that it allows insurance companies to charge people over age fifty five times more than younger people for their care—with 61% of voters saying this raises "very" big concerns for them. This is the top-testing message among key target groups, garnering "very" big concerns among 75% of those who move on their vote, 66% of independents, 53% of Obama-Trump voters, and 69% of white non-college women.
The poll was conducted by Garin-Hart-Yang Research Group from March 15 to March 19, and released March 23. 
The poll matches the lopsidedly populist anti-Ryancare results of a Quinnipiac poll released March 23.  
The Priorities poll showed significant shifts among several categories of voters once Democrats are able to push the anti-Ryancare argument.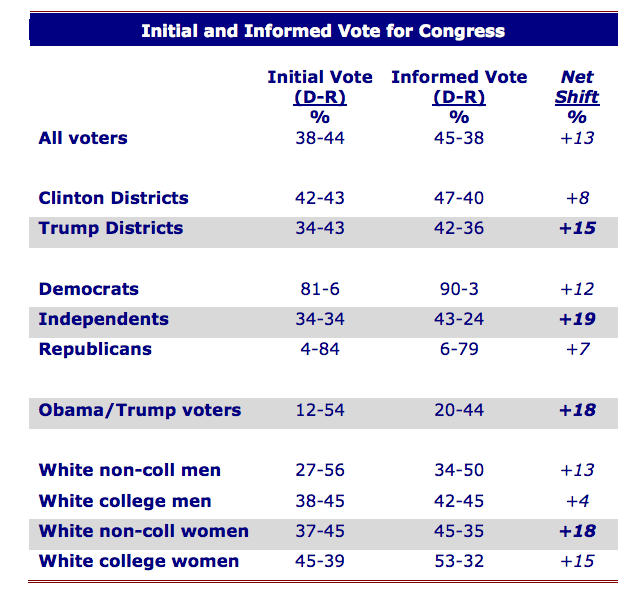 The poll was cheered by Democratic activists, including Adam Jentleson, who was former Sen. Harry Reid's deputy chief of staff. 
Stunning pic.twitter.com/n9uxNLPJRu

— Adam Jentleson 🎈 (@AJentleson) March 24, 2017