The fine print in the bipartisan 2017 budget plan includes several paragraphs designed to prevent Donald Trump's deputies from building a border wall with the reserve cash routinely stored in agency savings accounts.
That money-reducing language in the 2017 funding bill means wall construction is even further away from starting than it was last week, said Dan Horowitz, editor at Conservative Review. "This [bill] would make it effectively that you are worse off than you are before — Donald Trump is signing into law a bill that downright violates his promise" to build a wall, Horowitz said.
The funding bill drafted by Democratic Sen. Chuck Schumer and top GOP leaders does not offer any new funding for the wall, despite Trump's request for at least $1 billion to build 62 miles of barrier this year. Instead, the bill grabs back more than $300 million from accounts at the Department of Homeland Security, including a $187 million in cash seized from drug smugglers and other criminals.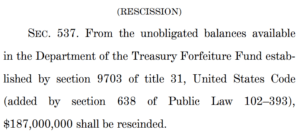 The $187 million is held in the Treasury Forfeiture Fund. According to the agency website:
The Treasury Executive Office for Asset Forfeiture (TEOAF) administers the Treasury Forfeiture Fund (TFF). The TFF is the receipt account for deposit of non-tax forfeitures made pursuant to laws enforced or administered by it participating Treasury and Department of Homeland Security agencies. The Fund was established in 1992 as the successor to what was then the Customs Forfeiture Fund. The TFF participating agencies are:

Internal Revenue Service Criminal Investigations Division (IRS-CI), U.S. Department of the Treasury;

U.S. Immigration and Customs Enforcement (ICE), Department of Homeland Security;

U.S. Customs and Border Protection (CBP), Department of Homeland Security;

U.S. Secret Service (USSS), Department of Homeland Security;

U.S. Coast Guard, Department of Homeland Security.
That forfeiture language is intended to stop Trump's deputies from using leftover funds to start building the wall, whose construction was authorized by Congress in 2006.
The language in the bill also shows the Democrats will oppose Texas Sen. Ted Cruz's proposal to fund the wall with funds recovered from criminals.  Cruz's proposal is the "Ensuring Lawful Collection of Hidden Assets to Provide Order" bill.
The spending bill does offer $497 million for various construction programs, including "$341,200,000 to replace approximately 40 miles of existing primary pedestrian and vehicle border fencing." But it also says the money can't be spent unless the agency develops a huge master plan within just 90 days that is approved by the undersecretary of management at the Department of Homeland Security.
But every "dollar is earmarked for a specific non-border wall purpose so there is no flexibility to reallocate funds," said Robert Law, an advocate at the Federation for American Immigration Reform. 
The budget deal does not include funds to hire extra border guards, as demanded by Trump. 
Democrats celebrated. "In a defeat for President Trump, the [bill] does not fund the immoral and unwise border wall or create a cruel new deportation force," said a statement by the Democratic leader in the House, Rep. Nancy Pelosi. The bill included "key victories for Democratic priorities," she said. 
The bipartisan budget deal was slammed by Law at FAIR. He said:
In another backroom deal to fund the government, Congress has yet again ignored the will of the American people. President Trump campaigned on building a wall along the U.S.-Mexico border and the American people demand it. Unfortunately, Congress continues to show how tone deaf it is by not allocating a single dollar for new border wall construction.

Physical barriers are a proven, successful deterrent to illegal immigration. Even if a border wall is not practical along the entire southern border, there are definitely places where it would work. The failure to fund even that portion of a wall in this government funding bill shows that Congress is not serious about permanently securing our nation's borders.
On Monday, the Democrats' restrictions were downplayed by White House spokesman Sean Spicer, who said:
We have five months left in this fiscal year. We're getting $1.52 billion for border security, there's a lot that can be done with that. We've got a lot of things that happen before the wall is built in terms of planning, technology, gates. There's a lot of things that can do to prepare for that wall being constructed…this was a down payment for 2017 and as we get ready for fiscal year 2018 that's start in the beginning of October, this will be a major priority.
GOP leaders got some of what they wanted from Democrats by trading the away the priorities of Trump's voters and ordinary conservatives, Horowitz said. The giveaways included cuts in funding for Planned Parenthood plus funds for the wall, while the gains include healthcare funds for Kentucky miners and language preventing curbs on major donations, both of which were sought by Senate Majority Leader Sen. Mitch McConnell.
McConnell and House Speaker Paul Ryan "do not share out values," Horowitz said.
The Trump administration's inability to fight for its supporters goals is a huge threat to the Trump presidency, said Mark Krikorian, director of the Center for Immigration Studies. "There's a certain amount of political flexibility any president has to have — the problem is that on immigration ever time Trump has faced pushback [from Democrats or business groups], he either has retreated or has not asserted himself at all," Krikorian said, adding: 
Telling the Border Patrol and ICE [U.S. Immigration and Customs Enforcement]  that they could start doing their jobs again was easy to do… but there are proactive things that need to get done, accomplishments that require pushing and work, and those so far we have not really see out of the administration… if there were some things they were strong on, and a couple of places where they were willing to give ground, I don't think that would necessarily hurt him. But on DACA [former President Barack Obama's 2012 quasi-amnesty], they're still issuing new work permits … so they have not met the concerns of their own voters a quarter of the way.
"In the latest challenge on funding for the wall, as soon as Chuck Schumer said 'Boo,' the White House surrendered, and although some think it will be different in September, It won't be," warned Krikorian. 
Democrats fervently oppose Trump's proposed border wall, which would literally and symbolically cement his 2016 victory and also block the northward migration of consumers, cheap workers, and future voters into Democratic-dominated cities. GOP leaders know their business donors oppose the wall, which would reduce the inflow of illegal-alien consumers and workers to the corporate members of the many Chambers of Commerce throughout the United States.
In a Monday meeting with reporters, Schumer said several GOP Senators had told him they oppose the wall.