A protest planned for Saturday at CNN headquarters in Atlanta is gaining steam as protesters rally around President Donald Trump and Republicans following a shooting on Wednesday aimed at GOP lawmakers and staff as they practiced for the annual Congressional baseball game at Nationals Park.
The shooter, an outspoken Bernie Sanders supporter and activist for liberal causes, wounded five people, including House Majority Whip Steve Scalise, who remains in critical condition following multiple surgeries.
"We encourage everyone to keep Rep. Scalise in your prayers for a speedy recovery and the other victims," Debbie Dooley of Main Street Patriots, organizer of the rally, told Breitbart News. "We will have a moment of silence at the protest to pray for the victims of the leftist assassin."
The gunman, 66-year-old James T. Hodgkinson of Illinois, died from his injuries after Capitol Police on security detail for Scalise engaged him in a gun battle.
Organizers of Saturday's event say they want to show support not only for President Donald Trump but now for Republicans — like Scalise, a longtime Trump supporter — and speak out against the "hate-filled rhetoric" and fake news from CNN and other media outlets.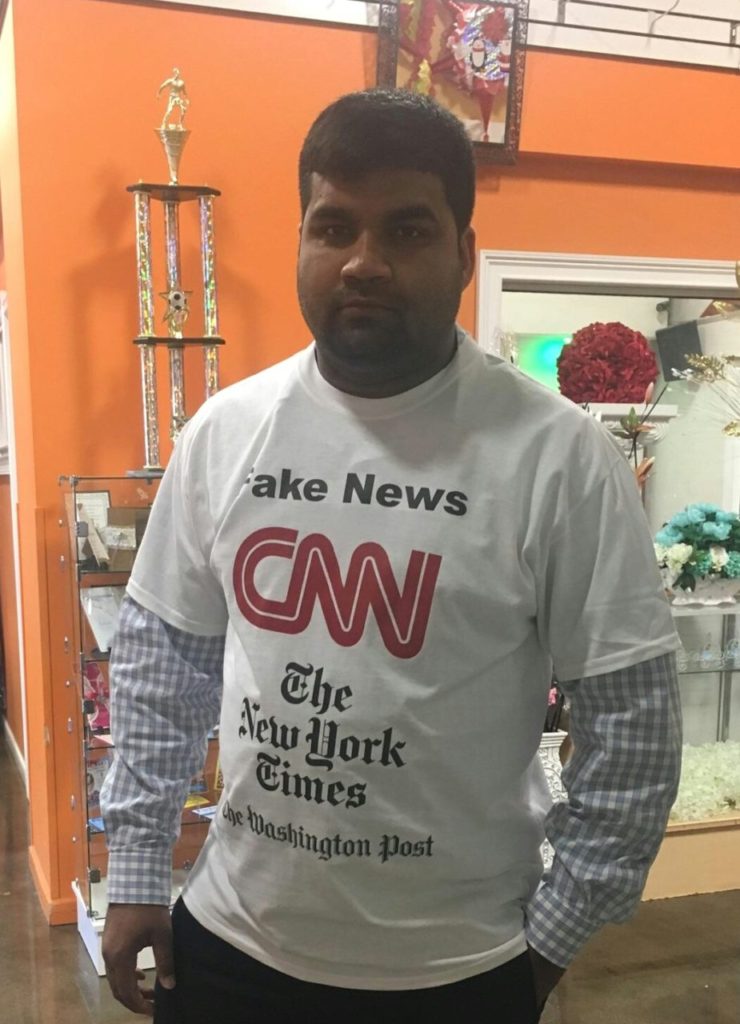 "I am very encouraged by the interest in the CNN fake news protest," Dooley told Breitbart News. " I've noticed a big uptick in the intensity level of folks interested in attending the protest after the cowardly assassination attempt of Republican Congressmen by someone on the radical left in Alexandria, Virginia on Wednesday."
Dooley said she is not concerned about the safety of protesters.
"One big reason is that Georgia is an open carry state and violent thugs would be insane to attempt violence at our peaceful protest," Dooley said.
"This hate filled rhetoric against President Trump has permeated many media outlets like CNN, the Washington Post and the New York Times," Dooley said. "Some of CNN's hosts engage in hate-filled hysteria in their attempt to bring down the democratically-elected President of the United States."
"They helped create the toxic atmosphere that Hodgkinson would believe it is 'open season' on Republicans," Dooley said. "It is time for Trump supporters to rise up and say with a loud voice, enough."
Bikers for Trump 2020 will also take part in the protest.
"Bikers for Trump will be at CNN headquarters on Saturday because in our opinion there is no way to measure this level of journalistic malpractice," Founder Chris Cox told Breitbart News. "CNN exemplifies vigilante journalism."
Tim Selaty, president of Citizens for Trump, will also bring supporters to Saturday's rally.
"We the American citizenry, who dutifully elected Donald J. Trump as our president, are completely fed up and disgusted with CNN and other liberal media outlets continually launching malicious fabricated propaganda (aka fake news) attacks on our P.O.T.U.S.," Selaty told Breitbart News. He went on:
We believe this fake news media movement to destroy our president is not only hurting the credibility of mainstream media and undermining our election process but is equally impacting our American society in a very negative way as we've seen by the recent attack in Virginia on our elected Republican officials.

We demand that CNN and all media outlets have ethics and truth in their reporting or we will continue to mass protest at their headquarters and express our discontent with their sponsors. We ask all of our fellow patriots to stand with us this Saturday at CNN's headquarters in Atlanta, Georgia and send a clear message to CNN and all other media outlets guilty of spreading unsubstantiated stories to hurt our president and fellow Americans.
"No more fake news," Selaty said.
The protest will take place from 11:00 a.m. to 12:30 p.m. Saturday at CNN, located at 190 Marietta St. NW, Atlanta, Georgia.
Cox's group will also hold a rally on Sunday in Marietta, GA., in support of Republican congressional candidate Karen Handel.
"The Bikers for Trump phenomenon will continue to support congressional races across the country for the Republican candidates that pledge support for Trump and we will hold them accountable to that pledge," Cox said.
"We're encouraging people to come out and support our president," said Dooley, who is also one of 22 national co-founders of the Tea Party. "And to condemn the extreme biased coverage at CNN."