The Trump Department of Justice (DOJ) has yet to respond to letters from the chairs of congressional committees that made criminal referrals regarding allegations that Planned Parenthood and its partners in the biomedical procurement industry profited from the sale of the body parts of aborted babies.
In a stunning contrast, however, the DOJ has indicted 15 individuals for illegally trafficking the body parts of eagles and other migratory birds.
In April, following a two-year undercover operation known as Project Dakota Flyer, the U.S. Attorney's office in South Dakota announced the indictments of 15 individuals for illegally trafficking eagle body parts.
The Boston Globe described Project Dakota Flyer as an operation that "offers a rare window into the black market for eagle carcasses, feathers, parts, and handicrafts.''
''This was the illegal black-market trafficking of eagles and eagle parts for profit,'' South Dakota U.S. Attorney Randy Seiler said. ''It basically was a chop shop for eagles.''
The news report continued regarding the cases that involved approximately 250 eagles:
The indictments announced this week in Rapid City portray an illicit trade carried out through face-to-face meetings, e-mails, texts, and personal introductions. Eagle heads or wings can fetch hundreds of dollars, though sellers sometimes trade goods such as bear claws, buffalo horn caps, or animal hides. The eagle parts are often used in Native American-style handicrafts.
The Lakota Country Times provides a report of the haggling done over the eagle body parts and the prices paid, which pale in comparison to what was exposed by Center for Medical Progress's (CMP) David Daleiden in his undercover videos that focused on alleged fetal tissue trafficking:
In late 2014, the undercover [informant] would receive an email [from] Troy Young Fairbanks, 24, showing a "Dog Soldier bonnet" made from over 800 feathers. The bonnet was never acquired but a business relationship did develop from the exchange.

Troy Fairbanks bragged about his ability to acquire sixty eagles by the winter months of 2015, and further stated he had nineteen people in the Los Angeles, California, area who wanted to buy eagle feathers/parts from him. Ultimately, the informant agreed to buy three complete eagle tails and six sets of eagle wings for $5,200.

In September 2015, Troy Fairbanks told the undercover that he was interested in doing a deal worth about $10,000 worth of eagle parts. The deal never materialized but it did lead to a purchase of two sets of eagle wings from Troy Fairbanks for $900. The informant also provided Troy Fairbanks with two buffalo horn caps, one elk skin dress, and one otter hide and explained the items were to serve as a down payment for the eagle feathers/parts that CI was planning to buy from him in February of 2016.
The indictments in the eagle body parts trafficking cases are based on "the sale and purchase of wildlife with a market value in excess of $350," while the CMP videos and the congressional committees showed StemExpress to be selling the body parts of aborted babies from Planned Parenthood for prices in excess of $500.
In one exhibit, the House Select Panel's investigation highlighted the fees paid for the baby body parts by the procurement businesses to the abortion clinics, and then the fees charged by the procurement businesses to their customers for those same parts.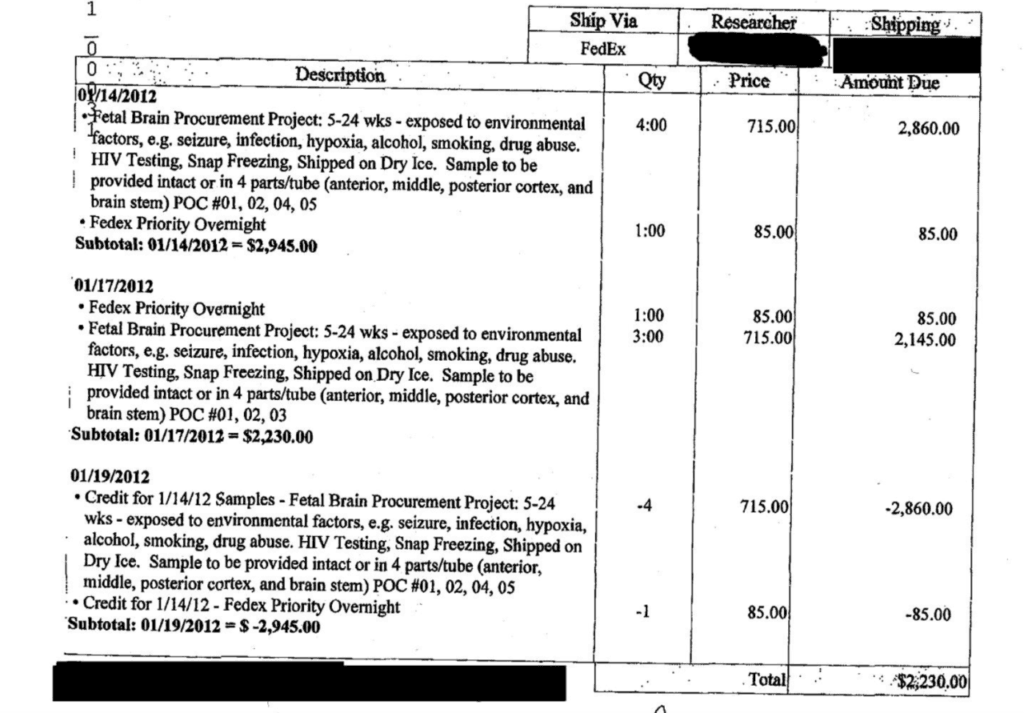 The Senate Judiciary Committee also reported:
A sample of ABR's [Advanced Bioscience Resources] fetal tissue procurement and distribution demonstrates its business model. For example, according to ABR's records, on one day in June of 2014, an ABR technician obtained a 20-week-old fetus at a Planned Parenthood clinic, for which it paid the clinic $60. From that one fetus, ABR sold its brain to one customer for $325; both of its eyes for $325 each ($650 total) to a second customer; a portion of its liver for $325 to a third customer; its thymus for $325 and another portion of its liver for $325 to a fourth customer; and its lung for $325 to a fifth customer. However, those fees are merely the "service fees" for the specimens themselves. In addition, ABR also separately charged each customer for shipping, disease screening, cleaning, and freezing as applicable. Moreover, because the company does not store or implant the tissues, its fees cannot plausibly be based on those exempted categories. So, from that single fetus, for which ABR paid Planned Parenthood a mere $60, ABR charged its customers a total of $2,275 for tissue specimens, plus additional separate charges for shipping and disease screening.
"The records subpoenaed by Congress show Planned Parenthood making ten times more money off of baby body parts than the amounts that got the eagle traffickers indicted, and companies like StemExpress sell aborted baby body parts from Planned Parenthood at prices far higher than the eagle body parts traffickers are charged with," Daleiden explains to Breitbart News.
In the illegal eagle trafficking cases, U.S. Attorney Seiler accused the defendants of a lack of reverence for the eagles – a national symbol.
''There was no cultural sensitivity," he said. "There was no spirituality.''
The Senate Judiciary Committee referred Planned Parenthood to both the FBI and the Justice Department for investigation and possible criminal prosecution.
Additionally, the House Select Investigative Panel on Infant Lives referred Planned Parenthood Gulf Coast for criminal prosecution by the Texas attorney general. The panel ultimately made 15 criminal and regulatory referrals of abortion clinics and fetal tissue procurement companies to federal, state, and local authorities for further investigation into possible violations of the law.
"The Department of Justice does not confirm, or otherwise comment, on the existence or nonexistence of investigations," Lauren Ehrsam, DOJ spokeswoman and media affairs specialist, wrote in an email to Breitbart News.
Ehrsam did confirm, however, that, following House Select Panel chairwoman Rep. Marsha Blackburn's letter of November 2 to former Attorney General Loretta Lynch – in which Blackburn laid out the evidence from the Panel for "a thorough investigation" into biomedical procurement company StemExpress – she received a response.
On December 15, Peter Kadzik, former assistant U.S. Attorney General under Lynch, wrote, "We have referred your letter to the Federal Bureau of Investigation for consideration and appropriate action."
In November, WikiLeaks revealed that Kadzik – a close friend of John Podesta – was found to have shared information about Hillary Clinton's congressional investigation into her email server with Podesta.
Blackburn's subsequent letters to DOJ involving the findings of the Panel's investigations into Planned Parenthood facilities in California and other biomedical companies received no further response, Ehrsam confirms.
Additionally, Ehrsam confirms that Senate Judiciary Committee chairman Sen. Chuck Grassley's letter to Lynch on December 13, and his most recent letter, dated April 24, to pro-life Attorney General Jeff Sessions and former FBI director James Comey, received no response from DOJ.
Grassley wrote in April:
I am writing to inquire about the actions the Department of Justice and the FBI have taken in response to criminal referrals I made late last year. After a lengthy and detailed investigation by the Committee into paid fetal tissue transfers, I wrote to Attorney General Lynch and Director Comey on December 13, 2017, to refer eight organizations for investigation and potential prosecution for violations of the law that bans the buying or selling of human fetal tissue, 42 U.S.C. § 289g-2, and the criminal conspiracy statute, 18 U.S.C. § 371. The organizations referred were:

 The Planned Parenthood Federation of America;
 Planned Parenthood Mar Monte;
 Planned Parenthood Los Angeles;
 Planned Parenthood Northern California;
 Planned Parenthood of the Pacific Southwest;
 StemExpress, LLC;
 Advanced Bioscience Resources, Inc.; and
 Novogenix Laboratories, LLC.
Grassley concluded his letter by asking Sessions and Comey for "written confirmation by May 8, 2017, that the relevant Justice Department and FBI personnel have reviewed or will review the referral and report in full in order."
In June, a letter, signed by 17 pro-life leaders, urged Sessions and Acting FBI Director Andrew McCabe to investigate Planned Parenthood for its alleged profiteering from the sale of the body parts of aborted babies.
The letter stated that the facts uncovered during the congressional investigations into Planned Parenthood and its partners in the biomedical procurement industry "raise a reasonable suspicion that these organizations, and/or individuals employed by them, may have engaged in a conspiracy to violate the fetal tissue law (18 U.S.C. § 371)."
The pro-life leaders sent the letter following the release of a new CMP undercover video, in which National Abortion Federation (NAF) abortionists are heard sharing graphic details about the dismemberment of unborn babies during the procedure. The footage is a compilation of excerpts from video filmed at NAF trade shows, where abortionists are heard discussing the difficulties they face in their jobs, such as "the head that gets stuck that we can't get out," and "an eyeball just fell down into my lap, and that is gross!"
Within hours of that video's release, it was pulled from YouTube, Vimeo and other sites at the order of U.S. District Judge William Orrick over a claim for the safety of the abortionists.
This week, Orrick fined CMP's Daleiden $137,000 – to be handed over to NAF – for violating a preliminary injunction and continuing the exposé which Orrick claims is putting the lives of abortionists in danger. Daleiden's criminal defense attorneys, who were held in contempt as well, claim that Orrick is biased and should be disqualified from the case since he is an emeritus board member of a family resource center that is a member of the NAF and a Planned Parenthood affiliate.
"Surely Attorney General Jeff Sessions cares about the rule of law and basic human dignity just as much as animal welfare," Daleiden says, adding:
It would be deeply discrediting if the Department of Justice vigorously prosecuted the eagle parts traffickers, but gave special indulgences to the abortion industry and did not hold Planned Parenthood and their business partners just as accountable to the law for selling tiny baby hearts, lungs, livers, and brains.
The offices of Grassley and Blackburn did not respond to Breitbart News' requests for comment.