A new JMC Analytics poll has former Alabama Supreme Court Justice Roy Moore up eight points over his Democratic challenger Doug Jones.
The poll conducted September 30-October 1 revealed Moore is a strong statewide candidate, but is somewhat vulnerable in the urban and suburban areas of Alabama, particularly in the Mobile media market where he trails Jones by 10 points.

According to JMC Analytics' John Couvillon, Moore's vulnerabilities in those precincts are attributed to last month's bitter runoff contest he had with Luther Strange. Strange and Strange allies spent upwards of $30 million by some estimates on the contest, which had a focus on attacking Strange's opponents, including Moore in the runoff and Rep. Mo Brooks (R-AL) in the primary.
"What I think that's all about is the remnant of the bitter runoff contest because if you were to look at the runoff results in the biggest counties in urban and suburban, and you were to dig deeper into the results published, one of the things that is going to be Moore's biggest challenge is that now that you're talking about a general election environment, which includes a 24 percent black electorate, Moore has to be competitive in those urban and especially those suburban counties," Couvillon said in an interview with Breitbart News.
"And the numbers I am seeing thus far is he is weak in the four biggest counties, which of course would be, going north to south — Madison, Jefferson, Montgomery and Mobile," he added. "Plus, I'm seeing some weaknesses in places like Shelby and Baldwin Counties. That weakness was also apparent in the runoff, by the way. Moore did not run up big margins in Shelby and Baldwin, which historically has been the bedrock for Alabama's Republicans."
Urban 49-37% Jones (52% Luther in runoff), suburban 53-40% Moore (54% Moore in runoff), small town/rural 55-33% Moore (59% Moore in runoff)

— John Couvillon (@WinWithJMC) October 3, 2017
Couvillon's poll also showed a stark difference when broken down by gender. According to the JMC Analytics survey, while Moore has a 54-38 percent advantage with male voters, among females he is tied with Jones.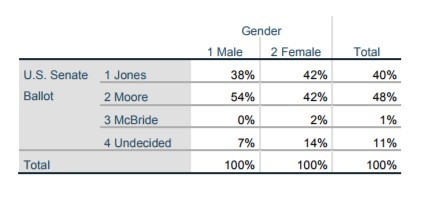 "What I think is going on here is that you're about somebody who is very, very blunt in his rhetoric and I've found blunt rhetoric tends to turn off women voters more than it does men voters," Couvillon said. "In other words, I'm not particularly surprised you have the gender gap that you noticed."
Even though Moore has room for improvement, he still outperforms a generic Republican in the poll. That, according to Couvillon, could have implications later on down the line for the GOP.
"You know the generic ballot to me is kind of a distant early warning to the Republicans in 2018," he said. "I think to some extent, that has a bearing on this race, as in Jones is not blowing Roy Moore out by a 20-point margin, like what would happen in a presidential contest where Republican candidates routinely get above 60 percent of the vote in Alabama. So in a sense, I think Moore's challenge is Democrats are more energized, number one. And if Republicans are barely ahead in partisan preference in Alabama, that to me has huge repercussions for next year's election and Virginia and New Jersey this year."
For Jones to pull off the upset, he will need a high turnout from Alabama's African-American community. Roughly 26.5 percent of registered voters in Alabama are black. That number may have to exceed 30 percent of the special vote for Jones to win.
Poll has 24% Af-Am share and Jones getting 30% of whites. For Jones to win he will need 33% of vote to be Af-am, its a turnout game #ALSEN https://t.co/JbMBaIcN32

— Matthew Isbell (@mcimaps) October 3, 2017
Keep in mind the 2012 cycle was 28% Af-Am, so if Dems crack 30% it would be very high… makes me skeptical can be done https://t.co/33fcZxTFUR

— Matthew Isbell (@mcimaps) October 3, 2017
Moore and Jones compete on December 12 for the U.S. Senate currently occupied by Sen. Luther Strange (R-AL) and formerly held by Attorney General Jeff Sessions.
Follow Jeff Poor on Twitter @jeff_poor