Mike Bloomberg's lobbying group is lobbying top Republicans to prevent President Donald Trump from including pro-American, salary-boosting immigration reforms in a much-touted amnesty for younger illegal immigrants.
The  back-room lobbying was sketched in a report by the pro-amnesty McClatchy news service, which said Trump's reforms would derail a supposed September 13 agreement by Trump and top Democrats to pass a no-strings "DACA" amnesty for 'dreamer' illegal aliens:
"All the efforts now to use the Dreamers as these political pawns to get the wish list of all these other enforcement measures are only going to undermine that deal," said Jeremy Robbins, executive director of the Partnership for a New American Economy. "They're all non-starters."
The NAE group was co-founded by Bloomberg, the founder of Bloomberg LP., by Rupert Murdoch, chairman of News Corp and 21st Century Fox, and by J.W. Marriott, the executive of Marriott International. In 2013 and 2014, the group lobbied for passage of a huge amnesty that would have cut wages for blue-collar Americans and salaries for white-collar Americans.
The McClatchy report also said "four political operatives [are] working closely with Republicans" to block Trump's reforms, which may be announced this week. According to McClatchy:
leaders in both the House and Senate characterized some of the White House's demands, which have yet to go public, as "poison pills," saying they are impossible to achieve and that the White House staffers' intent is to scuttle the deal for political gain.

The focus of their ire is on Stephen Miller, Trump's senior policy adviser, who drafted the principles and has been behind several other controversial White House initiatives, including the ban on travel from several Muslim-majority nations. He is one of the few hard-right conservatives remaining in the White House after the departure of Trump's former chief strategist Steve Bannon.

"We use to joke about President Bannon. Now it's President Miller," one senior lawmaker said in a meeting about the White House's immigration and border security demands.
Steve Miller served as a top aide to then-Sen. Jeff Sessions during the successful fight against the industry-backed "Gang of Eight" immigration legislation in 2013 and 2014.
An advocate for pro-American immigration reform derided the McClatchy article as a "ham-handed attempt … by GOP leaders to get Stephen Miller fired."
This & earlier NYMag story are just ham-handed attempts by GOP leaders to get Stephen Miller fired. https://t.co/8TmlUfRka2

— Mark Krikorian (@MarkSKrikorian) October 8, 2017
McClatchy declined to identify the congressional "leaders," or the "four political operatives."
Mark Zuckerberg's pro-amnesty lobbying group, FWD.us, has hired at least two former GOP political operatives to oppose any deal that would raise wages for white-collar or for blue-collar Americans. One operative is  Rob Jesmer, whose bio at FWD.us states:
With extensive experience on statewide and national campaigns, Rob Jesmer manages FWD.us' immigration reform strategy and policy and legislative operations, while overseeing grassroots operations in research and earned and paid media. As the former Executive Director of the National Republican Senatorial Committee, Mr. Jesmer also cultivates relationships for FWD.us on the Republican side of the aisle, and advises FWD.us staff on reaching out to conservatives.
Another operative at FWD.us is Mark Delich, whose bio states:
Mark Delich is a former senior advisor to Senator John McCain, where he was on the forefront of issues involving homeland security and immigration. He also previously served as director of policy at the Reform Institute and worked as a lead staff for the U.S. Senate Committee on Commerce, Science and Transportation. At FWD.us, Mr. Delich oversees the organization's congressional outreach efforts to strengthen relationships with bipartisan lawmakers.
Several top Democrats have already announced their opposition to immigration reforms by demanding a no-strings 'Dream Act' legislation. The legislation would offer amnesty and citizenship to at least 3 million illegals, and to millions of additional foreigners more via chain-migration. Those Democrats include Sen. Richard Durbin, House Minority Leader Rep. Nancy Pelosi, and Minority Leader Chuck Schumer, whose Wall Street constituents have strongly opposed Trump's "Hire Amerian" strategy.
Pro-business groups have admitted that Trump's immigration policies would raise wages for many Americans, partly by reducing company profits and Wall Street stock prices.
On the GOP side, the push for the no-strings Dream Act is led by Sen. Lindsey Graham, who recently announced he would campaign to raise immigration levels if the Dream Act becomes law. The extra immigrants are needed by the state's low-wage tourist and agriculture businesses, he said.
But other GOP leaders — including second-ranking GOP leader Sen. John Cornyn, as well as outsourcing advocate Sen. Thom Tillis — have declared support for an amnesty that excludes any pro-American reforms. Arizona Sens. Jeff Flake and John McCain are also backing an amnesty which excludes pr-American reforms.
On Thursday, the second-ranking GOP Senator told reporters, according to 
TheHill.com
:
"We ought to be narrowly focused on the DACA fix that the president's asked us to consider … and then we can turn to these other issues in the next legislation," he told reporters Thursday.

Cornyn said he supports "merit-based immigration" but "the most immediate thing we can do is to address the DACA situation. And I think the most logical way forward is to tie that to border security and interior enforcement."
Cornyn has drafted a border security bill that would not curb employers' ability to hire low-wage illegals, and endorses less than 10 miles of extra border wall. Immigration experts say it may provide political cover for an amnesty push in late 2017 by allied Republicans, Democrats, and business groups.
Zuckerberg, Bloomberg, and other billionaires share several huge incentives to demand a no-strings amnesty for several million young illegals.
The most important reason is that Trump is looking to include the wage-boosting RAISE Act in any negotiations.
The RAISE Act would gradually reduce the annual inflow of unskilled chain-migration immigrants, so helping raise wages for less-skilled Americans, including high-school dropouts and recent unskilled immigrants.
The RAISE Act also would be bad for business because it would reduce the inflow of taxpayer-aided customers by roughly 400,000 a year, or 4 million per decade. Bloomberg's website includes several reports detailing the business stimulus created by the inflow of legal and illegal immigrants.
Worse, the passage of the RAISE act would also block various efforts by business groups to massively expand the inflow of skilled foreign professionals into the U.S. labor market. Those efforts include various visa and outsourcing bills, as well as a plan to "staple" free green cards to technology-related masters' degrees earned by any and all foreigners at American universities. If passed, that "staple" provision would create a huge wave of salary-cutting competition in the skilled job sectors where young Americans hope to earn a good living. The competition would be intensified by the government's offer of the very valuable prize of citizenship to foreign graduates who take jobs sought by the 800,000 Americans who graduate from college each year with skilled degrees in business and medicine, architecture and science, technology and math.
Understandably, polls show that Americans strongly support the core elements of the RAISE Act because numerous prior polls show that Americans overwhelmingly oppose laws which allow companies to outsource Americans' jobs work to cheap-labor immigrants.
Many business-funded pollsters hide the public's opposition to cheap-labor immigration behind polls showing Americans want to welcome immigrants. In 2013 and 2014, that deception helped the GOP defeat five Democratic Senators who voted for the 2013 "Gang of Eight" amnesty-and-cheap-labor bill. That bill would have shifted more of the nation's income from wage-earner to investors, according to a 2013 report by the Congressional Budget Office.
Both Zuckerberg and Bloomberg supported the 2013 bill because it included measures allowing for much greater use of H-1B outsourcing, and also because it included a hard-to-find "staple" measure deep in the huge legislation.
The MyVisaJobs.com website shows the growing use of cheap imported white-collar labor by Zuckerberg and Bloomberg. The skilled Americans who are displaced by the H-1B outsourcing flood into non-technical white-collar careers, such as teaching, public relations, and journalism.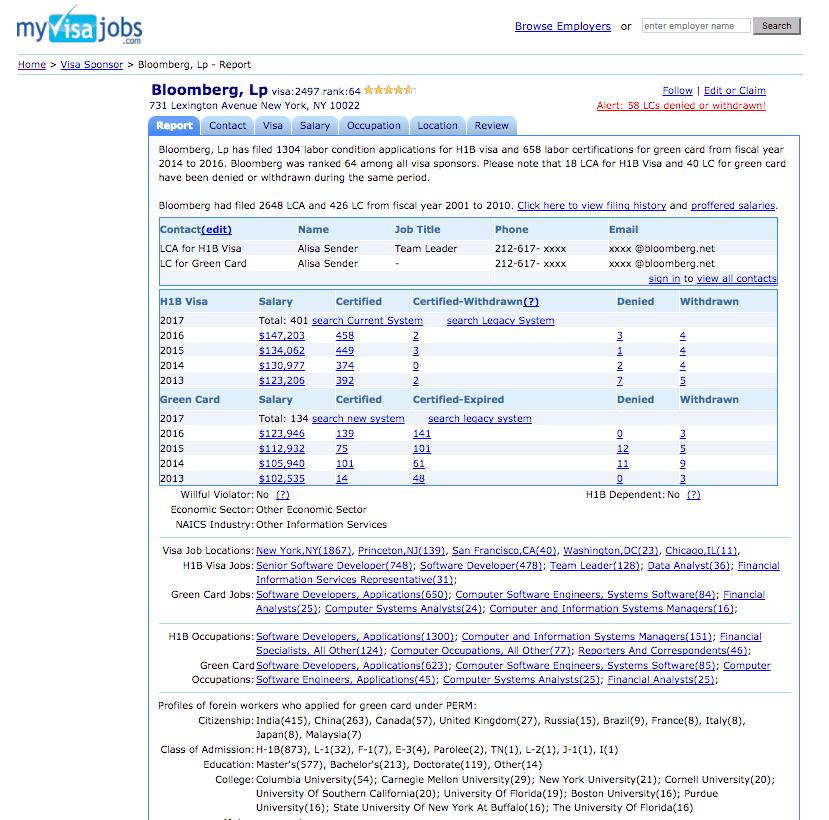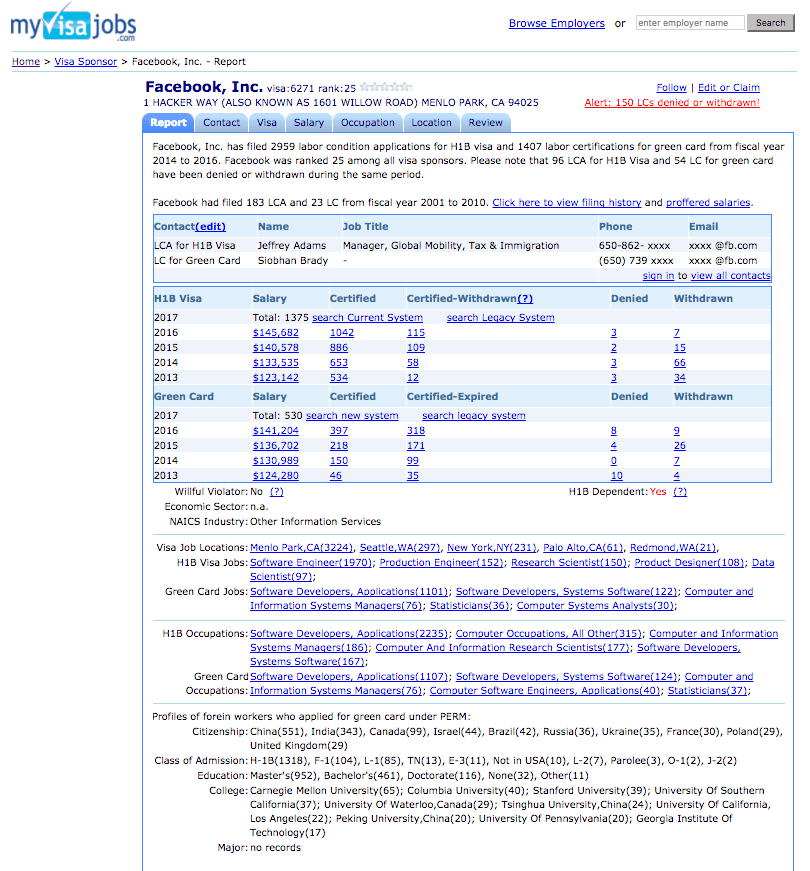 Universities are non-profits, so they are allowed to import as many H-1B each year as they request. For example, Columbia University in New York imports several hundred foreign graduates each year for jobs sought by Americans.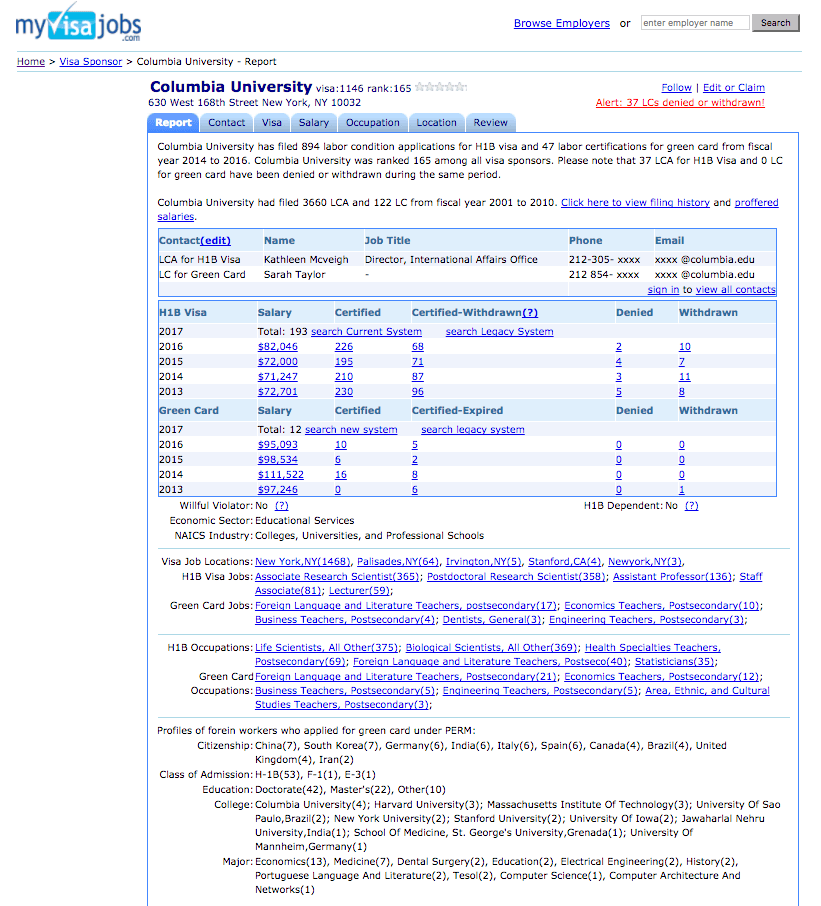 Four million Americans turn 18 each year and begin looking for good jobs in the free market.
But business groups have used their political power to tilt the labor market in their favor,  via the federal policy of importing 1 million consumers and workers each year. The government also hands out almost 3 million short-term work permits to foreign workers. These permits include roughly 330,000 one-year OPT permits for foreign graduates of U.S. colleges, roughly 200,000 three-year H-1B visas for foreign white-collar professionals, and 400,000 two-year permits to DACA illegals. Universities employ roughly 100,000 foreign guest workers.
That Washington-imposed economic policy of mass-immigration floods the market with foreign labor, spikes profits and Wall Street values by cutting salaries for manual and skilled labor offered by blue-collar and white-collar employees. It also drives up real estate prices, widens wealth-gaps, reduces high-tech investment, increases state and local tax burdens, hurts kids' schools and college education, pushes Americans away from high-tech careers, and sidelines at least 5 million marginalized Americans and their families, including many who are now struggling with opioid addictions.
The cheap-labor policy has also reduced investment and job creation in many interior states because the coastal cities have a surplus of imported labor. For example, almost 27 percent of zip codes in Missouri had fewer jobs or businesses in 2015 than in 2000, according to a new report by the Economic Innovation Group. In Kansas, almost 29 percent of zip codes had fewer jobs and businesses in 2015 compared to 2000, which was a two-decade period of massive cheap-labor immigration.
Americans tell pollsters that they strongly oppose amnesties and cheap-labor immigration, even as most Americans also want to favor legal immigrants, and many sympathize with illegals.
Because of the successful cheap-labor strategy, wages for men have remained flat since 1973, and a growing percentage of the nation's annual income is shifting to investors and away from employees. The business-funded Hamilton Project suggests that the shift is transferring $1 trillion per year from 160 million employees to the nation's investors.