When the now infamous Women's March took place on the day after President Donald Trump was inaugurated as the 45th President of the United States, the press poured out across the nation's capital in droves to cover the pussy-hatted protesters and their often foul-mouthed pronouncements about the new commander-in-chief.
But aside from a Christian media outlet's coverage and a Washington Post religion reporter's story that was headlined "Christian women gather on the Mall and criticize feminism," not much attention was paid to the hundreds or even thousands of women — and men — who attended a four-day event on the National Mall focused on praying for America, President Donald Trump, and the millions of unborn babies who have been aborted since the United States Supreme Court legalized the procedure in 1973.
Lou Engle, an evangelical leader who has arranged huge Christian worship and prayer events for years, organized this signature "The Call" gathering, this one dubbed "Rise Up" and designed to ask godly women to do what he believes God has called them to do.
"There were certain powers of darkness in America that could only be broken by women, it was the hour where witches worldwide were cursing President Trump and this feminist movement rising that is not founded on the word of God, is funding Planned Parenthood, and I knew it was the time to call the Esthers," Engle said in the CBNNews article published about last weekend's gathering.
Esther is a biblical heroine who earned protection for herself and fellow Jews through her role as queen to a powerful king.
When Engle announced plans for the event in June, he wrote about the Women's March in January on his Facebook page and his plan for a different kind of response from women about current events.
"We believe a great gathering remains to be seen, a movement that must be felt in our nation's capital to countermine the dark spirit that informed so much of the Women's March. We are gripped with hope that an uncompromising movement of noble-hearted women will arise," Engle wrote, calling the event a "Day of Righteous Women who will cry out to God for their sons and daughters and generations yet unborn."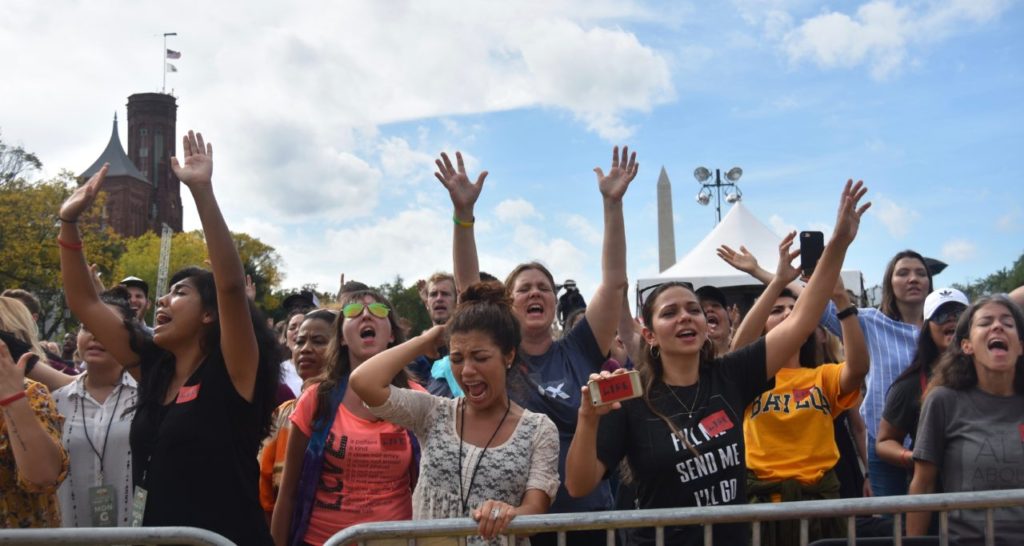 Breitbart News spoke to some of the people who helped organize the event, and others who participated, about why they decided to travel to D.C.
"When there was the women's march the day after President Trump's inauguration, the Lord gave me a vision that that is not true womanhood," Naomi Van Wyk, who spoke at the event about women's role in healing the nation and honoring God in their lives, told Breitbart News.
"That it does not represent me and all of the women I know and that we needed to have a gathering on the National Mall that represents women of God and dignity and righteousness," Van Wyk, who lives in Santa Barbara, California, said.
"A lot of us who watched that march back in January – we recognized that was not our march, that was not our revolution," Melissa Medina, who also helped organize the event, told Breitbart News.
Medina said that women need to be the "gatekeepers" for their families and should protect them from the enemies they are facing.
"We are losing our young people to wars, to drugs — the opioid epidemic," Medina said. "We've been losing them to violence in the inner cities."
"We've been losing them to promiscuity, and pornography, and the homosexual agenda trying to redefine our families," Medina said.
"It's time for women to rise up and say we will stand at the gates and say, 'No more,'" Medina said.
The crowd on Sunday spent the day worshipping Jesus Christ through prayer and music, and many shared their stories about why they believed in the sanctity of human life from conception to death, including the need for pro-life people to adopt children.
One woman said after a pro-abortion woman challenged her about what would happen to babies born to women who did not want them, she and her husband felt the need to respond and eventually adopted six children whom they are raising with their three biological children.
Christie Myers, who described herself as a "post-abortive woman," said the event provided "unity" for all women and men who are pro-life, regardless of their past.
Myers, who lives in Santa Barbara, California, told Breitbart News that one of the highlights of the event for her was the prayers offered for the president.
"We want to see a restoration of honor to the office of the president," Myers said. "That we would honor President Trump the way he deserves as the president of our country."
"And that we would be faithfully praying for him," Myers said. "That he would be blessed — that the White House would be blessed and that our nation would come together in unity instead of disengaging and fighting."
Lou Engle's daughter, Gloria Engle, told Breitbart News she believes the women who marched in January may have been seeking freedom, but  true freedom comes from only one source.
"That's freedom in Christ," Engle said.