A group of wealthy universities is joining the push for a DACA amnesty because they want to protect the revenue they get by providing white-collar work permits to 330,000 foreign graduate-customers.
The lobbying group, titled The Presidents' Alliance on Higher Education and Immigration, says it wants to push the 'DACA' amnesty for 3 million illegals. A very low percentage of the 'dreamer' illegals attend college, but the DACA amnesty fight also keeps President Donald Trump's deputies on the defensive and less likely to reform the growing "Optional Practical Training" cash-cow used by Harvard, Georgetown, Rutgers and many other universities.
"DACA codification is its immediate priority, but the group will also focus on 'optional practical training,' which allows foreign students with F-1 visas to work legally as part of the educational process, and H-1B visas for specialized workers," says a report in Politico.
The OPT outsourcing program was quietly created in 1992, and expanded in 2008 and again in 2016, without approval from Congress. It allows the universities to recruit fee-paying foreign students by offering them work permits for white-collar jobs in the United States lasting up to 3.5 years.
The OPT program ensures that a huge number of American graduates lose jobs at many prestigious employers — including Goldman Sachs, Microsoft, Intel, and Harvard — to the universities' foreign customers.
The program is growing rapidly. In 2016, 329,158 foreign students got OPT work-permits, according to the Department of Homeland Security.

The federal government even subsidizes the outsourcing because companies which hire OPT graduates do not have to pay for their Social Security and Medicare taxes. The hidden tax-break means that foreign graduates can be roughly 20 percent cheaper to employ than American students. Many prestigious companies hire cheap OPT employees, so helping to lower starting salaries for a broad range of American college graduates.
The OPT program is a feeder for the more famous H-1B program, which keeps a shifting population of roughly 550,000 foreign graduates in U.S. middle-class jobs. Universities support the H-1B program because up to 120,000 of the 550,000 H-1Bs are reserved for foreign graduates of the universities' postgraduate programs. Also, the universities hire roughly 90,000 H-1B workers in place of American white-collar graduates, to work as cheap lecturers in university classrooms and as cheap medical experts in university-affiliated hospitals. The non-profit universities can hire an unlimited number of H-1Bs because they are exempt from the annual 85,000 cap on the private-sector hiring of H-1B workers.
Both the OPT and the H-1B program are threatened by public opposition because of the shocking 2016 win by populist candidate Donald Trump. At his inauguration, Trump promised to help Americans get jobs, and his deputies at the Department of Homeland Security are reviewing all of the white-collar guest-worker programs.
The OPT program is especially vulnerable to a pending court challenge because it was created and expanded despite federal laws prohibiting foreign students from getting jobs outside the university. The fast-growing OPT program, however, gets little publicity from professional journalists even though it outsources many jobs sought by the children of America's professional class.
The H-1B program is vulnerable because it outsources roughly 550,000 white-collar jobs, mostly in technology. However, the program also puts foreign graduates into many prestigious U.S. jobs in medicine and academia, engineering, accounting, and fashion. Many of those jobs are sought by the 800,000 Americans who graduate from college each year with skilled degrees in business, medicine, science, architecture, engineering or computers.
The two programs — plus the related L-1 and J-1 visa program — currently outsource roughly 1 million white-collar jobs in the United States, so forcing down starting salaries for new American graduates.
University executives complain that Trump's pro-American policies are reducing universities' revenue from foreign students. According to a report in Inside Higher Ed:
The steepest declines in new international enrollments were reported by master's-level institutions, where new international enrollments are down by 20 percent, and at associate-level institutions, where they're down 19 percent …

Drilling down by academic level helps to explain the top-level trends. In 2016-17 the number of international students increased by a modest 2.7 percent and 1.9 percent at the undergraduate and graduate levels, respectively, and fell by 14.2 percent at the nondegree level — a category that includes intensive English programs, which many students enroll in prior to entering degree-granting programs.

The fastest rate of growth by far was in the number of students who are participating in optional practical training (OPT), a number that grew by 19.1 percent in 2016-17 compared to the prior year.
The pro-OPT group includes Bard College, American University, George Mason University, Rutgers University-Newark, Ithaca College, Arizona State University, Georgetown University, Princeton University, Harvard University, Wellesley College, George Washington University, the University of California at Merced, the University of Texas at El Paso, Miami Dade College, University of Memphis and others.
Today, @UCM_Chancellor joins #highered leaders across the nation in forming the Presidents' Alliance on Higher Education and Immigration to address issues at the intersection of #education and #immigration. @PresImmAlliance pic.twitter.com/Ad2P2kopoL

— UC Merced (@ucmerced) December 12, 2017
The lobbying group will advocate for illegal immigrants, according to a press statement. "The Alliance will support adoption of best practices on campuses, and work in a unified manner to communicate the need for federal and state policies that create a welcoming environment for immigrant, undocumented, and international students."
"We serve the nation best when we help unleash the talent of those who have something to contribute, regardless of their immigration status or place of birth,"  said Nancy Cantor, Chancellor of Rutgers University, which receives taxpayers via many federal and state programs.
"I'm thrilled to join this effort to help unleash the talent of immigrant and undocumented students who are ready and eager to give back to their communities and states and to our country," said Eduardo Padrón, President of Miami Dade College, which receives taxpayer funds via many federal and state.
The Presidents' Alliance on Higher Education and Immigration also wants state governments to expand the OPT and H-1B outsourcing programs. Several states now work with universities to funnel foreign graduates into private-sector jobs sought by American graduates. "The alliance will also press for measures to accommodate foreign-born students at the state level, according to Louis Caldera, a senior fellow at GW's Cisneros Hispanic Leadership Institute," said Politico.
The lobbying group is working closely with several billionaire-founded pro-amnesty groups, including FWD.us, New American Economy, and The Emerson Collective. FWD.us is focused on upping the inflow of foreign graduates into the U.S. labor market. FWD.us' president, Todd Schulte, tweeted his support for the university group:
NEW and a big deal. https://t.co/7x3XMSrOrY

— Todd Schulte (@TheToddSchulte) December 12, 2017
Many university executives are also progressives and support the arrival of more foreign workers for ideological reasons.
The OPT program is also used by many low-prestige colleges to help recruit foreign students. In 2012, Computerworld magazine identified the colleges with the greatest number OPT work-permits: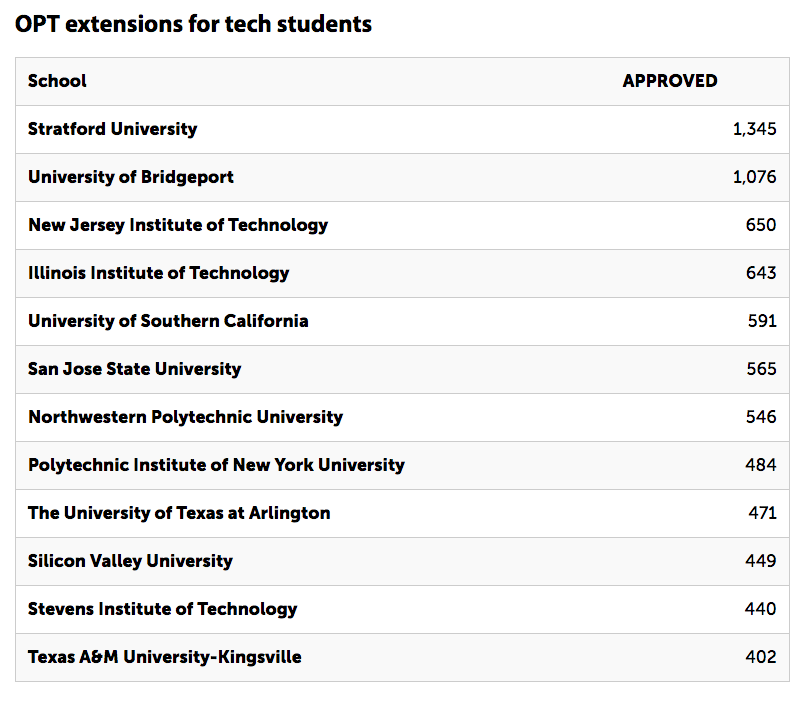 This low-quality industry was described by Buzzfeed in 2016:
With little fanfare and virtually overnight, Northwestern Polytechnic has become one of the country's largest importers of international students — 95% of whom are Indian. Last year, 9,026 foreign students had active visas to attend NPU, according to federal immigration data — that's more students than the entire undergraduate population of Harvard, and an increase of 350% from two years earlier, when Northwestern had just 1,200 … Northwestern Polytechnic's 9,026 foreign students would make up the ninth-largest body of international students in the country, according to IIE numbers — above Michigan State University and just below UCLA.
Federal officials have taken action against colleges suspected of acting as visa-mills, and market fluctuations have hurt other OPT-using colleges.
There is much evidence that universities use the OPT program to tacitly collude with shady companies to deceive employers and customers. A September 2017 article in the left-wing Mother Jones magazines magazine, for example, reported some of the abuse in the OPT program:
When Chetan Reddy Kottur graduated in 2011 from Southern University, a historically black college, he immediately set off for a Dallas-area body shop called Saxon Global. The company gave him temporary housing near its office, placing him with five other Indian guys in a two-bedroom apartment. He slept on the floor in what would have been the dining room for months. During that time, he says, he fabricated his résumé because he believed that's what was expected of him. (According to a former employee of an Atlanta-based body shop, inflating guest worker experience is rampant in the industry.) Saxon marketed Kottur as a business intelligence developer, claiming he had previously created reports using companies' internal data to improve their decision making.

One of the résumés Kottur used stated he had seven years of work experience at American companies like McGraw-Hill Education and a Campus Federal bank in Baton Rouge, Louisiana. (He was only 25 at the time.) Thanks to a bogus résumé and something known as a proxy call—in which a more seasoned worker takes a phone interview with a potential client on behalf of a newbie—he landed a gig in Indianapolis at Simon Property Group, the country's largest shopping-mall operator. "I was scared the shit to death," Kottur recalled. "I thought, 'How am I going to do the job?'"

Luckily, his team included others from his hometown of Hyderabad, and they helped pull him along through the end of the six-month project. But a few months later, when he started a new posting at the HMO Kaiser Permanente in Pleasanton, California, Kottur was unable to answer a series of technical questions from his boss and was fired on the spot. "I thought this was the only way," Kottur said. "Every day, my heart was pounding so much. Usually, I would know in one month whether I would survive or not." (Saxon Global CEO Gopi Kandukuri vehemently denied Kottur's account.)
The OPT program is also being used to funnel foreign students into American jobs that do not require four-year degrees.
The DHS list of jobs for OPT employees includes more than 50 types of technical jobs, including "electrical, electronic… Heating, Ventilation, Air Conditioning and Refrigeration Engineering Technology/Technician … solar energy … welding … industrial production … quality control … automotive engineering … nuclear engineering … [and] biology."
The H-1B program is very unpopular. For example, an August 2017 poll by America First Policies showed that 45 percent of respondents say "we should reduce the number of foreign workers so that we can recruit and pay higher wages to American workers." Far fewer — only 31 percent of respondents — agreed that with the business-first view that "we need to increase the amount of foreign workers in the country in order to provide labor and reduce costs for American farms and businesses." A large slice — 23 percent — declined to give their opinion.
The gap was far wider — 68 percent opposed, 21 percent for — when the voters were asked about importing more white-collar H-1B visa-workers:
H-1B visas are used by employers to hire foreign workers in jobs in Science and Technology fields, often at lower pay than Americans. Would you support or oppose increasing the amount companies must pay H-1B workers to encourage them to employ more American workers?
The poll's cross-tabs show that 36 percent of Americans strongly supported the proposal to raise pay for H-1Bs to encourage more hiring Americans, while only 8 percent strongly opposed the proposal.
Many polls show that the Democrats' calls for amnesty are unpopular because they contradict Americans' sense of fairness to other Americans.
Business groups and Democrats embrace the misleading, industry-funded "nation of immigrants" polls which pressure Americans to say they welcome migrants. The alternative "fairness" polls show that voters put a much higher priority on helping their families, neighbors, and fellow nationals get decent jobs in a high-tech, high-immigration, low-wage economy.
The political power of the voters' fairness priorities was made clear during the GOP primaries and again in November 2016. This year, groups such as FAIR and Americans for Legal Immigration PAC have deterred many business-first GOP politicians from openly supporting an amnesty.
Four million Americans turn 18 each year and begin looking for good jobs in the free market.
But the federal government inflates the supply of new labor by annually accepting 1 million new legal immigrants, by providing work-permits to roughly 3 million resident foreigners, and by doing little to block the employment of roughly 8 million illegal immigrants.
The Washington-imposed economic policy of mass-immigration floods the market with foreign labor, spikes profits and Wall Street values by cutting salaries for manual and skilled labor offered by blue-collar and white-collar employees. It also drives up real estate prices, widens wealth-gaps, reduces high-tech investment, increases state and local tax burdens, hurts kids' schools and college education, pushes Americans away from high-tech careers, and sidelines at least 5 million marginalized Americans and their families, including many who are now struggling with opioid addictions.
The cheap-labor policy has also reduced investment and job creation in many interior states because the coastal cities have a surplus of imported labor. For example, almost 27 percent of zip codes in Missouri had fewer jobs or businesses in 2015 than in 2000, according to a new report by the Economic Innovation Group. In Kansas, almost 29 percent of zip codes had fewer jobs and businesses in 2015 compared to 2000, which was a two-decade period of massive cheap-labor immigration.
Because of the successful cheap-labor strategy, wages for men have remained flat since 1973, and a large percentage of the nation's annual income has shifted to investors and away from employees.