GOP Rep. Scott Taylor's office is refusing to say if he used the term "scum bag" to describe a popular pro-American immigration reform group.
Taylor apparently used the term on his Facebook account shortly after NumbersUSA posted an anti-amnesty advertisement to rally opposition to Taylor's pro-amnesty letter, which was signed by 34 Republicans and issued December 5. A screenshot of the smear was provided to Breitbart News: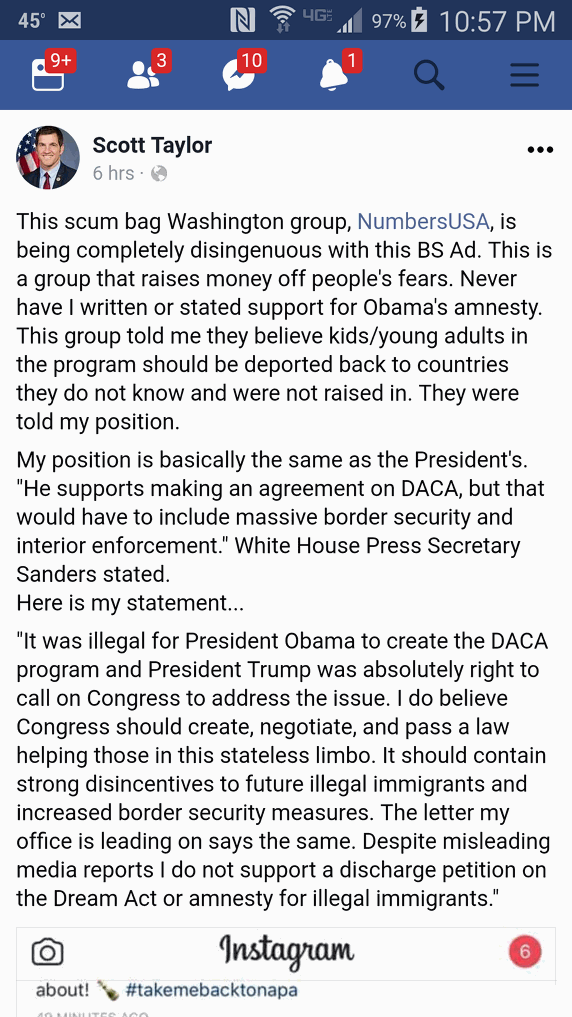 Taylor posted the insult as he was making angry phone calls to the NumbersUSA offices in D.C., according to BigLeaguePolitics.com:
A source close to NumbersUSA told Big League Politics that Rep. Scott Taylor called NumbersUSA's office last Friday "screaming profanities at them" … The source claimed that NumbersUSA did "nothing else" to agitate Taylor, merely sent around the letter.

On Wednesday, Rep. Taylor called again "asking for their physical address and threatened to blow up their offices," according to the source. Multiple sources close to NumbersUSA confirmed the statement on the phone call.
Taylor's office denied making the threat but declined to comment on the "scum bag" evidence. A later version of the page viewed by Breitbart News dropped the "scum bag" reference and apparently described NumbersUSA as a "bottom feeding Washington group."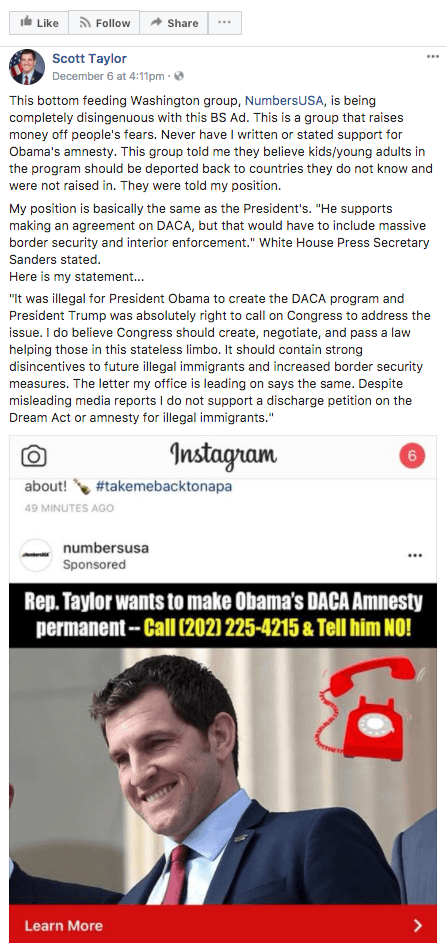 The NumbersUSA organization is using the dispute to focus public attention on Taylor's pro-DACA amnesty push, which has disregarded President Donald Trump's pro-American priorities, such as a border wall and an end to chain migration and the visa lottery. Roy Beck, the founder of NumbersUSA, declined to explain what happened when Taylor called, telling Breitbart News:
Sorry, we're not commenting to anybody on that story.

We're staying focused on the issues, especially the insistence by the 34 letter signers that [House] Speaker [Paul] Ryan give out an amnesty before January with the suggestion that issues like Chain Migration, E-Verify and every other fix to the broken immigration system put off to be dealt with later.  We've had four citizenship amnesties (1986-1997-1998-2000). Every one gave the amnesty immediately and put off until later fixing the system.  What kind of fools do these 34 Republican letter signers think the American workers are to fall for their great "compassionate" appeal for a no-strings amnesty NOW?
A CBO report issues December estimated that the amnesty would cost $26 billion in just the first ten years. The cost estimate was made possible by the CBO's judgment that only half of the illegals would make full use of the amnesty, and that 20 percent would have some level of university education.
Taylor's endorsement of the DACA amnesty is also earning him more skepticism from Fox News' host Laura Ingraham and commentator Michelle Malkin.
"There needs to be a forceful pushback from grassroots conservatives," Malkin said in Ingraham's December 16 show.
"People like Scott  Taylor from Virginia … he is absolutely obsessed with pushing this DACA thing through," Ingraham said.
Thank you Laura Ingraham and Michelle Malkin for standing up to the 34 Congressmen & Scott Taylor who want DACA Amnesty as a top priority instead of ending chain migration, ending the visa lottery, and building the wall! We need to stop DACA Amnesty now!

Posted by Mary Jones on Saturday, December 16, 2017
Also, Taylor's new primary challenger, Mary Jones, is building support from Ingraham and others. On December 18, for example, the Americans for Legal Immigration PAC endorsed Taylor's challenger:
ALIPAC is launching an early wave of endorsements for the 2018 primaries to remind Republican lawmakers like Scott Taylor they will have to face very angry voters back home if they pass DACA Amnesty by the government shutdown deadline of December 22 as Democrats and 34 Republican members of Congress demand. Rep. Scott Taylor recently received a lot of bad press for joining 33 others on an open letter to Speaker Ryan asking for DACA Amnesty to be passed in 2017!

Large majorities of Republican primary voters oppose DACA Amnesty and are likely to throw incumbents like Scott Taylor out of office like Eric Cantor if strong challengers like Mary Jones file to run. Mary Jones completed ALIPAC's 2018 federal candidate survey indicating she will "Support Americans and legal immigrants by supporting the adequate enforcement of America's existing border and immigration laws as the US Constitution requires for the protection of American jobs, elections, taxpayer resources, health, and lives."

"Mary Jones answered our 2018 candidate survey indicating she supports the existing border and immigration laws of America while simultaneously opposing DACA, Dream Act, or Comprehensive Amnesty that would further undermine our laws," said William Gheen, President of ALIPAC. "Scott Taylor's support for DACA Amnesty shows he is more focused on helping illegals and their employers than protecting American jobs, taxpayer resources, and lives like Kate Steinle's."
Taylor is also opposed by Ray Marchant, a local pro-Americans activist whose daughter was killed by a drunk-driving illegal immigrant who had escaped deportation several times during President George. W. Bush's term in office.
Four million Americans turn 18 each year and begin looking for good jobs in the free market.
But the federal government inflates the supply of new labor by annually accepting 1 million new legal immigrants, by providing work-permits to roughly 3 million resident foreigners, and by doing little to block the employment of roughly 8 million illegal immigrants.
The Washington-imposed economic policy of mass-immigration floods the market with foreign labor, spikes profits and Wall Street values by cutting salaries for manual and skilled labor offered by blue-collar and white-collar employees. It also drives up real estate prices, widens wealth-gaps, reduces high-tech investment, increases state and local tax burdens, hurts kids' schools and college education, pushes Americans away from high-tech careers, and sidelines at least 5 million marginalized Americans and their families, including many who are now struggling with opioid addictions.
The cheap-labor policy has also reduced investment and job creation in many interior states because the coastal cities have a surplus of imported labor. For example, almost 27 percent of zip codes in Missouri had fewer jobs or businesses in 2015 than in 2000, according to a new report by the Economic Innovation Group. In Kansas, almost 29 percent of zip codes had fewer jobs and businesses in 2015 compared to 2000, which was a two-decade period of massive cheap-labor immigration.
Because of the successful cheap-labor strategy, wages for men have remained flat since 1973, and a large percentage of the nation's annual income has shifted to investors and away from employees.