White House Staff Secretary Rob Porter has resigned amid allegations that he abused two of his ex-wives.
The Daily Mail reported on domestic abuse allegations on Wednesday from two of Porter's ex-wives, Colbie Holderness and Jennifer Willoughby, who shared stories and photo evidence of repeated physical abuse.
According to Axios, Porter had been urged by some White House staff including Gen. John Kelly to "stay and fight" for his position.
Porter, the Daily Mail previously reported, is currently in a relationship with White House Communications Director Hope Hicks and was a close ally of Donald Trump's son-in-law Jared Kushner.
Porter denied the allegations in a statement on Wednesday, describing them as "false" and "vile claims":
These outrageous allegations are simply false. I took the photos given to the media nearly 15 years ago and the reality behind them is nowhere close to what is being described. I have been transparent and truthful about these vile claims, but I will not further engage publicly with a coordinated smear campaign.

My commitment to public service speaks for itself. I have always put duty to country first and treated others with respect," he continued.

I am deeply grateful for the opportunity to have served in the Trump Administration and will seek to ensure a smooth transition when I leave the White House.
Sen. Orrin Hatch (R-UT), who employed Porter as his chief of staff, said he he was "heatbroken" by the allegations.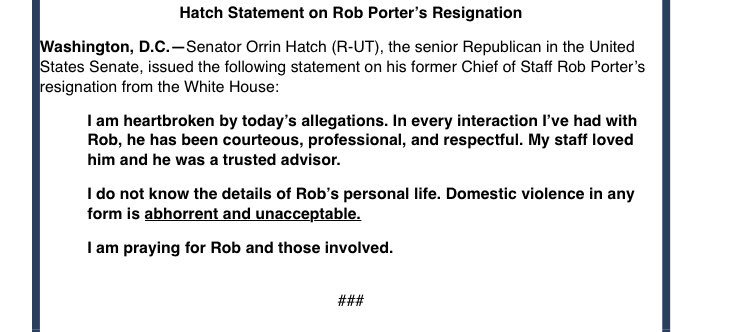 Follow Ben Kew on Facebook, on Twitter at @ben_kew, or email him at bkew@breitbart.com.