The chief of staff at the Department of Homeland Security has recused himself from a variety of hot-button outsourcing issues related to Indian software companies and the huge H-1B and L-1 visa programs.
Chad Wolf is chief of staff to DHS Secretary Kirstjen Nielsen. Prior to the DHS job, he worked as a lobbyist with Wexler|Walker. One of his major clients was NASSCOM, which represents many of the Indian and U.S. companies which use H-1B and L-1 visas to place cheap Indian graduates into hundreds of thousands of outsourced jobs based in the United States.
A statement from the agency's press secretary said:
Chad Wolf recused himself from work on all DHS matters involving any previous clients pursuant to the Administration's Ethics Pledge, as well as the Standards of Conduct for Employees of the Executive Branch. Chad is an instrumental leader and manager within the Department with years of relevant experience in the national security arena. He serves, and will continue to serve, DHS and the American people with honor and integrity.
Wolff's lobbying career is described at lobbyists.insidegov.com.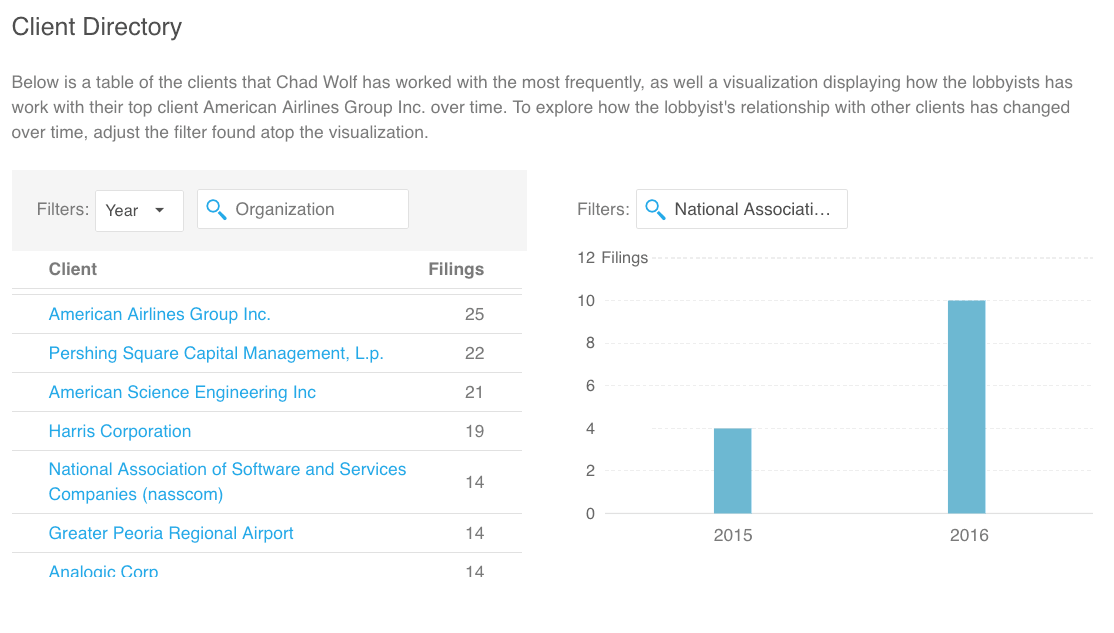 The lobbying research site also includes information on NASSCOM's record.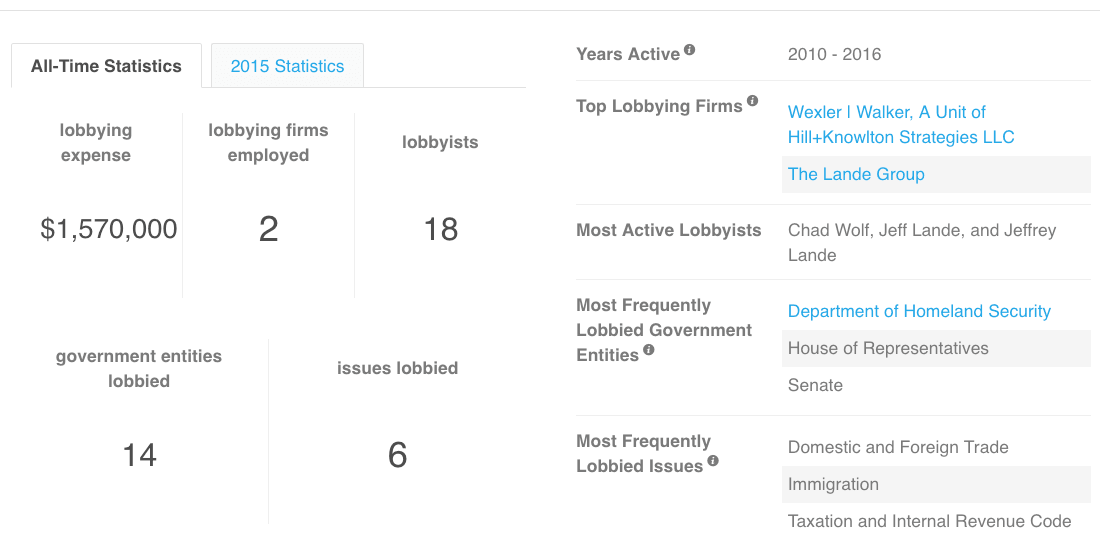 The recusal statement likely will keep Wolf out of direct involvement in a slew of controversies, including President Donald Trump's effort to reorient visa programs to match his "Buy American, Hire American" policies.
The issues include tighter regulation of the H-1B outsourcing program, which keeps a population of roughly 500,000 white-collar professionals from India, China, and a few other countries employed in a huge variety of U.S.-based jobs.
Many foreign workers use the H-1B as a step towards into the green card waiting process, where they can get Employment Authorization Documents to work in the United States.
The more secretive L-1 program keeps an estimated population of 350,000 professionals in the United States, many of whom are employed by NASSCOM firms alongside H-1B and EAD workers.
The huge "Optional Practical Training" program provides work permits to at least 330,000 foreign students and graduates in the United States during 2017. The program is a feeder for the H-1B program, so many OPT workers are likely employed by NASSCOM firms, but the program is facing a lawsuit because it created without any congressional approval by deputies working for President George W. Bush
Altogether, the white-collar outsourcing programs provide jobs for at least one million foreign professionals throughout the United States who work at a wide variety of companies in a great diversity of jobs, such as pharmacists for Rite-Aid, industrial designers rented out by L&T Technology Services, accountants for McDonalds, and fashion designers for boutique firms in New York.
Companies value these imported professionals because they are cheaper than hiring debt-burdened American college graduates or middle-aged professionals with families to support. The foreign graduates also help lower the salaries paid to the American professionals who hired for computer services, engineering, healthcare, research, design and other categories of work sought by the roughly 800,000 young Americans who graduate from college each year with skilled degrees.
However, the huge resident population of cheap foreign graduates clashes with President Donald Trump's campaign promises and his Inauguration Day promise to ensure a "Buy American, Hire American" policy.
Trump's deputies have imposed some bureaucratic pressures on the H-1B program, including extra checks for fraud. But they have not reduced the annual inflow below its regular rate of roughly 100,000 H-1B workers. That annual total includes the annual cap of 85,000 employees for for-profit companies, plus an additional uncapped number of visas for non-profits, including hospitals, universities and their business affiliates.
The outsourcing has also prompted multiple lawsuits against the Indian firms for discrimination against American employees. This legal and political pressure is pushing some of the Indian companies to say they are hiring more Americans — even as NASSCOM allies with American technology billionaires to lobby the administration to keep the salary-reducing outsourcing program.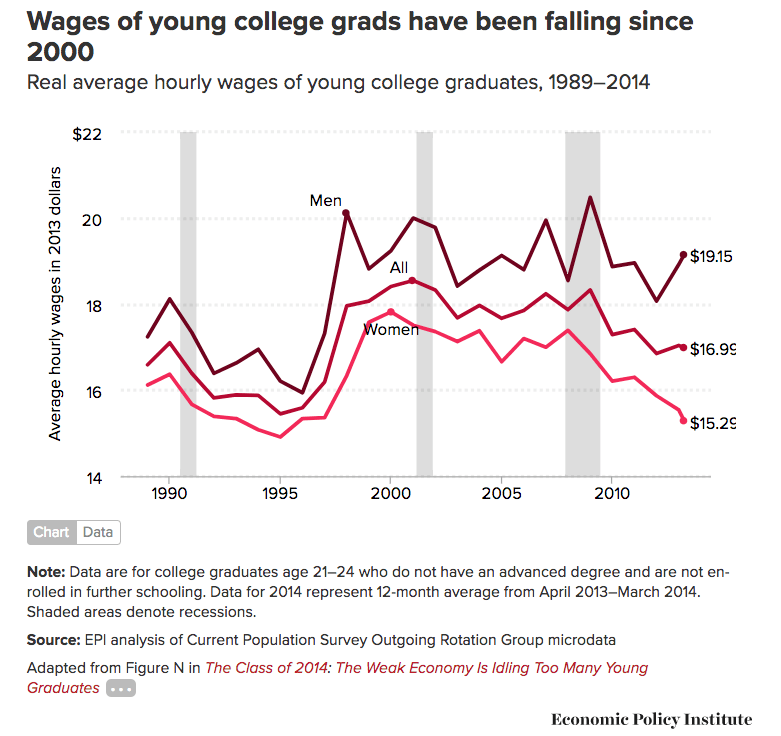 NASSCOM, National Association of Software and Services Companies, describes itself as "a not-for-profit industry association, is the apex body for the 154 billion dollar Indian IT BPM industry."
The group's executive council includes top officials from Indian outsourcers such as Wipro Technologies, Tech Mahindra, Infosys Technologies and Tata Consultancy Services. The council also includes people from the Indian subsidiaries of American companies, including Google, Microsoft, Intel, Accenture, IBM, Intel, and Cisco.
Four million Americans turn 18 each year and begin looking for good jobs in the free market.
But the federal government inflates the supply of new labor by annually accepting roughly 1 million new legal immigrants, by providing work-permits to roughly 3 million resident foreigners, and by doing little to block the employment of roughly 8 million illegal immigrants.
The Washington-imposed economic policy of economic growth via mass-immigration floods the market with foreign labor, spikes profits and Wall Street values by cutting salaries for manual and skilled labor offered by blue-collar and white-collar employees. It also drives up real estate prices, widens wealth-gaps, reduces high-tech investment, increases state and local tax burdens, hurts kids' schools and college education, pushes Americans away from high-tech careers, and sidelines at least 5 million marginalized Americans and their families, including many who are now struggling with opioid addictions.