Former President George W. Bush praised the inflow of illegal and legal immigrants to the United States, saying Americans should "say 'Thank you'" to migrants and "welcome them."
Addressing a summit in Abu Dhabi, United Arab Emirates, Bush criticized President Trump's decision to end the President Obama-created Deferred Action for Childhood Arrivals (DACA) program, which gave temporary amnesty to nearly 800,000 illegal aliens.
"America's their home," Bush said, according to the Associated Press. "They've got to get it fixed."
Bush also explained how he tried to pass amnesty for millions of illegal aliens during his time in the White House, echoing the talking points often used by the U.S. Chamber of Commerce and big business lobby to continue the inflow of more than one million mostly low-skilled illegal and legal immigrants to the country every year.
"There are people willing to do jobs that Americans won't do," Bush told his Arab audience. "Americans don't want to pick cotton at 105 degrees (Fahrenheit), but there are [migrant] people who want put food on their family's tables and are willing to do that. We ought to say thank you and welcome them."
However, many Americans pick cotton, often in very high temperatures, using American-made machinery.
Bush's suggestion that Americans are unwilling to do blue-collar jobs is not backed up by data collected and analyzed by the Center for Immigration Studies.
For example, research by Steven Camarota found that of the more than 460 occupations analyzed, only four were dominated by foreign-born workers. Those four occupations accounted for less than one percent of the total U.S. workforce.
In jobs like housekeeping, construction work, butchers, and even taxi drivers, native-born Americans continue to make up the majority of the workforce.
Every year the U.S. admits more than one million foreign nationals, with the vast majority deriving from family-based chain migration, whereby newly naturalized citizens can bring an unlimited number of foreign relatives to the U.S. In 2016, the legal and illegal immigrant population reached a record high of 44 million. By 2023, the Center for Immigration Studies estimates that the legal and illegal immigrant population of the U.S. will make up nearly 15 percent of the entire U.S. population.
Automation and robots are set to wipe out 30 percent of the U.S. workforce, though, as companies automate more routine work.
Mass legal immigration to the U.S. has come at the expense of America's working and middle class, which has suffered from poor job growth, stagnant wages, and increased public costs to offset the importation of millions of low-skilled foreign nationals.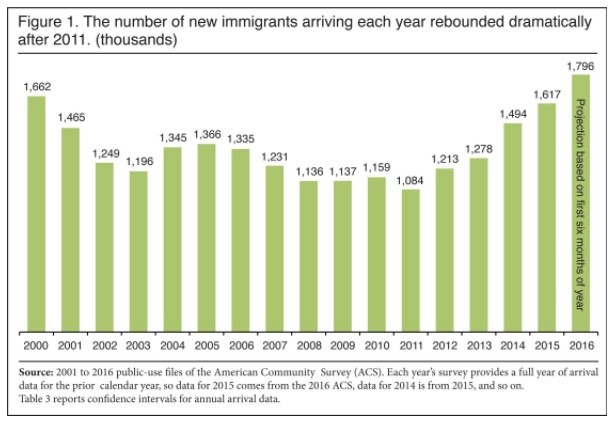 For blue-collar American workers, mass immigration has not only kept wages down, but in many cases, decreased wages, as Breitbart News reported. Meanwhile, the U.S. continues importing more foreign nationals against whom working-class Americans are forced to compete. In 2016, the U.S. brought in about 1.8 million mostly low-skilled immigrants.
For white-collar American workers, mass immigration has become a tool for the big business lobby, cheap labor industry, and Silicon Valley elites to replace U.S. citizens with cheaper foreign workers. For example, as Breitbart News reported, 71 percent of tech workers in coveted high-paying, white-collar Silicon Valley jobs are foreign-born, while the tech industry in the San Francisco, Oakland, and Hayward area is made up of 50 percent foreign-born tech workers.