President Trump called his economic adviser Gary Cohn a "globalist" on the issue of trade in a White House fight over tariffs, a new Axios report reveals.
According to Axios' Jonathan Swan, there was a fight in the Oval Office in January between the economic nationalists (Trump, Commerce Secretary Wilbur Ross, and Director of the White House National Trade Council Peter Navarro) and the trade globalists of the West Wing (Gary Cohn and Rob Porter).
During the brawl, as Cohn was arguing against tariffs that Trump is now set to impose on aluminum and steel to protect American industries, the president allegedly chimed in and repeatedly called Cohn a "globalist."
Swan reports:
Cohn tried to argue that these tariffs would ruin Trump's record-setting stock market streak and wipe away benefits of tax reform. But Trump kept saying Cohn was a "globalist" while he himself was an economic nationalist.
The battle between the economic nationalists and the trade globalists in the Oval Office had Ross and Navarro sitting on one side of the room arguing for Trump to keep his promise and impose tariffs to aid American workers who have seen their jobs outsourced and offshored overseas for the last few decades.
On the other side of the room, the Axios report notes, Cohn and Porter argued for endless free trade, claiming tariffs on steel and aluminum would hurt the American economy. Trump allegedly even called Porter a "globalist" at one point.
At the end of the trade battle inside the administration, Trump sided with the economic nationalists, Ross and Navarro, staving off pressure from Cohn's wing of trade globalists—which also includes Treasury Secretary Steve Mnuchin—to continue years of free trade without tariffs to protect American industries.
On Sunday, Trump tweeted out his support, again, for putting tariffs on imported steel and aluminum, saying the move is necessary in order to counteract the damage that multinational free trade agreements have had on America's workers and industries:
We are on the losing side of almost all trade deals. Our friends and enemies have taken advantage of the U.S. for many years. Our Steel and Aluminum industries are dead. Sorry, it's time for a change! MAKE AMERICA GREAT AGAIN!

— Donald J. Trump (@realDonaldTrump) March 5, 2018
As Breitbart News reported, Cohn and Mnuchin have allegedly attempted to water-down Trump's actions against China:
Specifically, with regards to China, Trump is looking to impose tariffs on possibly hundreds of imported Chinese products, a move that has the globalist, free trade-wing of his White House upset.https://t.co/i1UFQK4Qs8

— John Binder 👽 (@JxhnBinder) February 27, 2018
Last week, Trump announced that he would eventually put a 25 percent tariff on imported steel and a ten percent tariff on imported aluminum, a move that is backed by the majority of Americans, according to a Morning Consult poll.
That same poll found that nearly 60 percent of Americans say imposing tariffs on Chinese steel and aluminum is crucial to the country's economic relationship with China.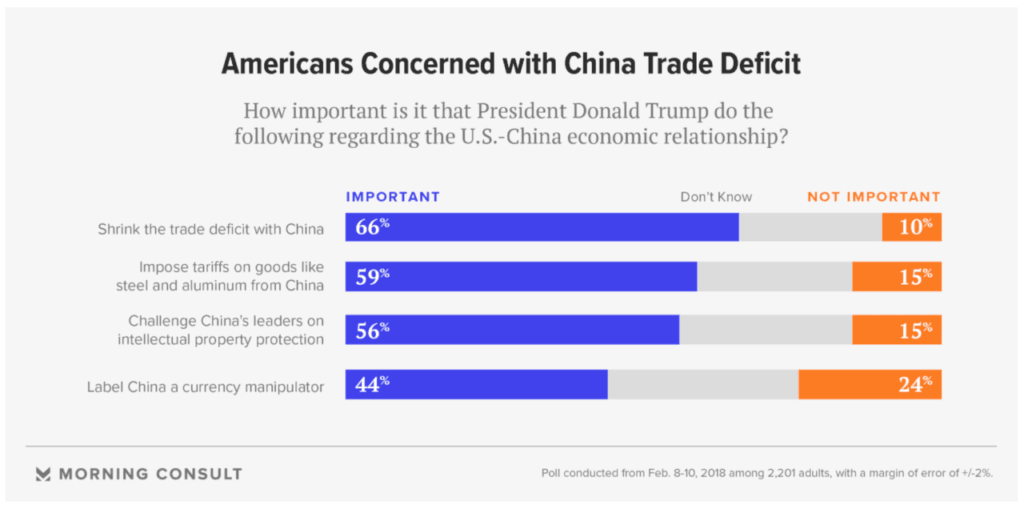 Multinational free trade agreements have been responsible for massive manufacturing outsourcing and job loss over the last two decades. For example, the KORUS free trade agreement has displaced at least 60,000 American workers since its enactment in 2007.
Meanwhile, since the North American Free Trade Agreement (NAFTA) took effect in the 1990s, at least one million net U.S. jobs have been lost because of the free trade deal. Between 2000 and 2014, there have been about five million manufacturing jobs lost across the country as trade deficits continue soaring.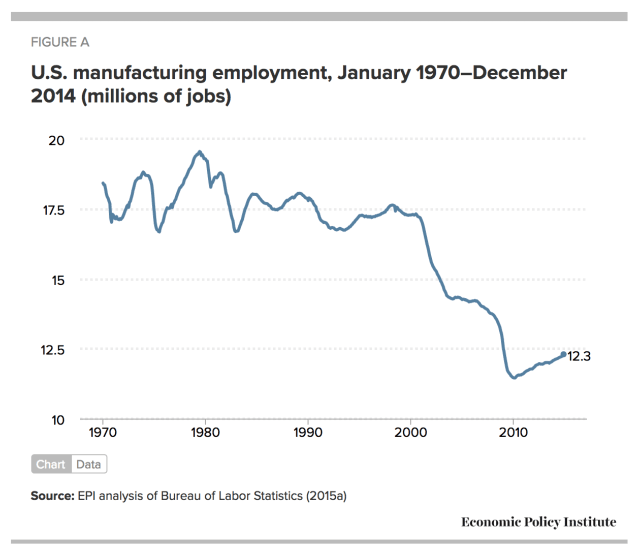 One former steel town in West Virginia lost 94 percent of its steel jobs because of NAFTA, with nearly 10,000 workers in the town being displaced from the steel industry.
John Binder is a reporter for Breitbart News. Follow him on Twitter at @JxhnBinder.