House Speaker Paul Ryan's (R-WI) constituents, by a majority, want a reduction in legal immigration levels, as the United States currently admits more than 1.5 million illegal and legal immigrants every year.
In a Pulse Opinion Research poll, about 49 percent of Wisconsin midterm voters said they wanted to see current legal immigration levels reduced to 500,000 or less than 250,000 admissions a year.
Only seven percent of Wisconsin voters said they supported the current level of immigration of about 1.5 million admissions a year, while a minority of eight percent said immigration should be expanded to two million admissions a year.
The poll comes as Ryan sent President Trump an omnibus spending bill that not only did not cut legal immigration levels — as the president has requested — but it did not fund a wall along the U.S.-Mexico border, as Breitbart News reported.
The group NumbersUSA, which advocates for less immigration to raise the wages of American workers, released a seven-figure ad campaign across the country to raise support for reducing immigration ahead of the 2018 midterm elections.
"We want Wisconsin voters who favor LESS immigration to know that most of the state's voters agree with them – as do most voters nationally," NumbersUSA President Roy Beck said in a statement. "Armed with that knowledge, we hope the people of Wisconsin will encourage all of their members of Congress, especially House Speaker Ryan, to use their leadership to slow immigration so American wages can rise and so employers will more actively recruit from the tens of millions of working-age Americans who aren't working at all."
Trump's efforts to ramp up interior immigration enforcement, whereas in Fiscal Year 2017 deportations of illegal aliens living throughout the U.S. increased by nearly 40 percent, have been beneficial to America's working and middle class.
For example, the strict immigration enforcement thus far has led to historic wage increases for American workers in the construction industry, the garment industry, for workers employed at small businesses, and  for black Americans.
A reduction in immigration would potentially mean even higher wages for American workers who would see less competition with cheaper foreign workers and a less saturated labor market wherein there are more workers than there are U.S. jobs.
Opponents of reducing immigration levels include the establishment media, the billionaire GOP mega-donors the Koch brothers, the Democratic Party, the Republican establishment, the Bush dynasty, corporate interests, and the open borders lobby.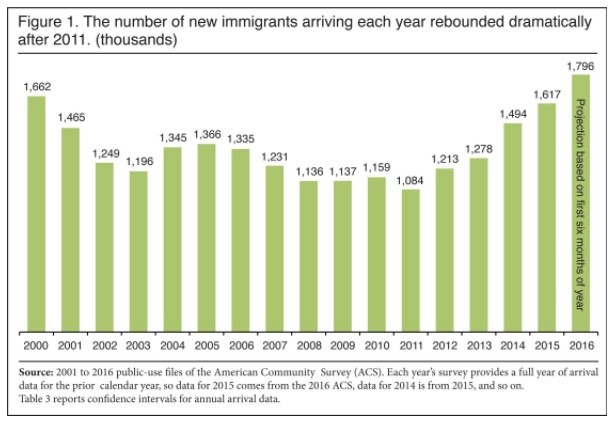 Currently, the U.S. admits more than 1.5 million legal and illegal immigrants every year, with more than 70 percent coming to the country through the process known as "chain migration," whereby naturalized citizens can bring an unlimited number of foreign relatives to the U.S. In the next 20 years, the current U.S. legal immigration system is on track to import roughly 15 million new foreign-born voters. Between seven and eight million of those foreign-born voters will arrive in the U.S. through chain migration.
John Binder is a reporter for Breitbart News. Follow him on Twitter at @JxhnBinder.