Nearly two out of three American voters say they support President Trump's plan to reduce overall legal immigration levels in the United States, whereby currently more than 1.5 million legal immigrants arrive annually.
In a new poll by Harvard-Harris polling, about 66 percent of voters — or nearly two out of three — said they support a plan by the Trump administration to almost cut legal immigration in half by ending the process known as "chain migration," as well as the Diversity Visa Lottery, and building a border wall along the U.S.-Mexico border.
The deal would couple the wage-boosting relief for American citizens with allowing only illegal aliens enrolled in the President Obama-created Deferred Action for Childhood Arrivals (DACA) program to stay in the U.S. There are nearly 800,000 DACA illegal aliens.

Since 2005, chain migration has allowed 9.3 million foreign nationals to resettle in the U.S. for no other reason than they had extended family members already living in the country. This huge inflow outpaces two years of American births, which amount to roughly four million babies every year.
Even after discounting normal immigration, the number of chain migration arrivals at the nation's airports during five years exceeds the number of babies born during each year. In percentage terms, foreigners deliver one in five, or 20 percent, of all new arrivals at the nation's airports and maternity wards every year.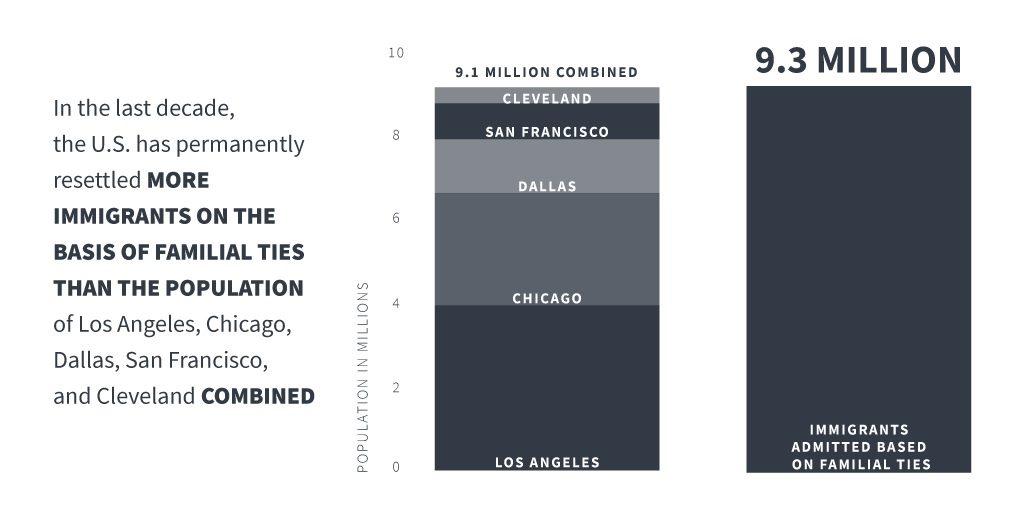 Likewise, the Visa Lottery program has imported about 30,000 foreign nationals to the U.S. from Iran, Syria, and Sudan, all countries which fund terrorism, as recognized by the State Department.
Under the Visa Lottery program, championed by former Sen. Ted Kennedy and Sen. Chuck Schumer (D-NY), the U.S. randomly gives out 50,000 visas every year to foreign nationals from a multitude of countries, including those with known terrorism problems – such as Afghanistan, Algeria, Egypt, Iraq, Lebanon, Libya, Nigeria, Saudi Arabia, Somalia, Trinidad and Tobago, Venezuela, Yemen, and Uzbekistan. Winners have undergone only minor screening from immigration officials, even when their ideology is hostile to Americans laws and culture.
30K Foreign Nationals Entered US on 'Visa Lottery' from Terror-Funding Countries Since 2007 https://t.co/Er35M9RC3u

— John Binder 👽 (@JxhnBinder) November 14, 2017
The immigration reducing plan is also very popular with swing-voters.  Sixty-five percent said they supported cutting legal immigration levels in exchange for allowing DACA-enrolled illegal aliens to remain in the U.S.
Last month, a similar Harvard-Harris poll found that reducing overall immigration levels to the U.S. is more important to Republican voters in the upcoming midterm elections than tax cuts, destroying the Islamic State (ISIS), and even repealing Obamacare.
GOP Voters: Reducing Immigration More Important Than Paul Ryan's Tax Cuts, Repealing Obamacarehttps://t.co/pUz16TCR6j

— John Binder 👽 (@JxhnBinder) April 10, 2018
Trump has pushed for the reduction in legal immigration to stem decades of wage stagnation from the Washington, D.C.-imposed economic model of cheap labor that has benefited corporations and the wealthy the most.
Meanwhile, mass immigration through chain migration — whereby the U.S. admits more than one million illegal and legal immigrants every year — has come at the expense of America's working and middle class, which has suffered from poor job growth, stagnant wages, and increased public costs to offset the importation of millions of low-skilled foreign nationals.
In his own administration, Trump has had to endure pushback on the immigration reduction plan from allies of the Republican establishment. Figures like Legislative Affairs Director Marc Short, Budget Director Mick Mulvaney, and House Speaker Paul Ryan have failed to push Trump's popular immigration agenda, instead securing a tax reform agenda that is much less influential with voters.
Opponents of ending chain migration not only include the establishment media, but also the billionaire GOP mega-donors the Koch brothers, the Democratic Party, the Republican establishment, the Bush dynasty, the big business lobby, and the open borders lobby.