Kansas GOP Rep. Kevin Yoder engineered a committee vote in the House which puts 200,000 Indian visa-workers on a fast-track to green cards and citizenship, despite the growing economic impact of visa workers on American college graduates.
Yoder's Indian-giveaway amendment was approved July 25 even without an on-the-record vote by the GOP-run House appropriations committee, and it is being applauded by tech firms which prefer to hire cheap Indian college-graduate workers instead of young American graduates.
If made law, Yoder's 2019 budget amendment will widen the Indian pipeline of graduate contract-workers which are already flooding the labor market for U.S. college graduates, said John Miano, an immigration lawyer and former software professional. 
Yoder's amendment will also skew the nation's immigration system by making it difficult for non-Indian foreigners to get green-cards over the next five years, Miano said. "I don't think Mr. Yoder has thought through what his amendment does … He has not looked at the big picture," Miano added. 
Current federal immigration law sets "country caps" to spread the distribution of the 140,000 green cards which are allocated to employers. Yoder's amendment kills those 7 percent country-caps as "national discrimination" and allows the huge backlog of more than 300,000 Indian visa-workers — plus a similar number of family members — to jump to the head of the green-card line. Once the Indians jump to the head of the line, people from other countries are pushed into a wait of at least five years.
"From the Indian perspective, this is wonderful —  it transforms the American immigration system into an Indian-first system," said Miano. "Every [other] ethnic lobbying group will be screaming because only people from India will be getting [employer-sponsored] green cards," he said. 
The removal of the country caps will also lock-in India's critical role in the U.S. software sector, Miano said. Without the caps, U.S. companies will face a multi-year delay before they can provide green cards for valuable foreign experts who are not Indian. The delay will deter them from trying to create a non-Indian pipeline because few foreign experts will stay with U.S. firms if they cannot quickly migrate into the United States, he said.
Non-Indian visa-workers in the backlog are already protesting their likely exclusion:
https://twitter.com/hossein27en/status/1022943186560282625
Indians play a central role in the U.S. software sector because the Indian tech industry has created a large pipeline of contractors who are willing to work at low wages in the hope of eventually getting citizenship, said Miano. Their central role is made worse because U.S. CEOs allow the growing number of Indian subcontractors in the United States to quietly exclude Americans from contracts and opportunities sought by Indians, said Miano. "I have personally experienced it and I hear more and more of that is going on," said Miano. 'Their [U.S.] clients want cheap foreign workers from overseas," not Americans, he added.
Yoder, who is chairman of the House's homeland defense appropriations subcommittee, did not try to trade his giveaway to business for reforms which could help Americans, such as curbs on visa-worker outsourcing or reforms to asylum laws. No Republican on the committee spoke against Yoder's giveaway, but a Democratic leader said they would oppose the giveaway because it did not also include a "Comprehensive Immigration Reform" amnesty for millions of illegal immigrants.
In the same markup meeting, Yoder also helped pass amendments to triple the inflow of H-2B blue-collar visa-workers, to increase the number of H-2A visa-workers for farmers, and also to revive President Barack Obama's catch-and-release rules on the Mexican border, all of which help to suppress wages for blue-collar Americans. 
GOP appropriators revive Pres. Obama's 'catch-and-release' asylum policies by back-door defunding Jeff Sessions June reform of the asylum process. GOP chairman Rep. Kevin Yoder takes a prominent role in the reversal. https://t.co/mAn7fvjDdV

— Neil Munro (@NeilMunroDC) July 25, 2018
GOP opposition to Yoder's amendments was muted partly because he can use his chairmanship of the homeland defense subcommittee to quietly punish other GOP legislators who publicly oppose his priorities.
Yoder's office did not answer questions from Breitbart News about the green card plan.
Yoder's visa-worker giveaway is being applauded by Indian lobby groups and by the huge employers who are hiring Indian college-graduates for professional-track jobs at Americans' hospitals and universities, as well as software, insurance, banking and business-consulting firms. Yoder's amendment was applauded by Amazon, Microsoft, and FWD.us, an advocacy group of tech-industry investors who want cheaper foreign white-collar labor.
Amazon applauds @KevinYoder on the passage of his amendment to the @DHSgov appropriations bill, H.R. 392, that would remove the per-country limit on green cards. This is an important step towards green card reform, and Amazonians thank you for your leadership on this issue.

— Amazon Policy (@amazon_policy) July 25, 2018
Thank you @RepKevinYoder for being a champion of #HR392. Your amendment to the FY19 Homeland Security @HouseAppropsGOP bill is an important step forward to fixing the green card backlog.

— Frederick Humphries (@Fredhum) July 25, 2018
The lobby groups formed by the Indian visa-workers also applauded Yoder's giveaway:
On the ground as #HR392 was added to the DHS Appropriations bill —> https://t.co/eyYje5wd0A

— Immigration Voice (@immivoice) July 27, 2018
Indian workers are a bargain for U.S. companies because they accept low wages and work long hours in the hope of getting a hugely valuable deferred bonus — the federal government's offer of citizenship to them, their spouses and children, their parents, and their chain-migration in-laws. In contrast, American graduates must get all of their pay in company dollars that are also wanted by company CEOs and investors, such as Amazon founder Jeff Bezos.
The vast majority of Indians get into the United States — and onto the green card backlog — via the outsourcing programs for visa-workers.
The visa-worker programs include the H-1B program, the little-known L-1 program, the Optional Practical Training program, the E-1 visa, the TN visa and the J-1 visa. Overall, these laws are outsourcing roughly 1.5 million jobs to a resident population of roughly 1.5 million foreign college-grad workers. This huge population of foreign workers is helping to suppress American graduates' salary growth even below the slow growth in blue-collar wages. The resulting profits spike higher stock values on Wall Street.
These programs deliver foreign workers into many professions in academia and software, engineering and health, in every state. In 2017, for example, Kansas employers asked the federal government for 951 H-1B visa workers, according to MyVisaJobs.com. The employers wanted H-1B visa-workers to fill 25 physician jobs, 16 financial-analyst jobs, 15 biochemist jobs, and 28 engineering jobs, even though Kansas produces many skilled graduates each year. The employers wanted foreign workers for 399 jobs in Yoder's district around Overland Park  — including 80 jobs at three Indian-owned companies.
In 2000, Congress allowed these visa workers to extend their temporary stay by applying for employer-sponsored green-cards, so converting the visa program into multi-step immigration programs.
In general, Indians dominate the software sector, while Chinese postgraduate students are hired into the nation's science laboratories. This reliance means a very large number of Indian and Chinese nationals apply for the employer green cards. The country caps limit the number of Indians and Chinese who get the cards, so there is a huge and growing backlog of former visa workers from India and China who are working in the United States while waiting for green cards.
The backlog hurts Americans graduates because it effectively smuggles roughly 400,000 additional Indian and Chinese college-graduates into the U.S. labor market. The problem could be ended if agencies simply established a regulation saying additional applications would be rejected once the waiting list has reached past five years, said Miano.
The backlog now includes 306,000 Indian workers, plus their 325,000 spouses and children. These migrants have a huge incentive to lobby for the removal of the country cap because the change would vault them to the head of the line — and also allow them to sponsor their parents and in-laws to arrive in the United States.
Indian advocates fighting the country cap say the wives of the Indian visa-workers have proved to be the most persuasive, partly because U.S. politicians do not want to be seen as rejecting their pleas. For example, Yoder has repeatedly showcased the Indian wife of an H-1B worker murdered in Olathe, Kansas, February 2017. During the July 25 appropriations committee markup, Yoder mentioned Sunayana Dumala repeatedly, saying:
She has become an inspiration as an outspoken advocate for this legislation. We're so proud to have her here today.
To pass his amendment, Yoder emotionally painted the country caps as unfair discrimination against Dumala, while he ignored the impact of cheap visa-workers on the young Americans in his Kansas district: 
Without this fix, Sunayana will very likely never become an American citizen ….  Her backlog may make it so that she never become a United States citizen. Yet someone born today in almost any other country around the world, save for China or India, someone born today can go through school, go through higher education, can come to America, 30, 40 50 years from now on a high skilled H-1B visa and still get in line before Sunayana Dumala because she happens to be from India.

Mr. Chairman, that is discriminatory, it is wrong, it is unjust, and we have a chance here today in this committee in a bipartisan way to put a stop to that, to make this a first-come, first served basis and to quit this horrible discriminatory practice and to stand up for the Sunayana Dumalas of this country
Yoder also invited Sunayana Dumala to the 2018 State of the Union speech. He told a newspaper for Indians in the United States that:
"It was my idea—I've gotten to know Sunayana very well over the last year after the tragedy –the murder of her husband in a hate crime," he said. "She's become a very powerful symbol against some of the hate in this country directed toward minorities, with her response of love and kindness and trying to bring this country together that has been so inspirational. I thought a lot about it this week even and it really speaks to Dr. Martin Luther King's message that it's only love and light that can drive out the darkness and hate. And, she is the walking embodiment of that and so, I have a lot of respect for her and her struggle and her courage. So, we thought it would be fitting to have her as my guest at the State of the Union."
In 2017, Yoder explained his reasons for supporting the country-caps bill to Forbes magazine:
We have a strong and vibrant Indian community in my district. They've been kind enough to invite me into their community, I've been able to participate in many of their cultural events – I've even taken a stab at playing a game of cricket. Many of them have brought this issue to my attention and when Representative Chaffetz retired and the bill needed a new lead sponsor, I was eager to jump at the opportunity. I've heard their personal stories and the discrimination they face and uncertainty and fear they live with. Many of these immigrants are my neighbors and friends and they need a voice to stand up for them in Congress, to tell their story.
Advocates with the main advocacy group, Immigrant Voice, celebrated after the vote:
Outside Appropriations Committee room in the US Capitol, as congressman @KevinYoder & widow of the Austin's bar shooting, Sunayana Dumala, celebrate passage of amendment to adopt #HR392 (what she advocated for as Yoder's guest for state of the union). Photo from Yoder team pic.twitter.com/xU0oFPxnoK

— Christa Dubill (@christadubill) July 25, 2018
The Kansas City Star newspaper posted an interview with Dumala and reported:
She flew from Johnson County to Washington Wednesday morning. Her travel was funded by the advocacy group Immigration Voice, a move intended to hold the Johnson County Republican to his promise to deliver the legislation to the president's desk in the near future.After the vote, Yoder emerged in the hall to cheers and high fives from the widow and other Indian immigrants from Kansas who had traveled to Washington for the vote. "Hey, hey," he said spreading his arms wide. Then he enfolded a tearful Dumala into a hug.

"It's a powerful moment," said Yoder. "We've been working a long time to get to this moment."
"Congress does not work for Americans …. they don't do a thing for Americans," Miano said. 
House GOP & Democratic Reps. vote to triple H-2B blue-collar outsourcing program, up to 200K resident H-2Bs. Wages too damn high. https://t.co/f8nGX4AAua

— Neil Munro (@NeilMunroDC) July 26, 2018
Many Indian visa-workers will get their green cards in the next few years even if Yoder's change is rejected, so his amendment benefits the roughly 200,000 Indian workers — and their 200,000 family members — who now have to wait for more than five years to get a green card.
Government data shows the biggest backlog among Indians are those with a Master's degree, partly because many Indians earn Masters degrees at U.S. universities to get into the H-1B program: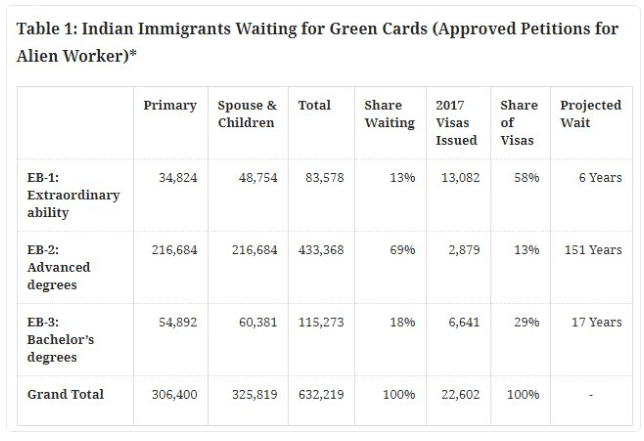 To suppress Americans' growing opposition to the outsourcing programs, pro-migration advocates accuse critics of discrimination against foreign nationals, despite the widespread discrimination against Americans. Leon Fresco, a lobbyist for the Indian visa-workers, tweeted:
the only reason to oppose HR392 is if you believe that our laws should intentionally discriminate based on national origin. HR392 simply says someone born in 2060 should not receive a green card before someone who applied 10 years ago, solely based upon the country their births.

— Leon Fresco (@FrescoLeon) July 25, 2018
Fresco, an immigration lawyer and a former official in President Brack Obama's administration, also argued that Yoder giveaway is good for Americans because its means Indians will not serve as cheap indentured workers for many years before they can get green cards.
(1/4) simple 4 part lesson for HR392 opponents to understand using only facts—no country caps exist for student visas. India sends less than 15 percent of all foreign students. https://t.co/oeucBkICqp

— Leon Fresco (@FrescoLeon) June 16, 2018
(2/4) but Indian nationals represent over 70% of H-1b recipients, which is the feeder system for green cards? Why is that, when employers have all of these other students to choose from?

— Leon Fresco (@FrescoLeon) June 16, 2018
(3/4) the reason is because the per-country limits mean that if an employer hires an H-1B from India, they can keep that worker indentured to them on H-1B for several decades because they cannot change jobs while waiting for green card without tremendous difficulty and risk.

— Leon Fresco (@FrescoLeon) June 16, 2018
(4/4) Why would an employer then choose someone from any other country who could leave immediately with a green card? Only HR392 solves this problem and levels playing field for all, including US workers!!

— Leon Fresco (@FrescoLeon) June 16, 2018
Fresco's "indentured servant" argument is logical — but Miano argues that Yoder's offer of fast-track green cards will encourage even more Indians to become visa-workers via the H-1B program and the uncapped L-1 and OPT visa-worker programs. Any greater supply of visa-workers shrinks salaries for American graduates, and make it difficult for blue-collar parents to help their children get into white-collar jobs, he said.
Fresco also defended the Yoder amendment by saying it does not create additional H-1B visas:
(5/4) Once no country cap, green cards will become MORE diversified, no less. will look like the distribution of student visas (where India is less than 15 percent). Claims of "cheap labor" make no sense here because not even 1 additional GC or H-1B visa is part of HR392. #facts

— Leon Fresco (@FrescoLeon) June 16, 2018
But Fresco's statement does not mention the L-1 visa-worker program — and there is no limit on the number of L-1 visas which Indian workers can use to get on Yoder's fast-track to citizenship.
In 2013, Fresco served as the top immigration aide to Sen. Chuck Schumer during the "Gang of Eight" controversy. That bill allowed an unlimited number of foreign college-graduates to get jobs in the United States, Fresco told this reporter in 2013.
Yoder's amendment was backed by Amazon. According to MyVisaJobs.com, Amazon has asked for 1,441 green cards for visa-workers since 2015. Half of those workers are from India, and one-seventh are from China.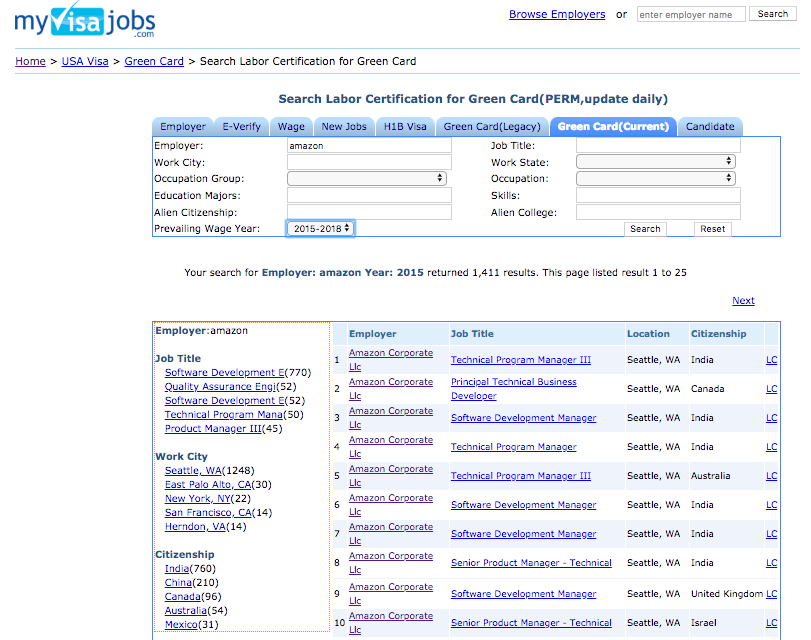 Amazon also asks for hundreds of H-1B visas each year: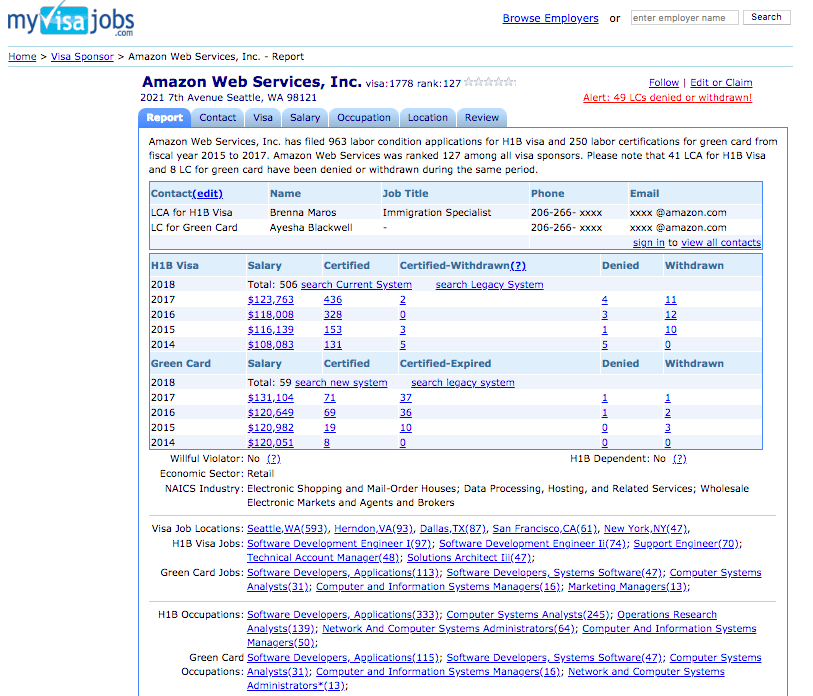 Amazon does not use L-1 workers, but many Indian subcontracting firms use large numbers of L-1 visa workers. The total number is hidden from the public because the Department of Homeland Security does not release the number of L-1B workers who are imported via "blanket petitions."
Overall, the Washington-imposed economic policy of economic growth via immigration shifts wealth from young people towards older people by flooding the market with cheap foreign labor. That process spikes profits and Wall Street values by cutting salaries for manual and skilled labor offered by blue-collar and white-collar employees. The policy also drives up real estate prices, widens wealth-gaps, reduces high-tech investment, increases state and local tax burdens, hurts kids' schools and college education, pushes Americans away from high-tech careers, and sidelines at least 5 million marginalized Americans and their families, including many who are now struggling with opioid addictions. Immigration also pulls investment and wealth away from heartland states because investment flows towards the large immigrant populations living in the coastal states.
Got any tips about the H-1B, L-1 and OPT programs?  Email Neil Munro here or at NMunro@Breitbart.com.