American college-graduates are urging the House Committee on Rules to block GOP Rep. Kevin Yoder's "country caps" appropriations legislation, saying it will widen discrimination against Americans and expand the outsourcing of U.S. college-grad jobs to Indian visa-workers.
"Today we have [workplaces] all across the country that are virtually 100 percent Indian," said Robert Heath, a software professional who now runs the H1BFacts.com website. Yoder's amendment "would be worse — it would be ethnic cleansing of U.S. workers from the [science and technology] professions."
"We're all scared because if H.R. 392 passes, if they get green cards, the discrimination will become rampant," said Stephen Pushor, a retired programmer in Virginia. The anti-American bias is already widespread in the software sector, and it sidelines many younger and middle-aged American professionals, he said. 
Yoder's country cap amendment would open up a fast-track to green cards for up to 300,000 Indian visa-workers who have been working and waiting many years in the line for green cards and, five years subsequently, citizenship.
The huge line of working-and-waiting Indians exists because Congress in 1990 and 2000 allowed temporary H-1B visa workers to stay in the United States if their employers request green cards for them. That error has been used by American and Indian companies to keep 3000,000 extra Indian H-1B workers in low-wage U.S. jobs that would otherwise be held by better-paid Americans. 
The Americans have launched their defensive lobbying campaign via several groups, such as the U.S. Tech Workers page at Facebook — but they are getting no visible help from the White House.
Administration officials have yet to publicly push back against Yoder's July 25 spending bill, which also restores catch-and-release rules and expands a variety of blue-collar visa-worker programs.
The Americans' lobbying is also a small-scale operation compared to the intense, decades-long efforts by the resident population of Indian visa-workers, aided by their spouses.
The Indian visa-workers have created several groups, including Immigration Voice and the Republican Hindu Coalition, who are urging a maximum effort to lobby for passage of Yoder's amendment. "We need all hands on deck," said Aman Kapoor, the IV group's president, in an August phone call to the group's members.
The intense Indian lobbying campaign, however, has also triggered an emotional wave of lobbying by nationals from many other countries who fear they will be pushed to the back of the green-card line until 2025 or later. Those nationals include Iranians and a spinoff of the Iran-government-backed National Iranian American Council, dubbed NIAC Action:
Iranians are no stranger to immigration hardship, particularly with the #MuslimBan. #HR392 will make the process of immigration even more difficult. To take action against this bill and make sure it doesn't become law, go to https://t.co/Uvf6N8dG0t pic.twitter.com/v5gptfIQCJ

— NIAC Action (@NIACAction) August 8, 2018
The factions trade barbs via Twitter hashtags, including #NoHR392 and #hr392.
Indians and their advocates are responding to the criticism by describing their critics as racist and as fakes, and by urging Indians to present a happy face to American legislators. "The only two arguments [agains the Yoder bill] are 'I hate Indian people'  … and 'I want special treatment for our group,'" said Immigration Voice's chief advisor, Leon Fresco, in an August call to IV's supporters. In contrast, he said, "we want all of our comments to be happy and pleasant."
But Yoder's green-card plan may die in a congressional backroom during the next few weeks. Yoder's July 25 amendment to the 2019 spending bill matches his H.R. 392 country-caps bill. So his budget amendment is actually legislation and can be stripped from the bill by the House Committee on Rules before it gets a vote in the full House.
Yoder's business-friendly spending bill includes other amendments which increase the inflow of H-2A and H-2B blue-collar visa-workers, and also it also revives President Barack Obama's asylum rules, which helped provide work-permits to 400,000 asylum seekers in 2017. Yoder has suggested he will fix the asylum amendment but has remained silent about the other cheap-labor amendments, all of which clash with President Donald Trump's "Hire American" policies.
Why Are So Many Indians Waiting for Green Cards?
The huge backlog of people in the green-card line exists because Congress allows companies to sponsor far more foreign outsourcing workers for green cards than the number of green cards set aside for workers each year.
In 1990 and 2000, Congress allowed H-1B temporary workers to apply for green cards and then decided to let them stay and work while their requests are pending. This means H-1B workers need not return home after six years but can work in the United States for 20 or more years while waiting for a green card.
So American and Indian companies have used the H-1B program — as well as the little-known L-1, J-1, OPT, B-1, TN and E visa programs — to create a resident army of roughly 1.5 million foreign college-graduate workers in U.S. college-grad jobs. For example, the Optional Practical training program provides work-permits to 250,000 foreign graduates of American universities in 2017, and the H4EAD program provides work permits to roughly 100,000 spouses of H-1B workers.
That population of 1.5 million foreign college-grads is very large — it is roughly equal to two year's output of skilled American college-graduates from the nation's business, medical, engineering, science, math, software and architecture departments.
Indians get up to 80 percent of the 100,000 H-1B visas per year, plus a large proportion of 70,000 L-1 visas, helping to create a resident population of roughly 1 million Indian visa-workers, plus at least 300,000 Indian family members.
A small proportion of the roughly 1 million Indian H-1B and L-1 visa-workers have been hired to work at elite U.S. firms, such as Amazon, Apple, and Google, or at universities.
But most of the Indians have been hired by many Indian firms to replace middle-class Americans at banks, insurance companies, software firms, and healthcare companies.
The Indian and U.S. employers often pay these visa-workers very low wages. But some — not all — of the Indians also get a deferred bonus — a company-approved request for "Employer-Based" green cards.
Hope for a green card ensures that many visa-workers work long hours at low salaries because the promised green cards are extremely valuable. They allow each visa worker, plus his spouse and parents, plus all their myriad descendants, to leave their underdeveloped, caste-ridden, factionalized, and ethnically divided country and to become citizens of the United States.
But only about 23,000 of these Indian workers and family members can get green cards each year.
Federal law sets a 7 percent cap on the number of cards that each nation can get each year. The cap is set against the annual nationwide total of 140,000 employer-sponsored green cards, so each county is theoretically limited to 10,000 green-cards.
This rule was established to ensure companies d import a variety of immigrants, but it means that people from smaller countries wait a short period for their green cards while many people from very populous countries — such as India and China — face very long lines for their green cards.
Roughly speaking, 600,000 Indian workers, spouses, and children are now waiting in one of the three lines for EB cards, the EB-1, EB-2 or EB-3 employer-sponsored lines. Only about 23,000 Indians per year get green cards: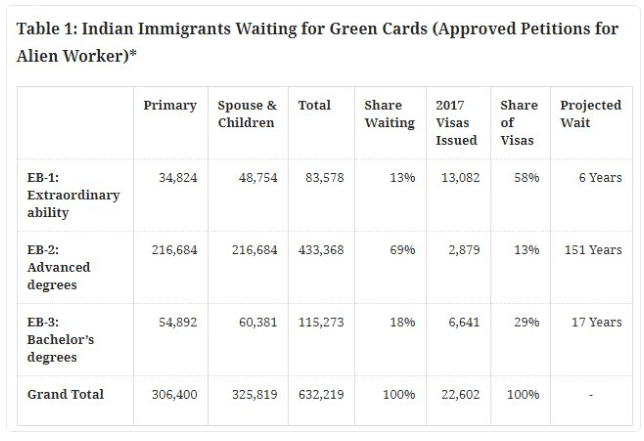 In 2016, U.S. and Indian companies filed for another 33,000 green cards for Indians, according to federal data provided by MyVisaJobs.com. In 2017, the companies asked for another 23,000 green cards for Indians.
In 2017, Microsoft, Facebook, Amazon, Google, and Intel asked for 2,678 green cards for Indians. That number fell to 2,091 in 2017.  The demand for green cards from five major Indian outsourcing companies also fell, from 6,400 in 2016, down to 3,800 in 2017. Most of the cards are for employees in California, Texas and New Jersey.
The country caps also ensures that roughly 100,000 Chinese and Filipinos are waiting for green cards. Companies seeking green cards for Chinese workers asked for 10,800 cards in 2016 and 8,600 cards in 2017.
The Indian workers are not passive victims in their green-card backlog. They are willing to work for the Indian or American companies, despite their subordination and dependence, because they want to get out of India and into the United States. The attraction of a green card is so great that the Indian workers "choose the purgatory [rather] than leave," Fresco told Breitbart. 
In fact, the Indian workers are effectively buying green cards from their employers by accepting low wages for working long hours in Americans' outsourced jobs. In this Congress-created swap, U.S. and Indian investors reap huge profits, Indian workers get green cards, and American college-graduates get pink slips and lower wages.
What do the Indian Visa-Workers Want from Congress?
Indian tech-workers have prospered from this outsourcing-for-green-cards process, but they also have a huge incentive to change immigration even more to their favor.
So they have organized to lobby American legislators for laws that would remove the country caps and let them rush to the head of the green-card line.
So far, with the help of persuasive spouses and of rural Indian doctors, the visa-workers have won solid or tacit support from more than 320 of the 445 legislators in the House — including several GOP members of the Committee on Rules which has the power to endorse or block Yoder's outsourcing bill.
The spouses and the Indian doctors in rural districts are very influential in this lobbying campaign, Fresco told Breitbart. "To me, what works is to show the [Indian] people… the doctors are the ones that move the needle, and the wives," he said, adding:
One of the things we do very effectively is that we take all of the doctors … at the [local] hospitals and take them to the [congressional] members' offices and the member knows the doctors … They all have stories about how they want to start their clinic, buy a house and [without a green card] they can't do anything.
Roughly four percent of the Indian visa-workers are doctors, partly because Congress does not require hospitals to hire Americans before importing cheaper foreign doctors.
Yoder has accepted the Indians' claim that the country caps are discriminatory. On July 25, as he pushed his H..R. 392 bill into the 2019 spending plan, he declared:
Mr. Chairman, that is discriminatory, it is wrong, it is unjust, and we have a chance here today in this committee in a bipartisan way to put a stop to that, to make this a first-come, first served basis and to quit this horrible discriminatory practice.
Yoder's Kansas district includes many Indian visa-workers — many of whom are working in the 400-plus outsourced healthcare and software jobs which exclude the young Americans graduates in his own district.
"We've got a growing Indian population here in our community," Yoder told Vice magazine."Lots of high school immigrants, lots of  families, really building our community and what happening to them is an injustice that has to be corrected by Congress."
Silent sufferings of legal immigrants is so subtly captured in this Vice News article. I hope congress takes notices and does somethinghttps://t.co/lf8vPSCJGM pic.twitter.com/ngJYbQycA8

— #HR392-fairness 4all (@pp2014gc) December 10, 2017
Yoder is trying to win reelection in a slightly Democratic-leaning district and may have thought his green-card plan would help win support from swing voters.
But multiple polls show lopsided hostility to federal policies which help companies hire migrants before Americans, and there is little evidence that Yoder understood the emotional politics of middle-class outsourcing. Since the vote, for example, Yoder has tried to backtrack on a second amendment that he supported which revives President Barack Obama's catch-and-release border policies, and his reelection chances have dropped to "toss-up."
The Immigration Voice group has also persuaded GOP Rep. Pete Sessions to co-sponsor the H.R. 392 bill. He chairs the Rules Committee and can strike Yoder's measure from the bill. The American groups are asking Sessions to yank Yoder's amendment out of the spending bill.
Sessions' district includes a population at least 1,800 Indian visa-workers in Richardson, Texas.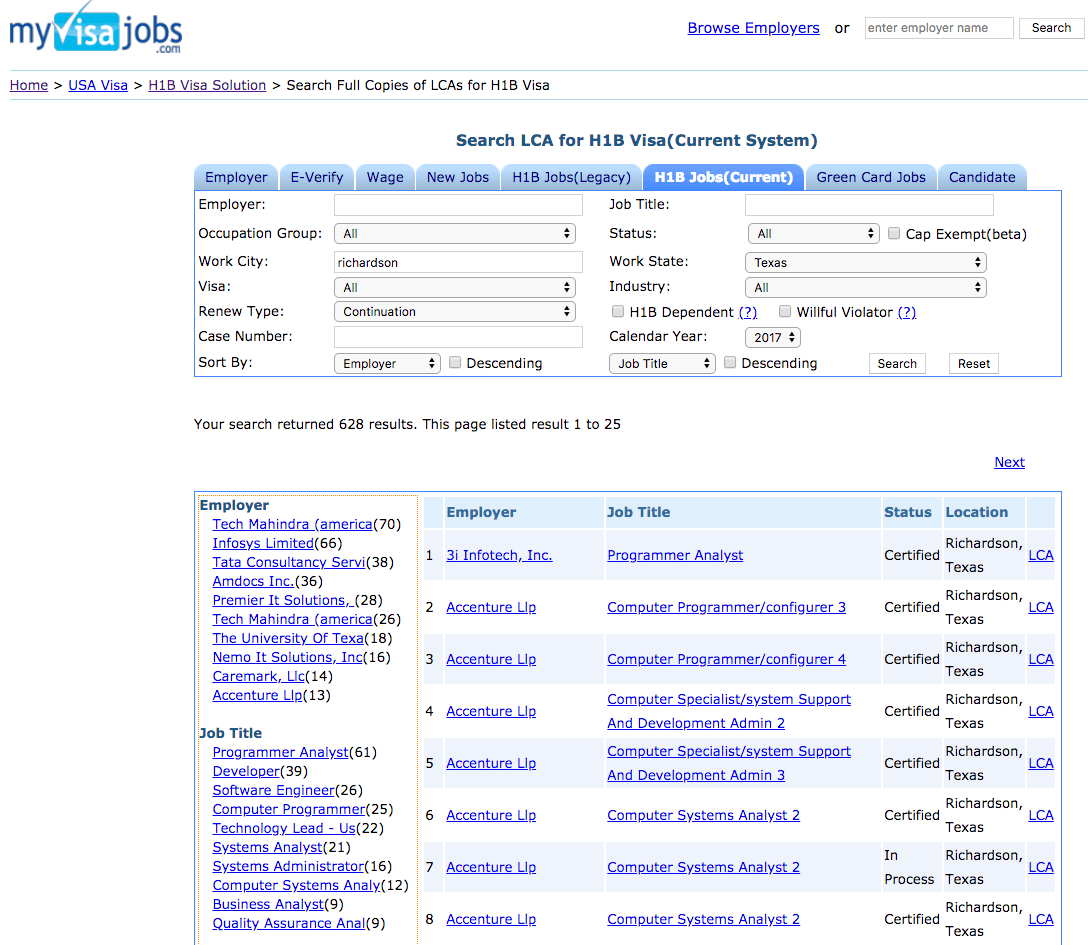 Pete Sessions is also a supporter of the Republican Hindu Coalition.
Neither Yoder not Sessions responded to questions from Breitbart News.
Numbers
Yoder's bill is a no-strings giveaway to the U.S. tech companies, the Indian outsourcing industry, and to Indian visa-workers. It does not include any pro-American reforms of the H-1B or L-1 visa programs, such as curbs on numbers or new salary requirements.
Yoder's bill is bad because it would dramatically worsen the problem of cheap-labor immigration and workplace discrimination, say Americans.
If the country caps are removed, then the population of 300,000 Indian workers, plus their 300,000 spouses  — plus the roughly 200,000 Chinese and Filipinos — will jump to the front of the green-card line. That will prevent many people from many other small countries from getting a green card unless they first spend a few years waiting and working on a work-visa, said Heath. "The migration from the rest of the planet is going to be restricted … no longer will it be a diverse mix of foreigners."
To ameliorate this problem, Yoder's bill to eliminate country-caps creates new country-caps which reserve 15 percent or 10 percent of the green cards to people who are not Indian or Chinese. However, that set-aside would help only about 40,000 non-Indians and non-Chinese each year as the 800,000 Indians, Chinese and Filipinos take all the other green cards for the next six or seven years.
More importantly, removal of the country caps would allow Indian outsourcing firms to provide green cards to more than 100,000 of their workers each year, four times as much as instead of the current cap of roughly 23,000. That four-fold increase in green cards creates a huge incentive for four times as many Indians to work more years in outsourcing jobs in the United States — and an opportunity to replace more Americans, said Heath.
"H.R. 392 is cheap labor at higher numbers," said Heath. "Instead of cheap visa-workers, now we're going to have cheap-labor green cards," so flooding the market for college-graduate labor and forcing down salaries for American graduates, he said.
This is heartbreaking. Companies use the H-1B visa program to replace Americans with cheaper foreign workers. Retweet if you agree this must be stopped! pic.twitter.com/viSZcb5GAm

— NumbersUSA (@NumbersUSA) December 27, 2017
Fresco and other advocates of the Yoder bill respond by saying the bill will not raise the number of green-cards above 140,000 per year, nor raise the number of new H-1B visas. "There are as many as here as there ever will be," said Fresco, who helped write the 2013 amnesty-and-cheap-labor bill for Sen. Chuck Schumer. 
The number of green-cards will stay at 140,000, but the Yoder bill will create an incentive for many additional Indian visa-workers to pack themselves into the green-card line. 
There are least two ways to expand the size of the Indian workforce in the green-card line. 
The H-1B program can expand because many non-profit hospitals and universities are exempt from the supposed cap of 85,000 H-1B visas per year. Currently, non-profits ask for about 15,000 non-profit H-1B visas per year — but that number can rise dramatically if U.S. universities and hospitals can pay Indian outsourcing workers with fast-track green-cards 
Also, the little-known, uncapped L-1 visa-program may become a major feeder-system for Indian outsourcing workers. Currently, few people try to use the L-1 visas to get green cards because the L-1s cannot be easily renewed after roughly six years. But if Indians can get through the waiting line faster, many Indians may calculate that the L-1 visa also provides a green card after several years of work in the United States plus a few years of work at home.
Currently, 216,000 Indians are choosing to work and wait for green cards in an EB-2 line that stretches for more than 100 years, while 55,000 Indian visa-workers are working and waiting up to 17 years in the EB-3 line. Those huge delays are not keeping the Indians from waiting — and the incentive to become visa-workers will dramatically increase if the green-card wait is dropped down to 10 years.
Fresco says the offer of more green-cards will not expand the outsourcing business because the outsourcing companies cannot lower their wages any further to win more outsourcing contracts. They have "lowered wages as much as they can," he said. "I literally believe the employers are already doing that and there is no lower they can go."
However, under federal law, L-1 outsourcing workers can be paid state minimum wages in home-country currency. That allows the uncapped L-1 program to outsource an unlimited number of American white-collar jobs to Indian blue-collar workers.
For example, in April 2017, the Department of Homeland Security rejected a company's plan to place a Malaysian engineer in an Oregon job at a salary of $13,468 in his home-country currency. But it only required that all L-1 visa-workers be paid at least minimum wage:
If the [immigration offical] determines that the total compensation offered meets or exceeds the required minimum wage, but that compensation is significantly lower than the Beneficiary's peers or the particular industry, the Director may also consider that fact when re-evaluating the totality of the evidence relating to the Petitioner's specialized knowledge claim.
Removal of the country caps will help Americans, says Fresco, because it will ensure allow the 300,000 Indian visa-workers to compete for higher wages in the free market, instead of dragging down Americans wages by working for the low-wage outsourcing companies. 
But the 300,000 visa-workers will compete in the free-market against American graduates, and the outsourcing companies will import and sponsor yet another 300,000 Indians to staff their outsourcing contracts, said Dawn Casey, a U.S. technology graduate in New Jersey. The result, she said, is that young Amerian graduates "won't get jobs — and they're not getting jobs now," said Casey, who hides her identity to protect herself from workplace retaliation.
"Labor markets are not immune from the law of supply and demand," said Kevin Lynn, director of Progressives for Immigration Reform. "If you flood the market with workers who will work for less, well, guess what, wages will fall."
Workplace Bias
The fast-track green cards will also expand the discriminatory influence of Indian managers in hiring decisions, including among the American firms which have handed over hiring decisions to Indian sub-contracting firms, say the American protestors.
For example, this recruiter used Twitter in August to offer jobs only to non-American candidates with work visas: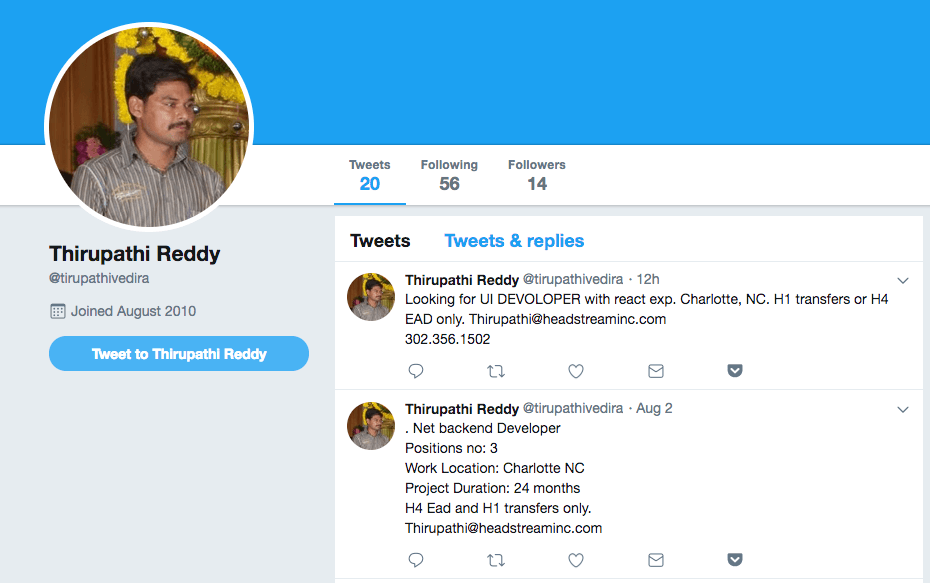 The recruiter did not return a call from Breitbart. 
Yoder's amendment will ensure discrimination against more Americans, said Posher. "The only [American] people who will get jobs in technology will the most brilliant people," he said. "But the middle-of-the-road programmer, the regular grunt, man or women, they'll get no jobs" because they will be excluded by Indian managers who are trying to get more Indians into U.S. jobs, he said. 
"People tend to hire who they know, who they are comfortable with," said Lynn. "We are turning this whole sector over into a monolithic group, from one country, mostly one gender," he said, turning the clock back to the 1970s:
We purposely decided [in civil rights legislation] that "We've got to break up the club — our minorities are not being served, women are not being served," and we changed. But now it all being flushed away like it never mattered.
This happens on daily basis – it commendable that you recorded the conversation.@4US_Workers @RoKhanna https://t.co/mqmVJEqQmd

— Shilpa (@ShilpaInHeels) August 22, 2018
Federal officials have repeatedly warned U.S. and Indian managers to avoid discrimination in the H-1B program. "The Justice Department will not tolerate employers misusing the H-1B visa process to discriminate against U.S. workers," Acting Assistant Attorney General Tom Wheeler of the Civil Rights Division said in April 2017. "U.S. workers should not be placed in a disfavored status, and the department is wholeheartedly committed to investigating and vigorously prosecuting these claims."
The department's media page lists a variety of H-1B fraud convictions, including cases where many Indian visa-workers cooperated in fraud by managers:  
Ramesh Venkata Pothuru, who collected over $450,000 in illegal filing fees and related expenses from more than 100 fraudulent visas and employer-sponsored green cards for nonimmigrant workers from his native India, was sentenced Thursday to one year and one day in prison by U.S. District Judge John R. Padova …

The investigation disclosed that between 2010 and 2013, Pothuru collected hundreds of thousands of dollars in filing fees from workers he was sponsoring under the H-1B nonimmigrant worker visa program. Federal regulations prohibit employers from soliciting payments from H-1B nonimmigrant workers to cover the costs associated with filing fees, which fees are required by law to be borne by the sponsoring U.S. employer. In addition, many of the H-1B nonimmigrant workers were also recipients of employer-sponsored permanent foreign labor certification applications filed by Pothuru with the Department of Labor. Permanent foreign labor certification filings typically involve costs of over several thousand dollars in addition to the filing fees; Pothuru unlawfully collected both from the employees.
Other government reports show large-scale fraud in the H-1B program. One of the major Indian outsourcing firms, Tata Consultancy Ltd., is facing a high-risk discrimination lawsuit this year. 
"There are all sorts of fraud and abuse, not just in H-1Bs, but all across these [visa] programs," said Francis Cissna, Director of U.S. Citizenship and Immigration Services. His agency is stepping up site visits to ensure that the visa-workers are actually in the jobs described in the visa documents, he said in an August 15 interview at the National Press Club. 
Kapoor acknowledged discrimination but said it could be treated with existing laws. "There are laws on the books that prevent them from doing [discrimination] … you cannot put everything in this bill — discrimination is illegal," he said, adding "would you rather improve the system marginally or do nothing at all?"
Objections by Non-Indian Migrants
The Indian push for first-come, first-served green-cards has set off an intense reaction from many other migrants who would be pushed back as the Indians dominate the green-card system for years. That opposition to H.R. 392 includes a heavy dose of foreigner-vs.-foreigner politics, much of which is being imported into the United States by immigrants.
Indians are eager to argue that this opposition comes from Iranians. For example, the Daily Caller posted an article saying:
Iranian nationals are impersonating Americans online to demonize Indian immigrants as part of a lobbying campaign against proposed legislation in the House of Representatives, a Daily Caller News Foundation investigation has found.

Using Twitter usernames that read like foreign stereotypes of American names, they tweet obsessively at reporters and high-profile political figures about the threats they say Indian immigrants pose to America …

"Fellow #Americans, ask him to #removeHR392 and keep jobs for the US not foreign cheap labors," wrote "Hudson" in one tweet, portraying himself as an American concerned about immigration.
The article did not note that the Daily Caller's publisher, Neil Patel, is a top advisor to Immigration Voice. For full disclosure, this reporter used to work for Patel at The Daily Caller.
However, many of the Iranian opponents are open about their concerns, such as this forecast of Indians and Chinese crowding out every other nationality from 2022 until 2030:
— Hassan Afzali-Kusha (@HassanKusha) August 16, 2018
Indians Rebut 
The Indian tech-workers straddle the normal boundary between Americans and temporary workers. Many have few cultural ties to Americans and American society, but many others have American children, own Ameican houses, work in businesses by Americans, and love American life. Kapoor, for example, has been an American citizen since 2013. 
Many Indians also dislike the outsourcing businesses which brought them to the United States, he said. "We are against exploitation, we are against replacing American workers … [and] there is exploitation [of Indians], there is displacement [of Americans]," he said.  Having worked on the inside, "I dislike outsourcers more than anyone else," he said. 
Yoder's bill is worth doing because it is a marginal improvement, and it should not be held back for use in a possible but unlikely grand bargain over immigration reform, he said. 
Fast-track green cards for Indians' will not impose any harm on Americans that cannot be curbed by other measures, such as enforcement of discrimination laws, tighter curbs on the L-1 program, or ending government contracts with Indian outsourcing companies, Kapoor said. "That is something the President can do with an executive order," he said, adding "we are totally aware there is a problem on the L-1 side," he said, adding:
Every bill cannot solve the world's problems … it doesn't solve a lot of problems, but it does help to make the system marginally better … This is just the first step in the right direction.
Fresco and others also argue that removal of the country-caps is a step towards "merit-based immigration," as sought by President Donald Trump.
HR392 comes down to this: are we a nation that treats people as human beings, each with their own story, whose success will be determined by what that person does? Or will we accept a system where the success of the individual is completely tied to their country of birth? #simple

— Leon Fresco (@FrescoLeon) August 9, 2018
But this process gives U.S. and Indian companies — not American voters — the power to decide who merits a green-card and eventual citizenship, and it subordinates the future of American college-graduates to the companies' interests.
National Politics
Yoder's green-card amendment is wrapped up in a budget package that expands the inflow H-2A and H-2B blue-collar visa-workers  — but also includes $5 billion for roughly 200 miles of border wall. There is little expectation that the GOP will pass the unamended package into law before the critical November election.
There is some concern among immigration-reforms that the GOP in the House and Senate might try to shove the entire package onto Trump's desk in a lame-duck session after the election. Reformers, such as Jessica Vaughan at the Center for Immigration Studies, say GOP leaders should use the Rules Committee to pull Yoder's legislation out of the spending bill.
Yoder told Vice that his bill could help build immigrant support for the GOP. "This is an opportunity with this bill for the Republican leadership in Washing to change the narrative — I think they have gotten themselves pigeonholed as anti-immigrant."
There is no evidence that Yoder's favor for Indians is supported by migrants from other communities. Moreover, first-generation immigrants have many reasons to back the Democrats who promise more spending, more immigration, and more status for their minority.
In 2016, roughly 77 percent of Indians discriminated in favor of Democratic candidates in 2016, while only 16 percent said they voted for Trump, according to a post-election survey funded by the National Science Foundation. The GOP's 61-point deficit likely will not be offset by Yoder's plan to dramatically raise the number of Indian voters.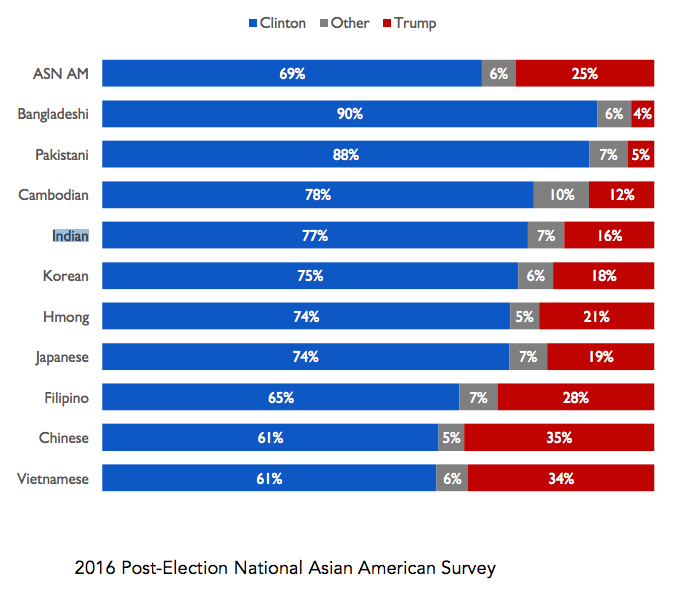 Worse, an April 2018 study argued that white-collar immigration pushes American college-graduates away from the GOP. "Our strongest and most significant finding is that an increase in high-skilled immigrants as a share of the local population is associated with a strong and significant decrease in the vote share for the Republican Party," said the report, authored by pro-migration economist Giovanni Peri, Anna Maria Mayda, a Georgetown University professor now at the U.S. State Department, and Walter Steingress, an economist at the Bank of Canada.
GOP support among college-graduate voters has drifted down in recent years, and it is not likely to be raised by GOP passage of a quasi-amnesty for the voters' wage-lowering workplace rivals.
Amid immigration disputes, many Democrats, business groups, and business-first Republicans — such as Gov. Jeb Bush — prefer to tout the polls which prod Americans to declare support for migrants or endorse the claim that the United States is a "Nation of Immigrants."
But the many alternative "priority or fairness" polls showed Trump in 2016 that voters in the polling booth put a much higher priority on immigration policies which help their families, neighbors, and fellow nationals get decent jobs in a high-tech, high-immigration, low-wage economy.
Now Yoder is remaking that bet for the GOP's House Majority with his green-card giveaway plan, just before the 2018 election. 
Yoder's amendment, said Fresco, is "an act of extreme political courage."
Contact Neil Munro at NMunro@Breitbart.com. Follow Neil Munro at @NeilMunroDC