Anti-government protesters clashed with French police on the Champs-Elysees in Paris on Saturday, leaving the famed avenue shrouded in tear gas on another day of demonstrations against President Emmanuel Macron.
Some of France's top political scientists say the grievances expressed by the protesters show the hallmarks of a populist movement, representing a rejection of the country's out-of-touch elite.
The anger centers around a hike in the diesel fuel tax, which has gone up seven euro cents per liter — nearly 30 cents per gallon — and will keep climbing in coming years, according to Transport Minister Elisabeth Borne. The tax on gasoline is also to increase four euro cents. Currently, gasoline costs roughly 1.64 euros a liter in Paris — $7.06 a gallon — which is slightly more than diesel.
JEFF PACHOUD/AFP/Getty Images
Thousands of police were deployed nationwide to contain the eighth day of demonstrations in which two people have been killed since they started the Nov. 17 protests against the tax. Tense clashes on the Champs-Elysees saw police face off with protesters who burned plywood, wielded placards reading "Death to Taxes," and upturned a large vehicle. There were no immediate reports of injuries, but 18 were detained for various acts including "throwing projectiles," Paris police told the press.
"The government parties didn't understand that their tax policies would wind up producing this," Dominique Reynié, a professor at Sciences Po, told the New York Times. "This is a movement that thinks the political parties are incapable of producing a solution. It is part of the chemistry of populism."
Jean-Yves Camus, who leads the Observatory on Political Radicalism, echoed Reynié's analysis, referring to the protests as a "populist"-style revolt. "This is the first time we're seeing a mobilization that's coming from the social networks, and not led by the political parties or the unions," Camus told the Times. "This is really a populist-type movement, and it's an extremely strong protest against elite France."
"It's a protest against tax policy that's considered confiscatory," he added. "And there's been an undeniable drop in the buying power not just of the workers, but of the middle class."
Interior Minister Christophe Castaner said that 8,000 protesters flooded the Champs-Elysees at the demonstration's peak, and there were nearly 106,000 protesters and 130 arrests in total nationwide. Castaner denounced protesters from the far-right whom he called "rebellious," as he accused National Assembly leader Marine Le Pen of encouraging them.
The unrest is proving a major challenge for Macron, who is suffering in the polls.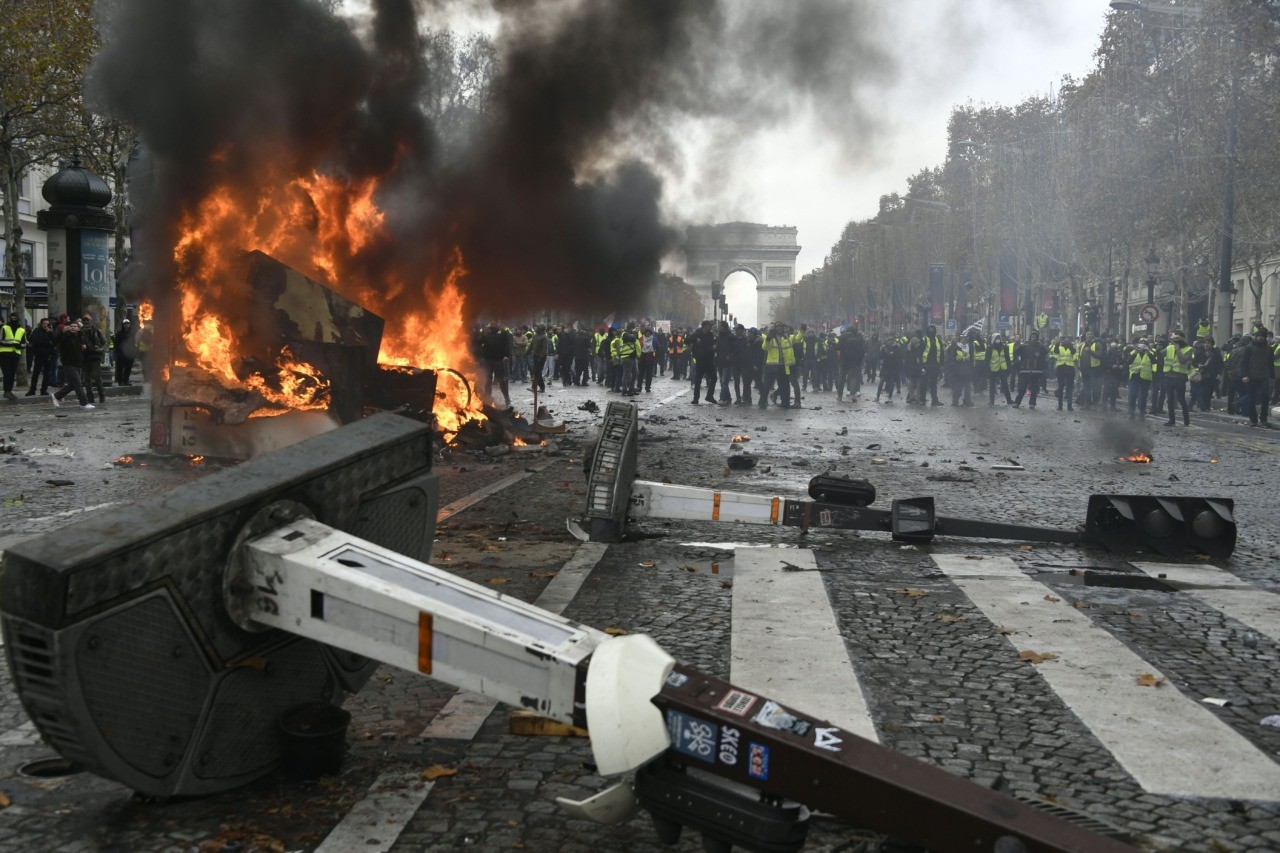 BERTRAND GUAY/AFP/Getty Images
The leader, who swept to power only last year, is the focus of rage for the "yellow jacket" demonstrators who accuse the pro-business centrist of elitism and indifference to the struggles of ordinary French.
Macron has so far held strong and insisted the fuel tax rises are a necessary pain to reduce France's dependence on fossil fuels and fund renewable energy investments — a cornerstone of his reforms for the nation. He will defend fresh plans to make the "energy transition" easier next week.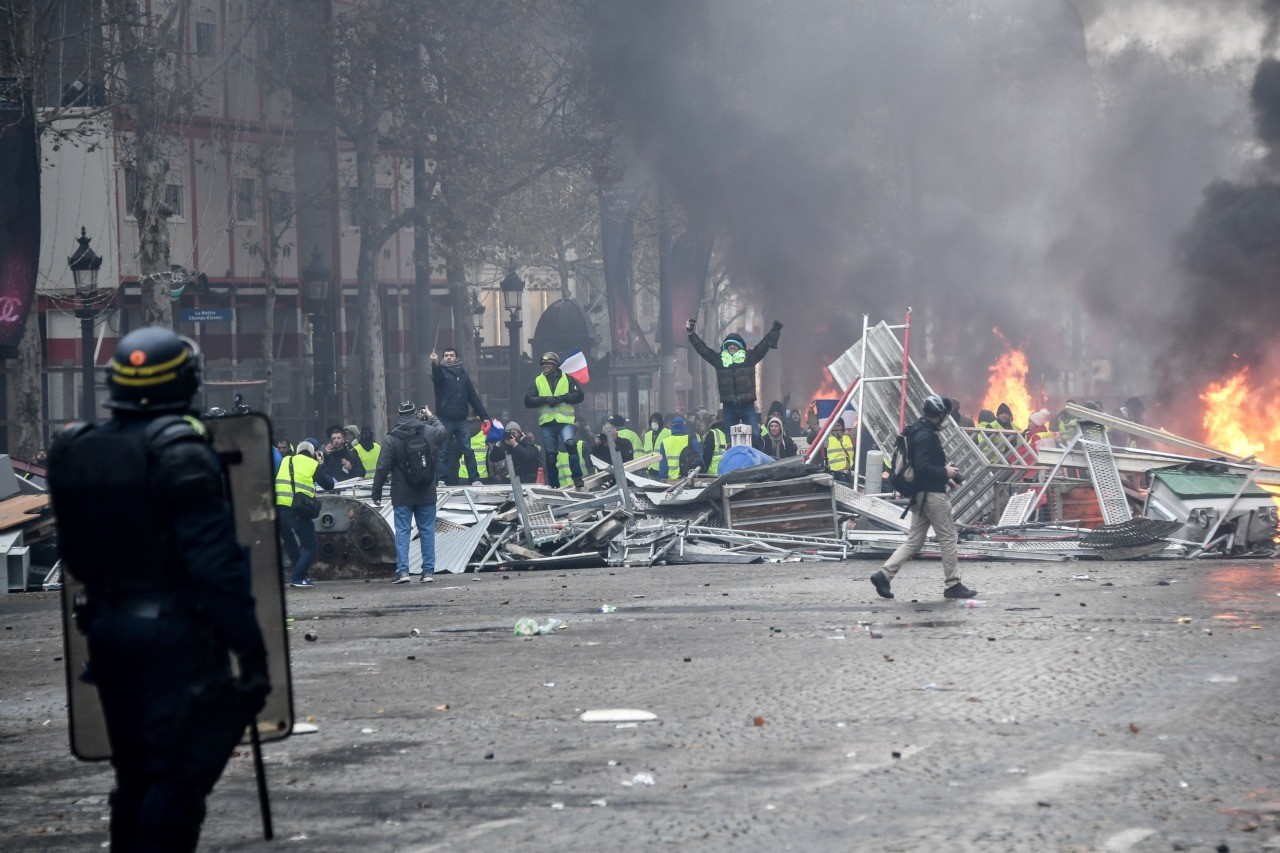 Macron has condemned violence by protesters at demonstrations against rising fuel taxes and his government.
The embattled French leader wrote in a strongly worded tweet: "Shame on those who attacked (police). Shame on those who were violent against other citizens … No place for this violence in the Republic."
Merci à nos forces de l'ordre pour leur courage et leur professionnalisme. Honte à ceux qui les ont agressées. Honte à ceux qui ont violenté d'autres citoyens et des journalistes. Honte à ceux qui ont tenté d'intimider des élus. Pas de place pour ces violences dans la République.

— Emmanuel Macron (@EmmanuelMacron) November 24, 2018
Police officials said that a no-go zone, set up around key areas including the presidential palace and the National Assembly on the Left Bank of the Seine River, has not been breached.
However, authorities are struggling because the movement has no clear leader and has attracted a wide-ranging group of people with broadly varying demands.
The Associated Press contributed to his report.