Illegal immigration this year is on pace to more than triple the levels of just two years ago, new projections reveal.
In the month of February, there were more than 76,000 illegal border crossings and inadmissible foreign nationals, the most in this month in 12 years — a record for President Trump's administration.
Princeton Policy Advisor Steven Kopits now projects that illegal border crossings for this calendar year will be more than three times what they were in 2017 and nearly double last year's total crossings. The projection predicts there will be more than 840,000 illegal border crossings this year, though Department of Homeland Security (DHS) Secretary Kirstjen Nielsen predicts about 900,000 crossings.
Should illegal immigration reach this level, as Kopits projects, it would mean that border crossings in Trump's third year in office outpace every single year of illegal immigration under former President Obama.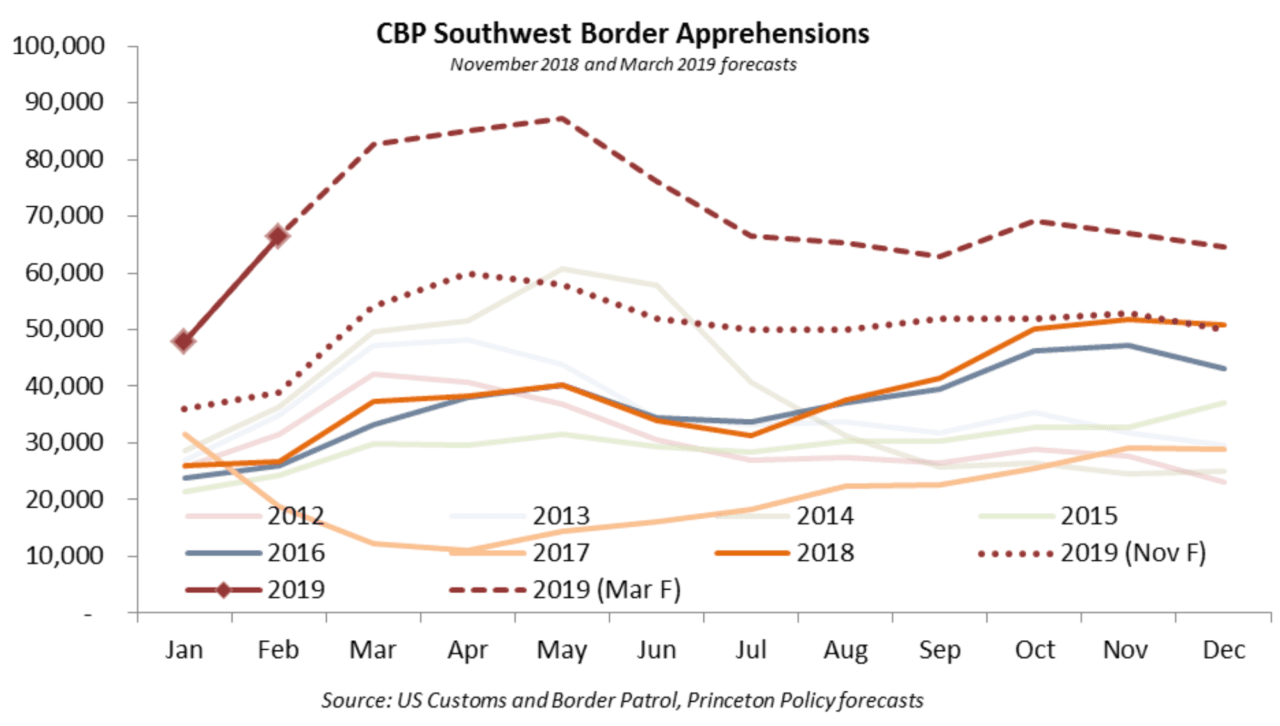 "Crossings are now clearly at crisis levels, and the pressure will be on Democrats in Congress to tighten asylum laws if they intend to hold the House in 2020," Kopits notes. "I would note that migrants are also certainly aware of this, and therefore apprehension numbers could rise substantially heading into the summer months as migrants rush to cross the border before new legislation can be prepared."
While Nielsen receives praise from her close allies in the Washington, D.C. beltway and political establishment, her tenure has been marked with overseeing the largest illegal immigration surge not seen since former President George W. Bush.
During Obama, border apprehensions at the southern border floated between more than 700,000 in Fiscal Year 2008 and dipped as low as about 327,000 apprehensions in Fiscal Year 2011. Since Fiscal Year 2017, when illegal immigration dropped to about 303,000 apprehensions, border crossings have continuously increased.
The vast majority of voters say a border wall would be effective in stopping illegal immigration, though that has not equated to progress on constructing new barriers at the border.
Only about 40 miles of replacement fencing have been built since Trump's election, although about 124 miles of new wall and replacement fencing has been approved by Congress. This month, about 14 miles of new wall is expected to be constructed in southern California and some new portions of a wall have been constructed in the El Paso, Texas region.
Today, the majority of the U.S.-Mexico border remains open. At the same time, the U.S. has continued funding border walls and border security programs in Pakistan, Afghanistan, Egypt, and Lebanon.
John Binder is a reporter for Breitbart News. Follow him on Twitter at @JxhnBinder.