Breitbart Senior Editor MILO's event at UC Berkeley tonight has been evacuated following violence and several fires started by masked "anti-fascist" protesters.
UPDATE 42: Filmmaker Lexi Alexander and Judd Apatow express support for violent Berkeley rioters.
https://twitter.com/Lexialex/status/827012835548942336
https://twitter.com/JuddApatow/status/827025271010316288
UPDATE 41: Left-wing "comedians" Arthur Chu and Patrick Monahan celebrate the violence against MILO attendees and Trump supporters.
I propose building a wall around this bathroom and making them pay for it https://t.co/ovpeMH7nND

— Arthur Chu (@arthur_affect) February 2, 2017
Pepper spraying a Nazi, while not as viscerally satisfying as punching a Nazi, does save your knuckles some wear and tear

— Arthur Chu (@arthur_affect) February 2, 2017
Come for the fascist coward wildly ducking the Q of what exactly she likes abt Milo's speeches. Stay for the ending where she gets maced https://t.co/kIsqYSvpz2

— Arthur Chu (@arthur_affect) February 2, 2017
https://twitter.com/pattymo/status/827021352905351170
UPDATE 40: Civilian allegedly beaten unconscious by pole-wielding "anti-fascists."
https://twitter.com/KGBVeteran/status/827027135533559812
UPDATE 39: Images surface of several people recovering from pepper-spray attacks by anti-fascists.
We survive the peaceful protests. Glad to see intellectual debates are valued at UC Berkeley. 😉 #MiloAtCal pic.twitter.com/RRVgu9Q269

— Kiara Robles (@kiarafrobles) February 2, 2017
UPDATE 38: Reporter for the Tab assaulted by "anti-fascist" rioters who try to steal his phone.
UPDATE 37: Rioters assault BuzzFeed reporter after threatening him and claiming that filming "puts people in danger."
UPDATE 36: "F*ck Starbucks! F*cking Zionists!" shouts a protester as others smash up and loot a Starbucks.
Starbucks getting looted right by campus #miloatcal pic.twitter.com/cxvzGRfPAq

— Scott Morris (@OakMorr) February 2, 2017

UPDATE 35: Rioters continue to smash up every bank downtown and all ATM's.
Bank of America on Shattuck #miloatcal @KQEDnews pic.twitter.com/7yayZiykR9

— Sukey Lewis (@SukeyLewis) February 2, 2017
UPDATE 34: Rioter throws flair into smashed shop window.
UPDATE 33: Rioter: "Let's go to the police station and smash their sh*t!"
UPDATE 32: BuzzFeed reporter: Police "have not intervened."
UPDATE 31: Rioters smash windows of downtown shop windows.
Antifas smashing the windows of a bank during an anti Milo protest in Berkeley. https://t.co/bqkXDY0Nj5 pic.twitter.com/2AbYPwQYcF

— Jim Dalrymple II (@Dalrymple) February 2, 2017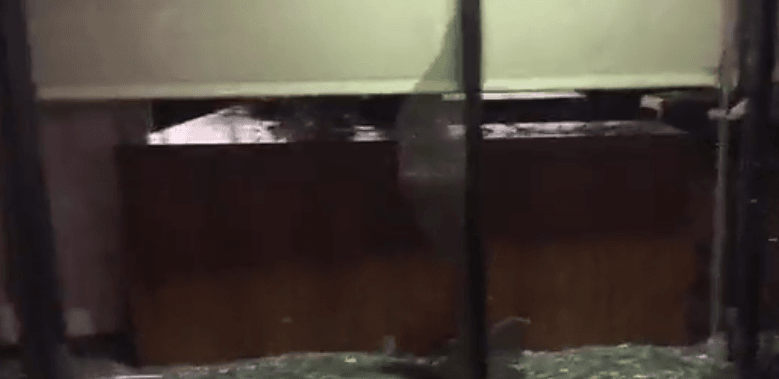 https://twitter.com/JohnRiversX9/status/827013901439086592
UPDATE 30: Cars forced to turn around as rioters occupy roads.
UPDATE 29: Reports claim rioters pulled a driver out of his car and started to beat him in downtown Berkeley.
https://twitter.com/Cernovich/status/827014773942333440
UPDATE 28: Car drives through crowd of rioters with one still attached after they start to jump on the bonnet.
BREAKING: Driver trying to get through rioters at UC Berkeley runs down rioter as he continues destroying his car… pic.twitter.com/BznjBTFMRl

— John Binder 👽 (@JxhnBinder) February 2, 2017
https://twitter.com/lizrob92/status/827010609136943105
UPDATE 27: "Kill Trump," and "Kill Fascists" graffiti sprayed by rioters in downtown Berkeley.
https://twitter.com/GoldsteinStreet/status/827022733884092416
UPDATE 26: UC Berkeley release statement condemning rioters:
We condemn in the strongest possible terms the violence and unlawful behavior that was on display, and deeply regret that those tactics will now overshadow the efforts to engage in legitimate and lawful protest against the performer's presence and perspectives.

The University and the UCPD went to extraordinary lengths to plan for this event and put the appropriate resources in place in order to maintain security. Officials were in contact with other campuses and paid close attention to lessons learned at the speaker's prior events. Dozens of additional police officers were on duty. Multiple methods of crowd control were in place. Ultimately and unfortunately, however, it was simply impossible to maintain order given the level of threat, disruption, and violence.

We regret that the threats and unlawful actions of a few have interfered with the exercise of First Amendment rights on a campus that is proud of its history and legacy as home of the Free Speech Movement. As Chancellor Dirks made clear in his message to the Berkeley campus community, while Mr. Yiannopoulos views, tactics and rhetoric are profoundly contrary to our own, we are bound by the Constitution, the law, our values, and the campus's Principles of Community to enable free expression across the full spectrum of opinion and perspective. 
UPDATE 25: UC Berkeley Student Union destroyed after attempts to "storm the place."
UC Berkeley Student Union…this is what remains after a crowd tried to storm the place. #Milo #abc7now pic.twitter.com/aeBOYkEmgj

— Wayne Freedman (@WayneFreedman) February 2, 2017
UPDATE 24: Police declare riot is "moving into South Berkeley." Advise students to take shelter.
#miloatcal Protest moving into South Berkeley. Cal students in the area please shelter in place for your safety @UCB_ResHall @BerkeleyRHA

— UC Police, Berkeley (@UCPD_Cal) February 2, 2017
https://twitter.com/liliankim7/status/827004710880055296
UPDATE 23: Rioters smash up ATM's with bats and poles.
#MiloAtCal rioters now destroying ATMs for absolutely no reason… CNN still referring to riots as "protests." https://t.co/8SqI8Ohm50

— John Binder 👽 (@JxhnBinder) February 2, 2017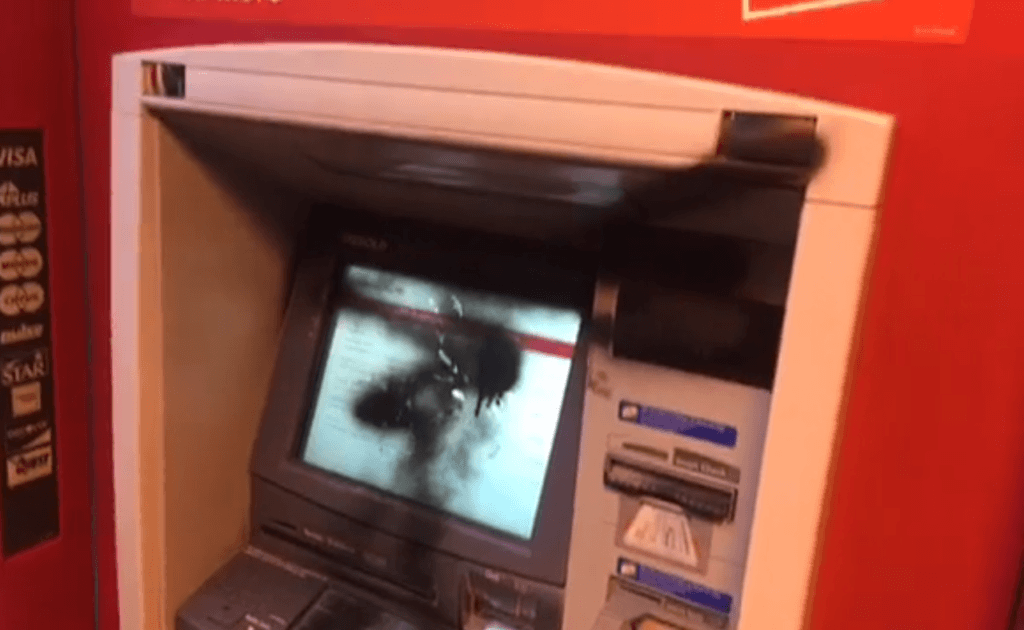 UPDATE 22: "UC Berkeley" and "#MiloAtCal" trend worldwide on Twitter.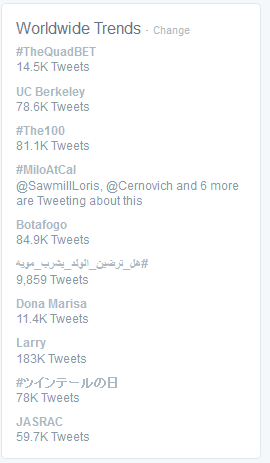 UPDATE 21: Rioters push over bins, torment shop-owners and residents of downtown Berkeley.
UPDATE 20: Rioters scream "Whose streets? Our streets," while setting off fireworks in downtown Berkeley.
UPDATE 19: Female MILO attendee pepper-sprayed by anti-fascist while giving interview to ABC News.
My friend was giving an interview when some coward peppersprayed her #Berkeley pic.twitter.com/CDpEqDsw2A

— janey (@janeygak) February 2, 2017
UPDATE 18: ANTIFA and Bay Area Socialists named as organizing groups of riot.
UPDATE 17: Rioters celebrate violence with live music, cheering.
UPDATE 16: MILO goes LIVE on Facebook, discusses riot.
https://www.facebook.com/myiannopoulos/videos/vb.423006854503882/835368883267675/?type=2&theater&notif_t=live_video_explicit&notif_id=1486006752094247
UPDATE 15: Riot police rescue injured attendee from communist flag-draped protesters who shout "you're dead, f*cking cowards."
UPDATE 14: Injured attendee with covered face is treated by medic in midst of riot.
UPDATE 13: Left-wing BuzzFeed reporter claims anti-fascist protesters were "very hostile" to him.
UPDATE 12: YouTube star Philip DeFranco criticizes protesters: "Idiots."
Watching people break windows and set fires at UC Berkeley. Way to protest words by destroying property…idiots. pic.twitter.com/CsQJfC5ola

— Philip DeFranco (@PhillyD) February 2, 2017
UPDATE 11: Reporter: "Police appear ready for protest developments."
https://twitter.com/liliankim7/status/826991396934389760
UPDATE 10: Extra police cars head to college as backup reportedly called.
UPDATE 9: Police continue to fire rubber bullets at protesters.
UPDATE 8: Police order protesters to leave area as they sing N.W.A.'s anti-police song "F*ck the Police."
UPDATE 7: BuzzFeed reporter claims MILO fan had his MAGA hat set on fire by protesters before being beaten.
UPDATE 6: Antifa protesters beat male and female MILO attendees in corner with fists and flags while shouting "f*ck you," and "racists."
https://twitter.com/MisterMetokur/status/826991184635654145
UPDATE 5: Fire alarms continue to sound as windows around university are smashed. Attendee claims that protesters are "hostile" to both MILO fans and press.
UPDATE 4: Protest ring-leader calls out "are we gonna leave?" as protesters scream "NO!"
UPDATE 3: Attendee tells BuzzFeed that police have announced they will take further action soon, as protesters pose for selfies by fires and continue violence.
UPDATE 2: "I have been evacuated from the UC Berkeley campus after violent left-wing protestors tore down barricades, lit fires, threw rocks and Roman candles at the windows and breached the ground floor of the building," said MILO in a post on Facebook. "My team and I are safe. But the event has been cancelled. I'll let you know more when the facts become clear. One thing we do know for sure: the Left is absolutely terrified of free speech and will do literally anything to shut it down."
UPDATE: MILO's show at UC Berkeley has been cancelled and evacuated following reports of increased violence and several fires started by protesters.
https://www.facebook.com/BuzzFeedNews/videos/1395618533792494
UC police tell crowd they have 10 minutes to disperse from Sproul Plaza pic.twitter.com/vAkkNPMwEK

— Berkeleyside (@berkeleyside) February 2, 2017
@RoamingMil @TheRebelTV regressive left up to no good at Milo event UC Berkeley. Event shutdown. pic.twitter.com/4pCWwLBPMa

— PatriotWarriorMedia-The AntiFa Stalker (@KPikklefield) February 2, 2017
Yiannopoulos event canceled https://t.co/zryxeB6vWz #miloatcal pic.twitter.com/BAm35HiSEx

— UC Berkeley (@UCBerkeley) February 2, 2017
People in black with masks say they won't leave when police come. A large crowd is also gathered peacefully on steps pic.twitter.com/54DpGENwXv

— Berkeleyside (@berkeleyside) February 2, 2017
Crowd now gathered in intersection of Telegraph and Bancroft. Music is playing, dancing, some fires. Police inside. pic.twitter.com/4GUQzWh0bw

— Berkeleyside (@berkeleyside) February 2, 2017
"This is war." A protest sign is seen at #UCBerkeley after #MiloYiannopulous event cancellation: https://t.co/nkAqiMGtpb. pic.twitter.com/7EEDhUSENT

— ABC7 News (@abc7newsbayarea) February 2, 2017
Helicopters over the UCBerkeley campus now. Does anyone know what's going on? pic.twitter.com/msMFLBKcnF

— Milo Buitrago-Casas (@astronomilo) February 2, 2017
Helicopters above Berkeley. A protest?@berkeleyside

— William Newton (@wnewton48) February 2, 2017
@berkeleyside Sunset w/ multiple helicopters (covering the Milo protests at UC-Berkeley) pic.twitter.com/cTyv43rS3Y

— Fred Werner (@SustainableFred) February 2, 2017
It is currently unknown as to who the helicopters belong to, however at MILO's show in Seattle, helicopters were sent by police.
Masked protesters have also been spotted gathering at the campus, some of whom lit pyrotechnics and tore down barriers.
@berkeleyside: Protestors in black tear down barricade and light pyrotechnics towards @UCPD_Cal — chants of "Shut it down!" pic.twitter.com/Q43LjsyqQF

— M.C. David (@miguel_cd1119) February 2, 2017
@berkeleyside: Protestors dressed in masks and black clothing join demonstration against Yiannopoulos. Rocks thrown at @UCPD_Cal pic.twitter.com/JaH5AGtali

— M.C. David (@miguel_cd1119) February 2, 2017
Crowd growing by the minute @UCBerkeley ahead of planned speech by #MiloYiannopoulos Fireworks going off in #SproulPlaza. pic.twitter.com/X9yyHkPYl1

— Laura Anthony (@LauraAnthony7) February 2, 2017
https://twitter.com/DVSWhatItTweets/status/826969193803157505
Berkeley localities and various student groups begin to assemble to protest Yiannopoulos event. #berkeleyside pic.twitter.com/iHNAYE0SMx

— M.C. David (@miguel_cd1119) February 2, 2017
@berkeleyside: "No Milo, No Trump, No fascist USA.!" Chants echo through Sproul Plaza, 1 hour before gates open for Yiannopoulos event. pic.twitter.com/L9qZ5sDIV5

— M.C. David (@miguel_cd1119) February 2, 2017
HAPPENING NOW: Berkeley students protest Milo Yiannopoulos. https://t.co/7FjjKMalYj pic.twitter.com/wQzbqKF0k7

— KRON4 News (@kron4news) February 2, 2017
Watch live: Protesters at UC Berkeley rally against alt-right speaker Milo Yiannopoulos https://t.co/2d8j2BNndf pic.twitter.com/l0HWWCf42K

— BuzzFeed News (@BuzzFeedNews) February 2, 2017
"Don't be a dick" seems fairly a-political. #Milo at Berkeley. pic.twitter.com/YcijvRaWCq

— Michael Bodley (@michael_bodley) February 2, 2017
As protesters have amassed outside, police have worked to secure the event venue in preparation for MILO's final talk on the Dangerous Faggot Tour tonight.
@UCPD_Cal has begun to secure ASUC building in antiticpation of Milo Yiannopoulos event. Protestors expected to gather at 5. #berkeleyside pic.twitter.com/nNspv9NajY

— M.C. David (@miguel_cd1119) February 2, 2017
UC Berkeley issued a travel warning earlier today, advising students who were not attending MILO's show to keep clear from the venue.
"Anti-Fascists" have vowed to shut down the show at all costs, having previously doxed the private information of several student organizers for the event, even posting one student's workplace address while falsely accusing him of being a "white nationalist."
Following a demand by dozens of UC Berkeley professors to have MILO banned from the campus, a group of Berkeley Free Speech Movement veterans defended the Breitbart senior editor, criticizing the professors and students who sought to block his speech.
"Under the terms of [the free speech] resolution, even the worst kind of bigot, including Yiannopoulos, must be allowed to speak on campus. So the UC administration was acting in accord with those principles when it refused to ban Yiannopoulos," the group of veterans declared. "We were thus disappointed that so many Berkeley faculty signed an open letter supporting such a ban and criticizing the UC administration for refusing to ban Yiannopoulos."
MILO and the David Horowitz Freedom Center have partnered to launch a campaign against "sanctuary campuses" that shelter illegal immigrants from being deported. The campaign will be launched with a speech from MILO at UC Berkeley.
***STORY DEVELOPING. UPDATES WILL FOLLOW BELOW***
Charlie Nash is a reporter for Breitbart Tech. You can follow him on Twitter @MrNashington or like his page at Facebook.