Four-time NBA All-Star Vin Baker stands apart and above the other trainers, cut men, and assorted hangers-on that accompany fighters to the ring. The 6′ 11" Olympic gold medalist's uplifting journey from the bar stool to the ring stool surely beats the story of 1993's eighth pick in the NBA Draft burning through (and getting burned) nearly $100 million within two decades.
"There's a part of me that I know that I left," he says of his athletic career. "But I'm not down about that. I'm blessed that God gave me the opportunity to mentor and be a part of my little brother's professional boxing career."
His "little brother" is neither little nor Baker's actual brother. Tonight, Cassius Chaney, representing Peter Manfredo's Narragansett, Rhode Island, gym, embarks on the second of eight scheduled professional fights for 2015.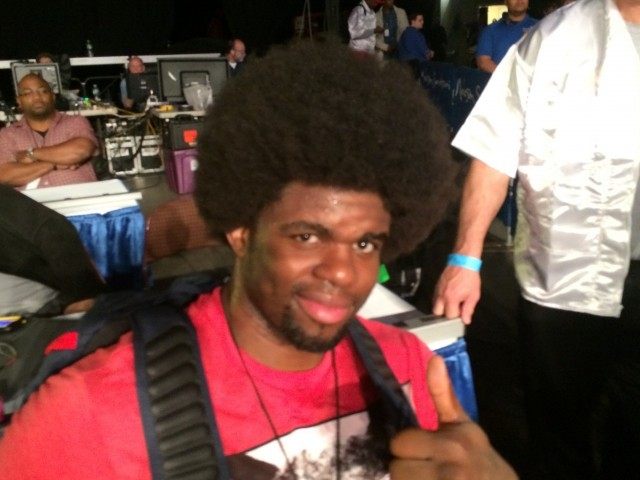 During Saturday's fight night in Danbury, Connecticut, as Cassius Chaney (1-0) waits to touch gloves, sweet science fans may dissect why a four-time NBA All-Star accompanies the card's heavyweight headliner.
When questioning Chaney or Baker about a collective bond spanning more than a decade, one realizes that hovering at the backs of one another is exactly where both men are fated to stand.
"I mean a lot of people don't really understand that I consider him my brother," reflects Cassius Chaney on his 13-year friendship with Baker.
In 2002, after moving from Baltimore to New London, Connecticut, Chaney's family hoped geographic change would eradicate the trouble haunting Cassius in the streets of the self-proclaimed Crab Cake Capital of the World. Outsiders offer a less flattering sobriquet: Bodymore, Murderland.
"Me coming from Baltimore, you know being from an all-black city, and then three months of going to Old Saybrook, mostly a white town, it was a tough transition for me," Chaney tells Breitbart Sports.
That winter, while playing for the Boston Celtics, Baker returned to his alma mater to speak to Old Saybrook students. Although possessing the makings of the typical school assembly ripe with an audience of bored teenagers, the crowd contained at least one listener connecting to the speaker. Former Old Saybrook principal Scott Schoonmaker asked Baker to counsel Chaney, an oversized high school freshmen, who, like Baker, excelled in basketball.
Baker's outstretched arm acted as more than a PR-induced handshake. After the school assembly, a one-on-one chat provided a life raft to the Baltimore teen drowning socially in parochial New England waters.
"Vinny said, 'I'm gonna give you my number, just call me.' And he really did it. He really took me under his wing. And we've been close ever since. I'm loyal to him, because he's helped me so much," recalled Chaney.
When they met, the NBA veteran's alcoholism was no secret. Dwindling on-court production as a Celtic saw the Boston media declaring alcohol the root of all missed shots because booze then called the shots for Vin Baker.
This unfolded as the power forward searched for stability. Vin Baker may have needed the intervention of Cassius Chaney more than the teenager needed the mentoring of the University of Hartford standout.
But even after their first encounter, Baker remained in contact with Chaney. The younger Old Saybrook alum went on to become a double-double machine on the University of New Haven's men's basketball team before graduating with a degree in sports management.
Showering Chaney with gifts and advice, Baker's most important present was time. The two even spent several summers living together at Baker's house throughout the late 2000s. It's perhaps irrelevant who found who. They clearly found each other.
After departing Boston, Baker thumbed around the league with the Knicks, Rockets, and Clippers before NBA teams stopped calling in 2006. Five years after leaving the NBA, Baker put down the drink for good, a factor never distorting the reverence Chaney held for Baker.
"He's been a role model to me, he went through some things, yeah. But he was still a role model to me, because a lot of the things he went through, I never saw, he never did those things in front of me. He's always been a big brother to me," said Chaney.
Parting ways with alcohol, never an amicable breakup, compares to an ex who continues to text and call. Elements that haunt, although out of sight, rarely stay out of mind in year one, complicating the wet drunks breaststroke to dry shoreline. Consequently, Baker spends his days focusing on the mental and spiritual side of life while pursuing his master's degree in divinity. Religion and family keep him sober. Baker celebrates his four-year sobriety anniversary in April.
"Four years ago, I turned it around and I haven't looked back since," Baker told Breitbart Sports.
Baker's affiliation with boxing leaves many wondering how a guy who drank himself out of the league could possibly supply fight knowledge to a promising pugilist such as Chaney. It's obvious that while Vin Baker has never been a boxer he certainly remains a fighter.
"He saw me at the top of my game, he saw me also at the bottom. He knows the fight to get to where I am right now in my sobriety and in my life," Baker explains to Breitbart Sports
In April, during the first of eight scheduled professional fights in 2015, Chaney asked Baker to become more than a bit player in the show.
"No, no, no, you got to come into the ring, you got to go into the ring," recalls Baker, of Chaney's invitation. "I was there because he knew the fight that I went through, and he needed that energy."
That night, at Mohegan Sun Arena in a dark bout before the televised ESPN card, Chaney pummeled Perry Filkins. The local sports hero knocked down the game but athletically limited big man down in the first before coaxing a standup stoppage from the referee 31 seconds into the second round.
Although the unbreakable bond between Chaney and Baker warrants the former basketballer's presence in the boxer's corner, the pugilist spills the beans on the "largest" perk of Baker's ringside presence.
"The greatest thing about having Vin in my corner," Chaney tells Breitbart Sports, "is when I'm in the ring I'm usually the taller guy, but having him behind me, now the opponent has to look at both of us and say, man, he looks even taller. It's like having two giants in the ring. And I wear the afro, to get four more inches."
On Saturday, Cassius Chaney (1-0) fights at the Danbury Arena in Danbury, Connecticut, as a part of Prize Promotions' Danbury Fight Night. Follow Sean Flynn on Twitter @coachsflynn.