"I'm gonna fight your f—ing ass," Nate Diaz told Conor McGregor on national television in December. On subscription television in March, the Stockton, California-native realizes his prediction.
Diaz steps in for Rafael Dos Anjos on less than two weeks notice to help headline the March 5, UFC 196 main event. The UFC lightweight champion cited a broken foot in pulling out of the planned superfight.
The revamped main event is a non-title fight.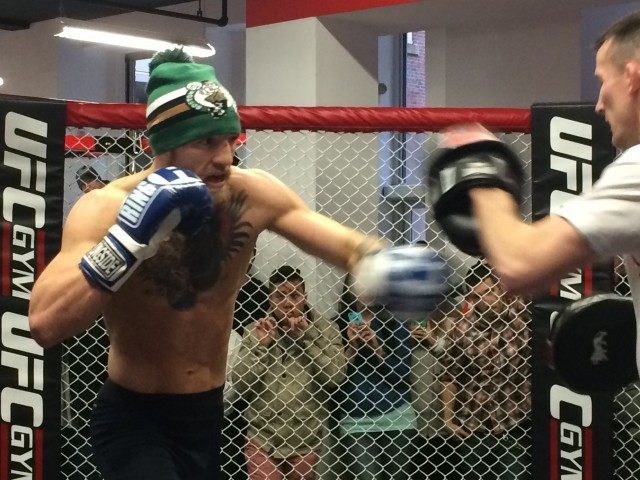 Diaz, a notorious talker and showman inside the cage, gives McGregor, a notorious talker and showman outside the cage, an opponent unlikely to fold in the face of his antics. The 18-10-2 Diaz enjoys a significant height advantage on the Irishman and a two-inch reach advantage. The Ultimate Fighter-winner, as he showed in December against Michael Johnson, uses his length as effectively as anybody in mixed-martial arts to keep opponents at range.
Diaz owns wins over Cowboy Cerrone, Takanori Gomi, and Gray Maynard. His track record of uneven performances inside the cage provide a wide latitude of possibilities for how measures up against the 19-2 McGregor, who remains undefeated in the octagon and whose last loss came fifteen fights ago. If the last-minute replacement leaves fans wondering what Nate Diaz shows up in Las Vegas, King Conor stepping up in weight raises questions on how a fighter who has used size to his advantage at featherweight fares once he faces a disadvantage in reach, height, and frame.
This fight captivated fans even before the pugilists agreed to square off.
"F— that," Diaz told interviewer Joe Rogan live on Fox in a harangue that left the network censors scrambling in December. "Conor McGregor, you're taking everything I worked for, motherf—er. I'm gonna fight your f—ing ass.
"You know what's the real fight, what's the real money fight? Me. Not these clowns that you already punked at the press conference. Ain't nobody wants to see that. You know you can beat them already. It's an easy fight. You want the real s—: Right here."