Miesha Tate put Holly Holm to sleep to capture the women's bantamweight title at UFC 196.
Holm fought cautiously. She used her boxing and leg kicks to control the first, third, and fourth rounds. In the second, Tate unleashed brutal ground-and-pound to dominate the action. But Tate looked like she needed a stoppage in the fifth. More than halfway through the final frame, Cupcake grabbed the back of the Preacher's Daughter. She applied a rear-naked choke. Holm refused to tap. But her body goes limp, and Big John McCarthy calls a halt with 90 seconds remaining.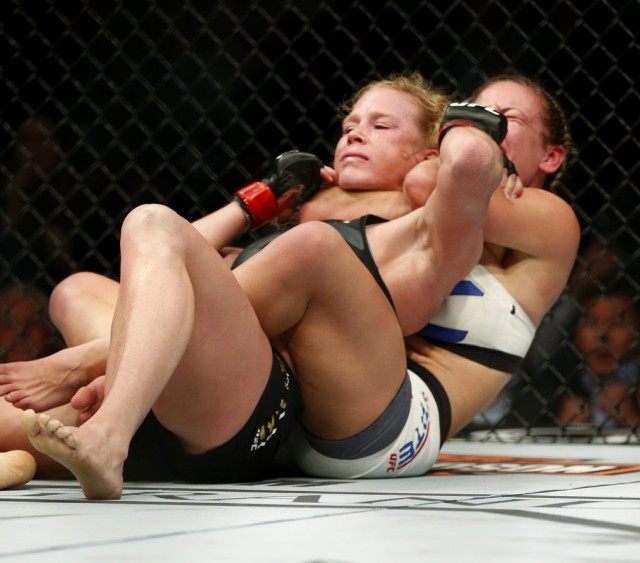 "I knew I had to play it cool with her because she's so good," Tate explained after her career-defining victory. "She's so calculated with what she does. I definitely think she won the first few of those rounds. I knew once I got it to the ground I was going to find openings."
Holm brooded over her error.
"It wasn't the right move to shake her off my back," the former champ admitted. "It was stupid and I should of fought it off more. When you are up against a wrestler like that of course that threat is there for a takedown and you have to recognize it."
The upset turns the division topsy-turvy for the second time since November, when Holm relieved Ronda Rousey of consciousness through a left kick to her head. Dana White reluctantly scheduled Holm-Tate at the insistence of the champion, who did not wish to wait for the big-money rematch with Rousey that might never materialize. Tate's victory now sets up a third bout between Rousey and the new champion, two competitors who strongly dislike the other, but complicates and devalues what might have been the highest grossing bout in mixed-martial arts history in a Holm-Rousey rematch.
On the undercard, Diego Sanchez returned to the win column through unanimous scores of 29-28 over fellow UFC vet Jim Miller in a preliminary bout. Light heavyweight Corey Anderson won a unanimous decision on the pay-per-view card over Tom Lawlor. Siyar Bahadurzada came back after more than two years away by dishing out vicious ground-and-pound to Brandon Thatch before coaxing a tap from his exhausted opponent in the third round through an arm-triangle on the last bout broadcast on Fox Sports 1.
"When I came to Greg Jackson's gym he told me to become a complete mixed martial artist you have to learn the takedown along with other styles," the powerful Afghan welterweight explained after the fight. "It wasn't that Brandon's striking was superior, it was just that I saw openings to take him down and submit him. I didn't feel any pressure and I wanted to have fun because I've been through a lot in the last two years. I believe I am the most powerful striker in the welterweight division and if there is someone who says otherwise, I'd like to fight them."